Barking Mad Oxfordshire News February 2019
Winter Wonderland!
The recent snowy weather didn't stop our lovely doggies having fabulous Winter holidays.  Most of them were thrilled to see the snow and couldn't wait to get outside to play in it.  Our Barking Mad dog sitting hosts enjoyed it too – they're at home all the time so they had plenty of time to enjoy it with them!
Having a dog around keeps us fit and healthy and it's good for our mental health too.  Our hosts enjoy all these wonderful benefits – just on a part-time basis.  As we all know, dogs are great company.  Here's a fabulous photo of Ollie the Sprocker and host Casey.  It's safe to say Ollie settled in well!
We love seeing the photos our hosts take of visiting dogs and we love passing them on to the dogs' owners.  Our customers are sometimes nervous for their dog's first holiday but when they see photos of their precious pets so settled and happy, it gives them the total peace of mind for all future holidays.  Home from home boarding is literally what we do.  We were the first to provide an alternative to kennels and that's where our 'strapline' comes from – Happy Dog, Happy Holiday, Happy You!
Barking Mad South Oxfordshire – Is Up for Sale
If you know any dog lovers who are looking to run their own business, please tell them about Barking Mad!  We have recently put the South Oxfordshire part of our territory up for sale, mainly because our area is too large to cover.  The part we are selling is thriving and has a healthy turnover – but we simply don't have the time to maximise the custom in the area.  This business would be ideal for anyone living South Oxfordshire particularly, Abingdon, Wantage, Didcot, Wallingford, Drayton, Marcham, Berinsfield, Long Wittenham, Culham, Little Wittenham, Sutton Courtenay, Blewbury…….. or any of the surrounding areas.
If you, or anyone you know anyone who could be interested, please put them in touch.  Click here for a video with more information.
Jeannie and Amanda – 01865 922004      oxon@barkingmad.uk.com.
Barking Mad Oxfordshire News January 2019
Home-from-home Holidays
Gabby and Pedro had a fabulous time on their recent Barking Mad dog sitting holiday.  Their stay included lots of wonderful walks around the West Oxfordshire countryside.  Host Donna is surrounded by lovely paths, fields and woodland near her home in Enstone, so they had plenty of variety for their daily exercise.
Like all the other Barking Mad dogs, Gabby and Pedro have their own comprehensive 'pet schedule' which captures all their usual routines such as feeding, exercise and also any particular likes and dislikes.  Their pet schedule was created following an initial meeting with them and their owner.  This is a standard part of our service and we do this to ensure that we can select the most suitable host for each dog to stay with.  Donna and all our other hosts use the pet schedule to follow the dogs' usual routines and to ensure that every holiday truly is a home-from-home experience.
Our hosts do their best to make every dog's holiday memorable.  All our hosts are at home most of the time and only look after one dog, so every dog is given all their love and attention.  Our hosts are county-wide.  They live in Witney, Long Hanborough, Hailey, Eynsham, Charlbury, Chipping Norton, Enstone, Finstock, Burford, Carterton, Brize Norton, Alvescot, Bampton, Aston, Stanton Harcourt, Standlake, Abingdon, Didcot, Marcham, Wantage, Wootton ……… and everywhere in between!  The great thing about this is that our dogs never have far to travel to reach their holiday destination!
Winter Breaks
We are busy all year round and Winter time is no exception.  Here are some great photos of our Barking Mad dogs enjoying outdoor fun and indoor relaxation.
Barking Mad South Oxfordshire – Still For Sale
Although we've had a number of enquiries, nobody has quite been in a position to take on this amazing opportunity.  Dog sitting in South Oxfordshire is clearly a great business.  We have not had the time or resource to do more with the available custom – and yet we maintain a great turnover year after year.  The new franchisee would need a mix of skills.  Apart from a love of dogs, obviously, they would need to enjoy working with people, understand the importance of effective marketing, have flexibility and yearn to run their own business.
The sale area is South Oxfordshire so it would be suited to a new franchisee who lived in or near to their territory.  Anyone living in Abingdon, Didcot, Wantage, Drayton, Wallingford, Marcham, Berinsfield, Long Wittenham, Culham, Little Wittenham, Sutton Courtenay, Blewbury…….. would be ideal.
If you, or anyone you know anyone who could be interested, please put them in touch.  Click here for a video with more information.
Jeannie and Amanda – 01865 922004      oxon@barkingmad.uk.com.
Barking Mad Oxfordshire News October 2018
Hunting for Hosts!
We have had a fantastic Summer arranging dog sitting holidays for lots of gorgeous doggies.  The Barking Mad cars have been kept busy collecting and delivering all our happy holiday makers.  We have hosts in all over the county – Witney, Enstone, Chipping Norton, Eynsham, Long Hanborough, Finstock, Leafield, Abingdon, Didcot, Radley, Wallingford … to name a few, however, we would love to welcome more to our host network.
Oxfordshire really is full of dog lovers and we are constantly approached by dog owners looking for loving pet sitting for their precious pets.   We try to think of new ways to find hosts and would welcome any suggestions you might have about how to find some more.  Perhaps you know of a club or organisations who might enjoy an informal presentation about hosting?  We usually take along one of our hosts, so they can tell them why they love it and what it's like first hand.  Or maybe you know a family who can't have a dog because they work full time? Perhaps they'd like to look after friendly dogs in the school holidays like Joel in the photo?  If so, please put them in touch!
Our hosts love having dogs for short stays.  They get all the enjoyment without the long-term commitment.  Here are some of our fantastic hosts:
Fantastic Trustpilot Reviews!
We are very proud that our Oxfordshire customers have contributed to Barking Mad reaching 5000 reviews on Trustpilot.  We continue to hold the Number 1 ranking in the Pets and Animals Category and this just goes to show that we're totally devoted to dogs but not only that, we're also devoted to providing a first-class service to their owners.  Here is just one of our fantastic reviews from customer Jennifer:
Fantastic service & great alternative to kennels.
Gus (my very playful Vizsla) loves his holidays at Barking Mad! He is always so excited to go and comes back very happy and content every time. Barking Mad provide a brilliant and faultless service. The hosts are great – they're all clearly dog lovers, and I am confident that Gus is very well cared for during his stay with them.
Barking Mad South Oxfordshire – Still Up For Sale!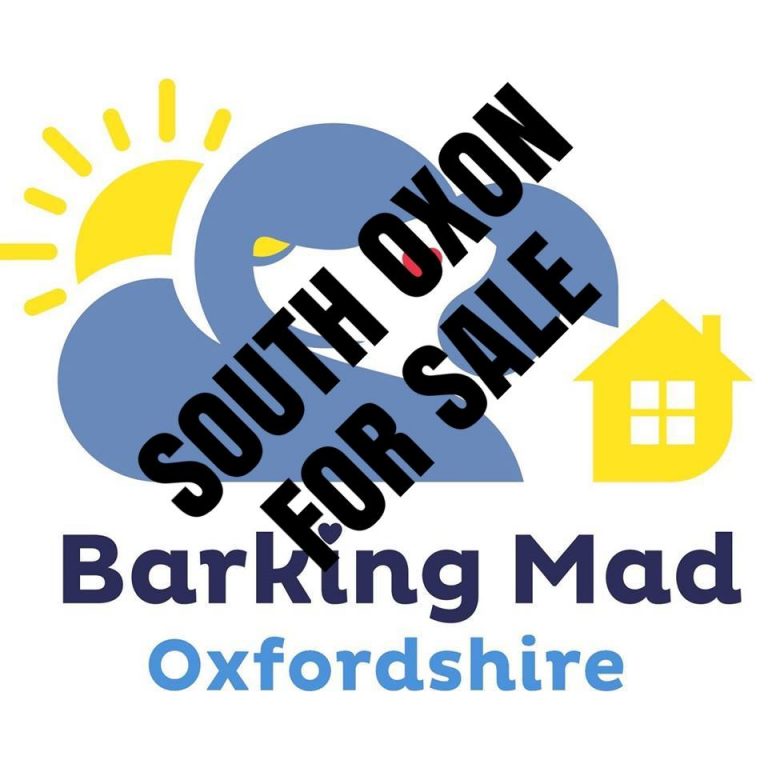 We're continuing our search to find the perfect buyer to take over Barking Mad in South Oxfordshire.   The new franchisee will be picking up a brilliant business with lots of potential.  It would be great for anyone actually living in South Oxfordshire as the sale area covers Abingdon, Wantage, Wallingford, Didcot, Drayton, Marcham, Berinsfield, Long Wittenham, Little Wittenham, Sutton Courtenay, Blewbury…….. and all the surrounding towns and villages.
It's a great business opportunity for a dog lover who is looking for a change.  If you, or anyone you know anyone who could be interested, please put them in touch.  Click here for a video with more information.
Jeannie and Amanda – 01865 922004      oxon@barkingmad.uk.com.  Click here for Sale Video
Barking Mad Oxfordshire News August/September 2018
New Customers
We were delighted to welcome Jessie and her dog Snowbelle as new customers this Summer.  Jessie and her family recently relocated from the USA and were thrilled to find Barking Mad.  They wanted to ensure Snowbelle would be happy while they were away and really didn't think kennels would suit her.  We matched Snowbelle up with host Elsie and she had a brilliant holiday while Jessie and the family were away on theirs. 
Jessie was one of many new customers who registered this Summer.  The great TrustPilot reviews gave her the initial confidence to get in touch – finding care for her precious pet was very important to her and rightly so.  Jessie, along with all the other new customers have given us great feedback about what we do.  We work hard to 'get it right' because there is nothing better than providing top notch service and delivering home a happy dog.
Here are a few photos of some very happy dogs who had fabulous Barking Mad Summer Holidays.
Barking Mad South Oxfordshire – Up For Sale!
The South Oxfordshire Barking Mad Territory is now officially up for sale!  We've started to put up posters, advertise on social media and put adverts online.  We're hoping we can find someone fantastic to take it over – someone who will love it as much as we do.  It's sad that we need to sell off a bit but the area is simply too big for us to manage.  The person who buys the area will be picking up a brilliant business with lots of potential.  It would be great for anyone actually living in South Oxfordshire as the sale area covers Abingdon, Wantage, Wallingford, Didcot, Marcham, Berinsfield, Long Wittenham, Little Wittenham …….. and all the surrounding towns and villages.  People in Oxfordshire love their dogs and want the best care for them while they're away.  A new franchsiee will be able to give the  Barking Mad service a much better profile and create a much greater presence than we've been able to create. It's a great business opportunity for a dog lover who is looking for a change.  If you know anyone who could be interested, please put them in touch.
Jeannie and Amanda – 01865 922004      oxon@barkingmad.uk.com.
Barking Mad South Oxfordshire Franchise Opportunity!
We have been running our Barking Mad dog sitting franchise in Oxfordshire since April 2015 and have thoroughly enjoyed every single day. The popularity of our service has exceeded all our expectations and it has now reached the point where the size of our area has become overwhelming.  We have therefore decided to split our territory to make our own business more manageable and to give someone else the opportunity to build on the thriving, existing business in South Oxfordshire.
We will be keeping West Oxfordshire and offering the following postcodes to the new owner: OX10, OX11, OX12, OX13 and OX14
We have reassured all our customers and hosts that there will be no disruption whilst the sale takes place and that the new franchisee will run the business in exactly the same way that we do. Barking Mad holds the ISO9001 quality award and as such, all franchisees adhere to the same rigorous policies and procedures – so the only thing that will be different will be the person arranging the doggy holidays!
Do You Think You Could Be Interested?
If this is something you think you might like to do, why not get in touch for an informal chat?  We could tell you what it's like to be a franchisee and explain how things work on a day-to-day basis.  Running your own business is extremely satisfying and there is nothing better than working for yourself and being your own boss. That said, your customers expect a flexible service and your hosts expect (and absolutely deserve) 24-hour support, so this is not really suited to someone who prefers the predictability of office hours.
How Much Would It Cost and What Would I Be Buying?
The purchase price is £40,000. This price has been carefully calculated by considering current turnover and the number of potential new customers available.
You would be buying the credibility of a long established and well-respected brand. The purchase would include all the existing customers, any current bookings and also a network of fantastic hosts.  You would also have the full back up, training and support from the Barking Mad Head Office Team and would be welcomed into the Barking Mad family by all the other franchisees across the UK.
Before trading, there would be a mandatory 5-day training programme at Barking Mad Head Office. The cost of this would be covered by ourselves.
We will look forward to hearing from anyone who might like to become the next Barking Mad franchisee in South Oxfordshire. If you know anyone else who could be interested, please pass on the details about this fantastic opportunity.
For further information, just call us on 01865 922004, 07985 766868 or e-mail to oxon@barkingmad.uk.com
We look forward to hearing from you!
For more Barking Mad South & West Oxfordshire information click –  HERE
Barking Mad Oxfordshire News – June/July 2018
Witney Carnival 2018
We had a fantastic time at the Witney Carnival on July 14th.  All the money we raised on the day will go towards the sponsorship of our second Dogs for Good puppy.  Our first puppy, Prince, is already in training and is doing really well with his puppy socialiser.
It was a scorching day at the Carnival so sadly, we were unable to take our own dogs with us and that's such a shame as they're all real crowd-pullers!  Despite the intense heat and the World Cup being played, we still had lots of visitors come to our stall and quite a few were really interested in dog sitting for us.  We look forward to meeting them all again soon to tell them more about our home-from-home dog boarding service.
Dog Sitting for Barking Mad
Barry has been dog sitting for Barking Mad for many years and is one of our most popular hosts.  He lives in Witney with his dog Dexter and although they enjoy having a range of dogs to stay, if pressed, Barry would probably say he prefers larger breeds.  Dexter has enjoyed plenty of walks with Labradoodles, Boxers, Vizslas, Weimaraners and Labradors and they also look after a Bernese Mountain Dog, a Hovawart and a St Bernard – not all at once obviously!
Living in Witney, they are able to access the fantastic Oxfordshire countryside.  Barry prefers taking early morning or late evening walks, especially in the Summer months to avoid the heat.  As well as local favourites such as Witney Lakes and Tar Lakes, he often takes the dogs up to Foxburrow Woods near the village of Hailey, where there is plenty of space for even the largest dogs to have a good run around.  A few minutes in the car and they are in Finstock, Stonesfield or Charlbury, all of which have wonderful countryside walks for Barry and the dogs.
Our hosts are dotted all around the county so Barking Mad dogs could be staying in Enstone, Abingdon, Didcot, Chipping Norton, Long Hanborough, Minster Lovell, Brize Norton, Wantage, Carterton, Burford ….. in fact, we have dog loving hosts at every turn!  Every host knows the best places to take their visitors, so all our dogs have great holidays time and time again!
If, like Barry, you are at home most of the time, why not think about hosting for us?  We can guarantee lots of fun, lots of exercise and plenty of friendly, furry company! Please call Jeannie or Amanda on 01865 922004.
Spring News – April and May 2018
Fabulous Dog Holidays in the Spring Sunshine
They say a change is as good as a rest and beautiful Bella, the Cockerpoo, had both on her recent holiday!  Bella's usual dog-sitting host wasn't available so just for a change, she stayed with Carole instead.  They had the best time and as well as beautiful walks in the Oxfordshire sunshine, they enjoyed plenty of rest and relaxation in Carole's fabulous cottage garden in Witney.
The great thing about dogs is that they're really adaptable.  Although Bella had not been to Carole's home before, she very quickly settled and within minutes, she and Carole were firm friends.  Dogs sense when someone loves them and as all our hosts are total dog lovers, all our furry friends get a wonderful, warm welcome whichever one they stay with.
Here are some more photos of Bella's fabulous home-from-home dog boarding holiday:
Dogs for Good 30th Anniversary
We were delighted to attend the recent Dogs for Good 30th Anniversary celebrations at their centre in Banbury.  It was great to hear more about the work and meet some of their wonderful dogs and the people they've been matched with.  Some of the stories are so moving and there is no doubt at all that these dogs really do transform lives.
Our Barking Mad national network has raised £6000 for Dogs for Good and we're delighted that we can now sponsor our first puppy, who we've named Prince (in honour of the recent Royal wedding!).  Prince is doing well and is now linked with his puppy socialiser, Neil.  We will bring you news on Prince's progress so watch this space!
Cute Coco's Barking Mad Holiday
Barking Mad dogs really do love their home-from-home holidays with us.  Here is a link to Coco, who tells us why she enjoys her holidays with host Carole.  If you know anyone who might like to look after dogs for holidays and short stays, please send them the link to Coco!   https://youtu.be/PXMxb_B8oVI
The Witney Carnival 14th July
Preparations are well underway for our stand at the Witney Carnival.  We're delighted that some of our customers and hosts will be joining us.  They can't wait to tell goers all about being either a customer, or host or both!
We will be having a 'Guess My Name to Win Me' competition.  If you would like to own this lovely cuddly Basset Hound, come along and see us on the day.  It's only £1 per guess!  All proceeds going towards Dogs for Good.  There will also be plenty of treats for any doggy passers-by and bowls of fresh water to keep them cool.  There will also be a special friend stopping by at intervals during the day.  More details about him next month!
The Barking Mad Team Are All Dog Mad! – March 2018
At Barking Mad Oxfordshire, we have been lucky enough to find two fabulous staff who love dogs just as much as us. Our part-time Pet Care Assistant Fiona demonstrates her passion for animal welfare through her voluntary work with the Labrador Rescue South East & Central (LRSE&C).  She has been an Area Co-ordinator and Trustee for many years and wanted to come and work for us as she recognised the parallels between Barking Mad and her beloved Labrador rescue charity.  Rigorously following procedures, carefully matching dogs and keeping the dogs' well-being at the heart of everything, are just a few of the values we share.
Fiona has her own rescue Labrador Mac.  He was 8, had deformed feet and ears, bad skin and was blind.  His owner went into a home and the family didn't want him.  They gave a local kennels 3 months fees and asked them to rehome him or get him put to sleep.  With just 3 days left until the deadline, LRSE&C found out about him and the lucky boy ended up in the best home he could have wished for.  Now he has a fabulous life and even has his own Barking Mad holidays!
If you were at Crufts this year, you may have seen her on the LRSE&C stand in the gun dog section!
Kayleigh (above) is our other part time Pet Care Assistant and apart from being a busy Mum, has her own dog grooming business.  As soon as we met Kayleigh we could tell she was passionate about dogs.  She has always worked with dogs and after a maternity career break, was pleased to get back to doing what she loved by joining our team. It has been a long-held ambition of hers to qualify as a dog groomer. Last year, she fulfilled that ambition so now, when she's not looking after her family or driving Barking Mad dogs to and from their hosts, she runs her own grooming business from home!
She has a bespoke cabin in her garden so that she can transform mucky pooches into smart, sweet smelling 'Kay9s'!  Kayleigh's business is not linked to Barking Mad, but we are happy to recommend her to our customers and any of our hosts who have their own dogs.
It's not just our team who are dog lovers, of course all our hosts are too.  They are private people who love looking after dogs without the long-term commitment of owning their own.  They only look after one dog at a time so each one gets their complete attention.  If you're searching for loving care for your dog while you're away, we'd love to hear from you.   Please get in touch and we'd be delighted to tell you more.
The Witney Carnival will be on Saturday 14th July this year – come along and see us!  We will be on a stand and will be hoping to meet some of the 10,000 people who are expected to attend.  We will have some games, dog treats and some freebies to give away, so don't forget to come and say hello!
Winter Woofers in Oxfordshire – February 2018
We've had some pretty miserable weather here over the last few weeks but that's not stopped our furry holiday-makers enjoying their Winter breaks with our fabulous dog sitting hosts.  The Barking Mad cars have been collecting and delivering dogs from all over South and West Oxfordshire.  We seem to have customers and hosts all over the place … Witney, Charlbury, Abingdon, Didcot, Enstone, Wantage, Hailey, Woodstock, Finstock, Wootton, Longworth, Appleton, Eynsham, Radley … to name but a few!
Collecting our customers dogs works really well for everyone.  The dogs' well being is our priority and when we take them to their host, they settle quickly and easily as they have no real emotional attachment to the Barking Mad team.  They get lots of fuss and attention from their host and within no time at all, they are happily exploring … or checking everything is where they left it if they've been there before!  It's great for the customer as they're free to get ready for their trip, safe in the knowledge that their dog is already settling in to their holiday home.
With holiday fever now in full swing, we would advise existing and new customers to get in touch as soon as possible.  Our hosts are all very popular and get booked up really quickly.  If you'd like loving care for your dog, or if you think you might like to look after friendly dogs for short stays, please do get in touch.
Winter Warmers NOVEMBER 2017
All you need on a cold Winter night is a roaring fire and a furry friend to keep you company! Did you know that a dog's body temperature is 1-2 degrees warmer than ours? No wonder we like to cuddle up to them in the Winter!
Here is handsome Dylan the Dalmatian keeping warm on his Barking Mad holiday.
A Dog Can Help To Mend A Broken Heart
In August 2015, Sylvia sadly lost her beloved Labrador, Max. She had owned Max from an 8 week old puppy and had enjoyed every single moment with him. Max was a big character in every sense and Sylvia missed him dreadfully when she finally had to say goodbye.
Sylvia has always had dogs in her life but after losing Max, she didn't feel she could take on the emotional or financial commitment of another dog. In the months that followed, she started to get really low and wondered if she would ever get over it.
It was a chance meeting with a Barking Mad host, Patricia, that turned things around for her. Patricia explained how hosting worked and Sylvia got in touch with us immediately. She hasn't looked back since. She said a doctor could give her a bottle of medicine for depression but for her, a dog works better any day!  Sylvia is a fantastic host and every dog is made to feel loved and special when they're with her. We're so thrilled Sylvia found us and so are all the legged guests who stay with her.  Sylvia is shown here with Marley, the very sweet Dalmatian cross.
The Perfect Christmas Gift for Dog Lovers!
Local pet photographer Harry James is currently running a Christmas Gift Card offer.
The lucky recipients will receive a ribbon-wrapped gift card which will entitle them to an hour-long photo shoot on a dog walk with Harry. They will also receive all their fabulous photos on a memory stick. All this for £60. Some of Harry's fabulous photos can be seen below. For more info, call Harry on 07772 287235 or e-mail harrymjames@outlook.com or click to visit Harry's website.
Dogs For Good
At a recent Barking Mad national meeting, there was a presentation by the Charity Dogs for Good. This charity has been going for almost 30 years and in that time, they have trained 1000s of assistance dogs.
These wonderful dogs are matched up with children and adults with physical and/or learning disabilities such as autism, dementia, hearing issues, blindness …..the list goes on and on. It was hard to listen to the amazing stories and not be moved to tears. These dogs are literally changing lives for people who need it most.
Barking Mad nationally will soon be sponsoring a 'Dogs for Good' puppy and we look forward to introducing him or her to you soon.
To find out more click  Dogs for Good
Up To 30% off Holiday Airport Parking!
Barking Mad has linked up with SkyparkSecure – the airport parking comparison site. The site compares prices and reviews for over 300 car parks in 28 UK airports. To get your discount, simply use the Discount Code WOOF30 when you book.
Click here  https://www.skyparksecure.com/ to see how much you could save. You can use the code as many times as you like!
Lost Dog Search Tip
We recently heard the story of a Chihuahua who slipped her collar and ran off when out on a walk. The Lost Dog Warden in the area told the owner about a search tip she had used many times with great success.
The owner was told to cook some sausages, cut them up and set a trail from the place the dog was last seen, right to their home. The owner was sceptical but desperate to find her precious dog so she gave it a go.  Just before midnight that night, the tiny dog arrived home. She had followed the trail and it had taken her all the way back to her door. Needless to say the family were delighted and extremely relieved.
For more Barking Mad South & West Oxfordshire information click –  HERE
Back To Main
To find your local branch, prices and much, much more: