Dog Home Boarding in Alnwick
It can be difficult to decide what to do with your dog whilst you are away from home. A decision which we understand well, being the owners of a 10-year-old rescue border collie called 'Ailsa'. We have always wanted to make sure that she was happy and safe whilst we were on holiday. So, Barking Mad home boarding allows us to feel less guilty about leaving her.
Our Background
We recently swapped 20 years in the classroom for the stunning countryside of the Northumberland Coast, relocating to run a Barking Mad business full time. Barbara grew up on the family farm at Boulmer in Northumberland so, we have both always been surrounded by animals! We love the county of Northumberland. The beautiful scenery makes chauffeuring of dogs to host families on their holidays a real pleasure.
How it Works
We make it our mission to provide the best possible care for your dog's holiday, so the service is personalised and bespoke to your dog's needs. Our host families are very special to us and we select each host carefully to best suit the needs of your dog, plus, giving you peace of mind.
Firstly, the team will meet you to find us about your dog's likes and dislikes. This means we can best match your dog with one of our superb hosts. Your dog will then be 'chauffeured' to and from their holiday. We will make sure they are settled in with their host and send you a message, to put your mind at rest, leaving you to enjoy your holiday and a well-earned rest. We guarantee that our hosts will give your dog love and attention around the clock. Lots of walks and cuddles, if that is what they are used to and enjoy.
Northumberland Dog Sitting and Dog Chaperone Services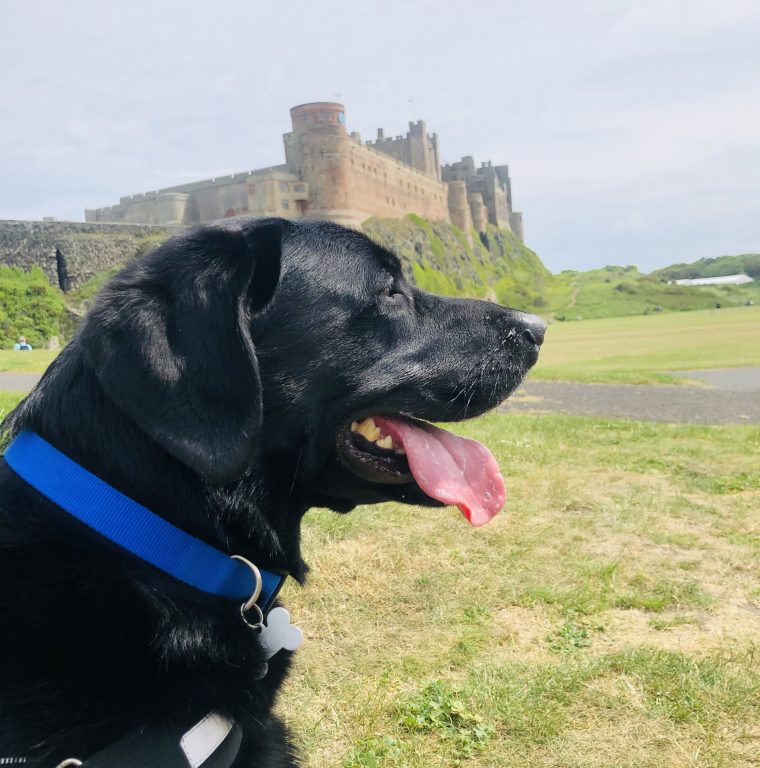 Northumberland is famous for many things; Castles, beaches, hospitality and amazing scenery. We welcome thousands of visitors to Northumberland every year. Some on holiday and staycations, exploring new places and discovering what a hidden gem Northumberland is. Whilst most of Northumberland is super dog friendly, there are places that you might want to visit that are not entirely doggy suitable. Maybe you are attending a wedding and spending a few days in Northumberland, or you are planning a visit to Alnwick Castle and Garden (and the new Lildorei, the World's biggest play park). A day trip over to the Farne Islands, or an evening out, maybe to the Alnwick Playhouse or one of our lovely pubs and restaurants.
At Barking Mad Northumberland, we have a dog sitting solution for the days you cannot take your dog with you. With some information from you about your dog, we can arrange to sit with your dog at your holiday accommodation. We ensure we follow your dog's usual routines including exercise, feeding and play while you are exploring Northumberland.
Dog Chaperone Service for Weddings in Northumberland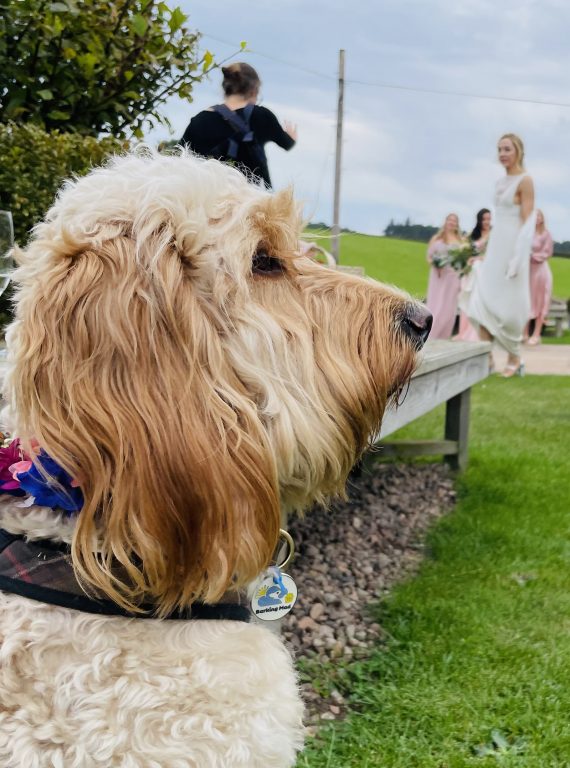 Many have ditched an abroad wedding and are instead choosing to spend their wedding day at one of Northumberland's fabulous wedding venues, including Newton Hall, Doxford Barns, Le Petit Chateau, Charlton Hall and even more quirky venues, including The Barn on Bay or The Alnwick Garden Treehouse. At Barking Mad Northumberland, we offer 5-star dog care services, including a dog chaperone service for your wedding.
We can design a bespoke dog sitting wedding package for you to suit your needs and those of your most precious guest, your dog. Whether it is as a dog ring bearer, dog groomsman, dog best man or dog bridesmaid in Northumberland, we can take care of your dog at your wedding allowing you to enjoy your moment and have your precious canine pal there too. The best photo in the wedding album is the one of the bride, groom and the dog!
Our services are charged per dog and hour, so to find out how we can help, why not drop us an email or enquire using the form below.
Dog Home Visits
For all your staycation needs. Going out for the evening to one of our famous Northumberland eateries but don't want to leave your doggy family member home alone? We can help. Give us a call to discuss your needs.
Happy dog, happy holiday, happy you!
We aim to take the stress away from being apart from your beloved four-legged friend! Please get in touch if you would like to find out more about 'Barking Mad' Northumberland.
Barbara and Caroline
01665 575981 / northumberland@barkingmad.uk.com
Barking Mad NorthumberlandBarking Mad Northumberland Barking Mad Northumberland
Dog Home Boarding FAQs
I live towards the south of Northumberland, how will your home from home dog boarding service work for me?
We have two specially adapted Barking Mad vehicles, fitted with industry specified Barjo dog cages. Our service includes transport from your home to your dog's holiday host along with all their belongings. Having matched your dog to their most suitable host, we would collect and return your dog from your home. As we have hosts located throughout Northumberland, from the market towns of Alnwick, Morpeth, Rothbury and Amble, to the villages of the coast near to Warkworth, Alnmouth and Embleton, as well as the towns to the south of the county such as Ashington, Blyth, Newbiggin, Bedlington and Whitely Bay.  As part of the registration process, we will ask you if your dog likes to be in the car and how they travel.
Do I get to meet the host or visit their house?
Barking Mad Northumberland is fully licensed by Northumberland County Council. As a function of our licensing protocol, representatives from NCC have completed a series of home visits and checks on our hosts. This is in addition to the rigorous vetting process that we undertake when inducting hosts into the Barking Mad community. At Barking Mad Northumberland, we have a relationship with you, your dog, and your dog's host. Many of our hosts have been part of our host community for many years, and they pride themselves in helping us to deliver fantastic dog holidays.
How will your dog boarding service ensure our dog is settled and happy? 
At Barking Mad Northumberland we understand that dogs are family, and we will ensure that we have found out everything that there is to know about your dog before we match them with a suitable holiday host. We will create a document called a pet schedule, which forms the blueprint of your dog. We share the pet schedule with you, so you can double-check the details. We recommend a short "getting to know you stay" where your dog will stay for two nights with their holiday hosts, so that they are familiar with their holiday home, have the chance to scope out local walks, and more importantly, will be comfortable when they return when you go away on your holidays. We will keep you informed as to how your dog is enjoying their stay with their host, and you can relax knowing that your dog is having a super time on their home from home dog holiday.