Canine Companions can transform lives – Maidenhead Local News November 2019        
Who hasn't felt their anxiety fade when rhythmically stroking a dog?  We all have a little stress in our lives and looking after a dog provides a real opportunity to relax, whether it is stroking, patting or going for a lovely leafy Autumnal walk with a dog.
Animal based therapy is becoming increasingly popular in residential care homes.  Touch is one of the last senses to be affected by the symptoms of Alzheimer's Disease and stroking a dog has been proven to decrease nervous behaviours and increase social interaction with Dementia patients. Some studies have shown that owning a dog can also make a significant difference to cardiac survival rates … just a little more evidence that canine companions can transform lives!
A Barking Mad host can have all these benefits, even if it's only for a week or two. We have a group of amazing hosts who provide bespoke dog care while the owners are away from home and we are on the lookout for more dog lovers in the Maidenhead, Marlow and Slough area who would be interested in becoming a host for the UK's no. 1 dog home boarding service. 
You may however be looking for an alternative to kennels for when you are on holiday or away on business.  Our professional dog sitting service works on many levels – giving our carefully chosen hosts the chance to have a dog in their life, but ultimately giving our client's dogs a home away from home. 
Contact me on 01628 200128 or email Tim.Organ@barkingmad.uk.com for more information.
Maidenehad and Marlow hosts enjoying cake!
Providing happy holidays for happy dogs all year round is great fun, and at no time is it better than when the hosts come together for cake, a drink of their choice, cake, a chat, cake, laughter,and cake, all rounded off with more cake.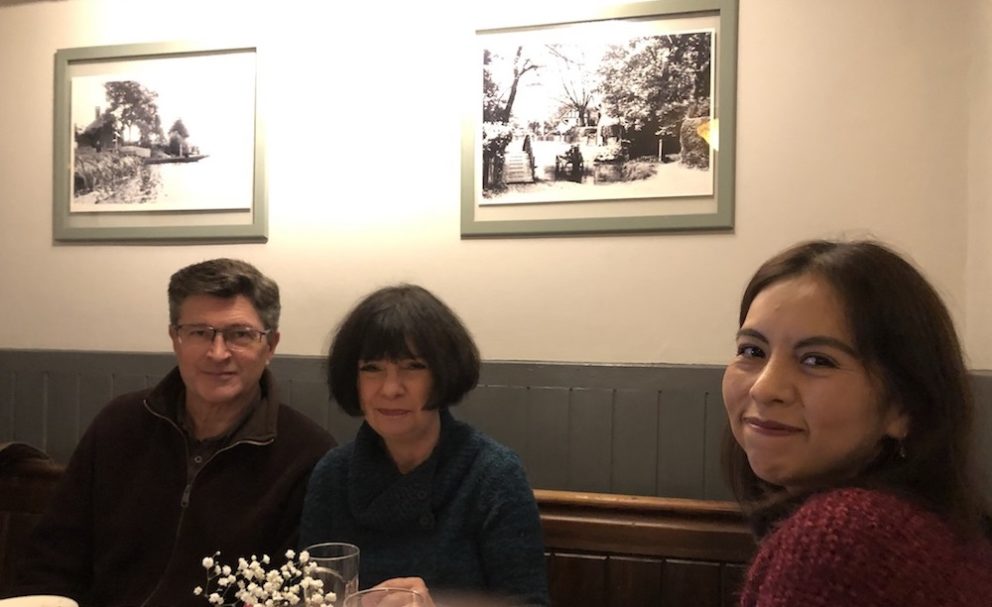 A couple of weeks ago some of the Barking Mad Maidenhead and Marlow host community got together for a couple of hours to indulge in all of the above at the Queens Head, Pound Lane, Little Marlow.
Hilda and Trudie excelled themselves with some great offerings of……..cake (& pies!), and the reception and service provided by the Queens Head was superb – thank you!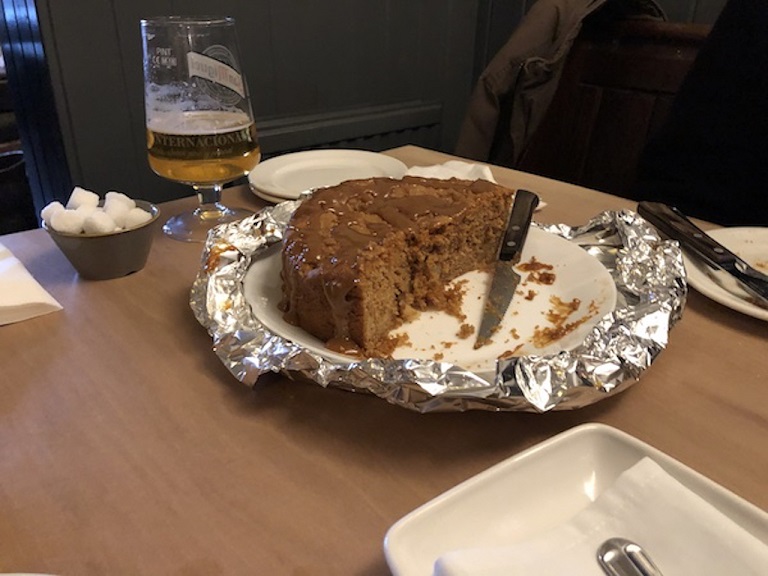 Talking with friends about all the subjects under the sun is always a lovely thing to do in a warm, snug pub on a dank, cold afternoon.  Of course there was plenty of dog talk, while a number of them slept soundly under the table; the dogs that is as the hosts weren't that worse for wear!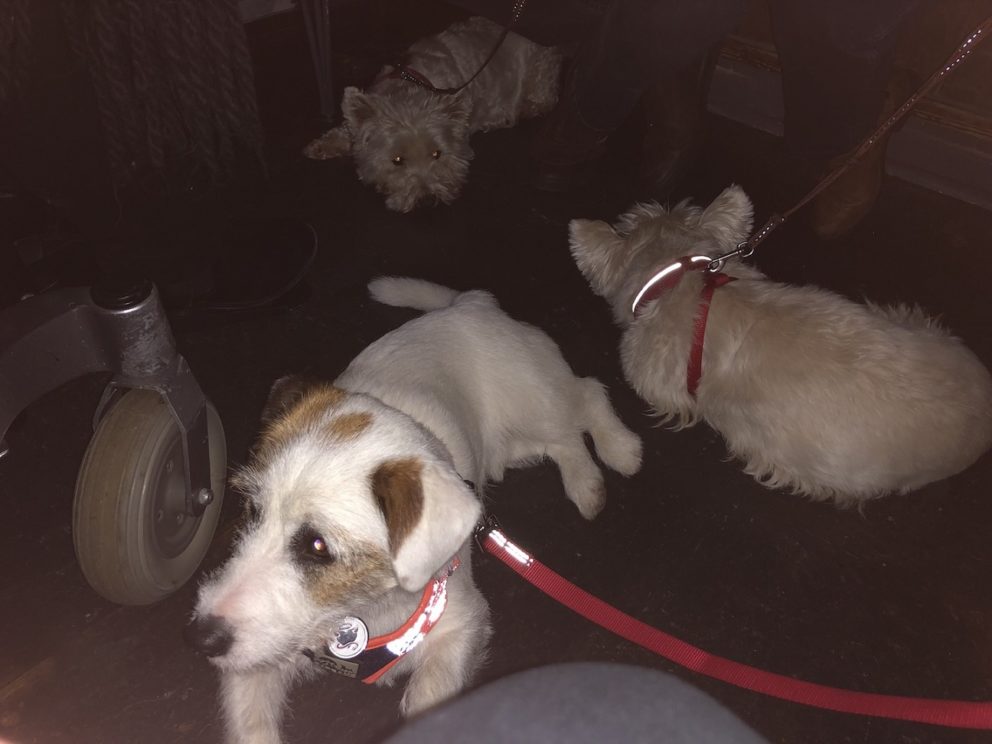 Do you miss having a dog in the home. but can no longer commit to one full-time? Perhaps you need to spend more time getting fit! Or maybe it would just be lovely to have a dog around the home during holidays or when you're working from home.
If you would like to join this happy band of hosts who enjoy dog boarding in the Maidenhead, Marlow and Slough areas with Barking Mad, please get in touch.  The role is fully supported and insured, and is the No 1 Trustpilot rated dog sitting business in the UK, established nearly 20 years. The amount of time you would look after a dog and the breeds you would entertain in your home, is determined by you!
Introducing my own dog, Dusty.
I'd like to introduce our own dog, Dusty.  She was six last November and we have had her since she was 8 weeks old, travelling from Ascot to Salford in Manchester to collect her in January 2012.  She has been a revelation and changed our lives in ways we wouldn't have thought possible.  Dusty is a Bishon Frise / Shih Tzu cross; they are known as Shichons (or sometimes Zuchons). Here are a few photos of her and a great video of her playing with one of her 'best mates' Coco, a Manchester Terrier.  She is amazing with children, and generally OK with other dogs, but it's not always possible to tell how she will react to other bigger, darker dogs.  She sometimes takes an aggressive stance, but often her bark is misinterpreted as all she wants to do most of the time is play.
If ever there was an example of the power of positive reinforcement training, and exposure to as many experiences as possible, as early as possible, Dusty is it.  Her puppy classes, to predominantly train us as owners, were a great experience, as was working with her to help her achieve her Kennel Club Bronze Award. The lessons learned have served us well. Both my wife and I had been around animals at various times through most of our lives, and we had discussed having a dog many times over the previous 27 years, but the time was never right; our lifestyle and significant travel for both of us would have meant not being able to spend as much time as possible with her. Over the last six years we have both enjoyed soaking up as much of the new guidance, research, wisdom and education as we can, simply because the joy dog ownership can bring, must always be balanced by doing the right thing by the animal.
So, just like so many new dog owners, we made mistakes at the beginning.  It really is a case of wishing we had known then what we know now. Due to misreading labels we gave her about half her recommended food intake for six weeks, didn't recognise she was suffering from separation anxiety quickly enough and didn't introduce her successfully to a cage nice and early.  Luckily, all these issues were dealt with quickly, although even now we will only leave her on her own for a short while. The question of socialising her with a cage has only become an issue in the last few months.  We wanted to visit friends in Belfast, and found that the Stena Line had far and away the best facilities for dogs on crossings to Northern Ireland.  We had a choice of leaving Dusty in a kennel on the car deck, leaving her in the car, or carrying her with us in an enclosed pet carrier no bigger than 80cm x 50cm x 50cm.  We chose the latter option and over the course of several weeks served all her food inside a soft Jet Sitter carrier.  We then gradually did up more of the zips until she would bear being fully enclosed.  It was a great training programme, so when it came to our trip to Belfast a couple of weeks ago, Dusty was a model of happiness and good behaviour.  The Stena Line staff on board were so accommodating for her, and in fact the only problem was that so many people wanted to say hello to Dusty it delayed our trip back to the car deck by several minutes!  It just goes to prove that dogs are never too old to be taught new tricks.
Prior to getting Dusty we made a lot of 'rules' about having a dog in the home. One of these was about not leaving her alone for long periods while we were at work.  I in no way regret that particular rule, and am pleased we made the effort to find a great dog sitter who is regarded by Dusty as her other owner for odd days here and there as well as short holiday periods. Unfortunately, not everyone is as lucky as we were, and they aren't able to burden friends and relatives with their dog while they're away, which is why having the bespoke Barking Mad service is important to so many people.  Nevertheless, we should have used her puppy time to get her used to being left for a couple of hours in a safe home environment, and also get us used to the idea too.  Dusty is much better than she used to be at being left on her own, but we do get a little anxious about leaving her for more than half an hour. That's one of the reasons the Barking Mad model is to be admired.  Our hosts commit to not leaving the dog in their care alone for longer than the owner permits, but only up to an absolute maximum of three hours.  I shall come back to Dusty's charitable efforts in future blogs….."
Look out for our dog walk being organised in Maidenhead at the end of June.
Dusty at Play
Back To Main
To find your local branch, prices and much, much more: