Book today
About Me
Samantha Walker
We provide the very best dog home boarding near you in the Basingstoke and Tadley areas. Dogs deserve a holiday too!
01256 830705
sam.walker@barkingmad.uk.com
Dog Boarding Licence Number: 19/00124/AWAAL
Hi I'm Sam and I'm delighted to run your local Barking Mad dog boarding service in the Basingstoke area.
I love to organise your four-legged family members dog holidays. We provide a wonderful home from home dog boarding in Basingstoke with our loving dog care host. We perfectly match your dogs' requirements and maintain their daily routine for the duration of their stay.
Barking Mad Basingstoke has been certified by The Pet Industry Federation in COVID-19 Disease Control for Pet Professionals to provide a safe and confident service to our customers. We also confirm that we are complying with the government's guidance on managing the risk of COVID-19.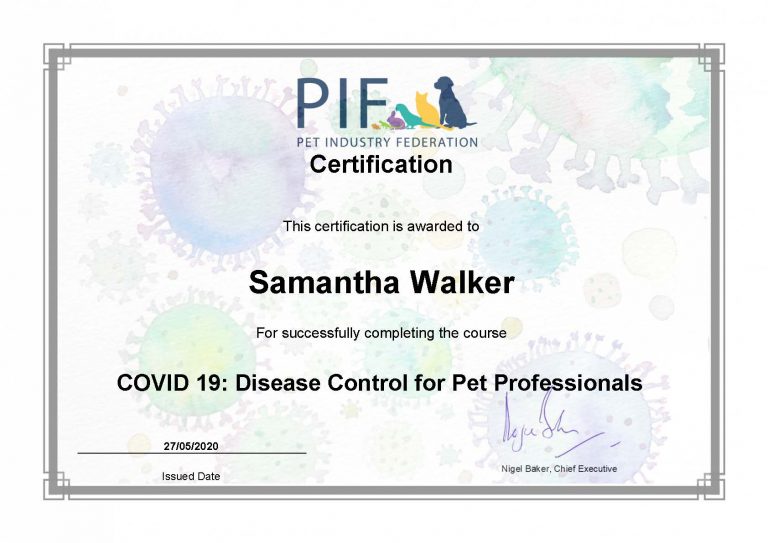 My Background
Growing up in the local area in Berkshire, in a dog-loving family as soon as I left University and had a suitable home, I found Jasper. He was a cross between a miniature Schnauzer and a Bouvier des Flandres. When he passed away I remember feeling so alone. There was no excited dog to greet me at the door with his favourite dog toy. There was no eager face waiting for the end of the banana and I had no reason to go for dog walks.
I can't imagine life without a dog. Although dogs are a big commitment which is why Barking Mad dog boarding in Basingstoke is the perfect solution. Not only for those looking for professional local dog sitting care but also for people who can no longer have a dog full time but can host in their homes for short periods of time that suit their availability.
I have lived just outside Tadley for the last nine years and in 2015 started sharing my house with Archie a very cheeky Lakeland Terrier who is an expert photo bomber. Together we explore the beautiful countryside around North Hampshire and West Berkshire. Archie loves taste testing my home-baked doggie biscuits.
Dog Home Boarding in Basingstoke
Working in a corporate environment for the last 30 years, I have never been able to participate in 'Bring Your Dog to Work Day' but I couldn't be happier, this now happens every day and I'm looking forward to meeting your dogs too and finding them the perfect host who will love their company, walk and play with them for the duration of their holiday stay.
If you are interested in having more information about home boarding or hosting, please contact me on 01256 830705 or email me sam.walker@barkingmad.uk.com
Sam
Licence Number: 19/00124/AWAAL
Dog Sitting prices in Basingstoke
Looking for a bespoke package? Get in touch!
One off initial registration meeting

£35

Daily boarding rate

£25

Daily boarding rate for additional dogs

£20

Collection and delivery

£40

Puppy boarding per night

£25 

Dog walking

POA

Pet taxi per hour

£20 
"I share my house with Archie a very cheeky Lakeland Terrier who is an expert photo bomber!"
Samantha Walker
Thanks to dog lovers like you,
we're rated the UK's No.1 dog home boarder. Hurrah!
Areas Covered
We are delighted to provide this service in the following towns and surrounding areas:
Aldermaston
Ashford Hill
Basingstoke
Beech Hill
Bramley
Brimpton
Bucklebury
Burghfield
Chineham
Crookham Common
Dummer
Kingsclere
Loddon Old Basing
Mapledurwell
Mortimer
Oakley
Overton
Padworth
Popley
Preston Candover
Sherfield
Tadley
Thatcham
Theale
Three Mile Cross
Whitchurch