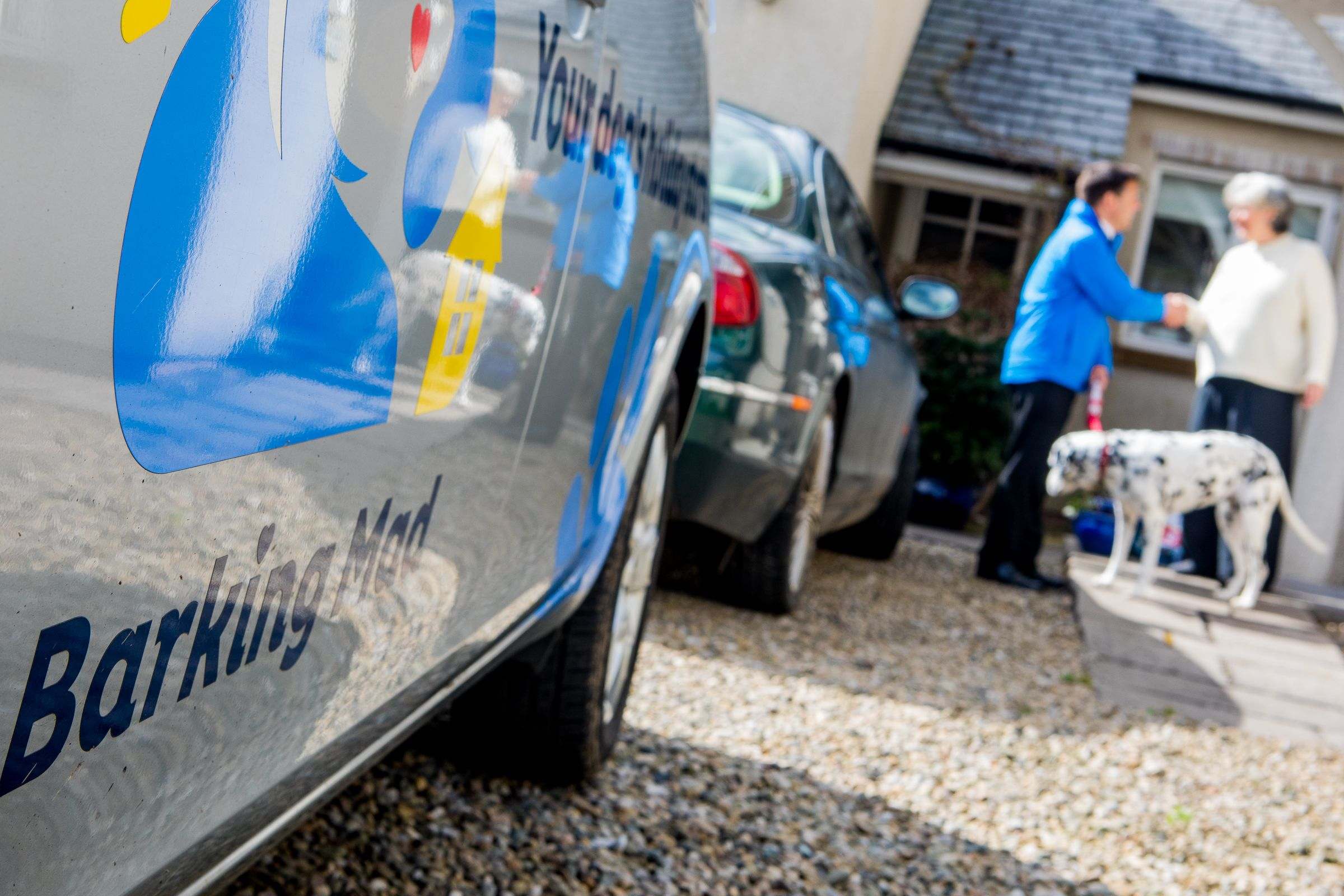 Exploring the differences between dog sitters and boarding kennels
At Barking Mad Dog Care, we understand that leaving your dog for the first time to go on holiday, or away for work commitments, can be a really confusing and emotional process. Your dog is an important member of your family and as such, you need to be certain that you have chosen the right care for them, in order that you can relax and enjoy your time away. Dog sitting (also known as home dog boarding), dog kennels, dog hotels – there seems to be an overwhelming choice available now but which is the right one for your dog? Below, we look at the main differences between dog sitters such as Barking Mad and traditional dog kennels.
1.Environment
Dog kennels tend to be purpose built accommodation, which house numerous animals, partitioned into individual runs or areas. They can vary massively, from high end 'pet hotels' with many amenities, to far more basic premises. They have a tendency to be fairly noisy due to the number of dogs being housed together. If you visit a kennels, observe just how many dogs are being boarded there and ensure there is no overcrowding.
As a complete contrast, when a dog stays with a dog sitting service such as Barking Mad, they will be the only guest dog in the home of their host (unless you wish to book for multiple dogs from the same household together.) Accommodation is offered in a family home, where the dog is free to roam the house and take advantage of any outside space, just as they would in their own home. Dog sitters offering a bespoke service should be able to match your dog's holiday environment closely with the environment they inhabit at home.
2.Routine
Because kennels care for so many dogs at once, feeding and exercise has to be scheduled by their routine, rather than the one your dog is familiar with. Some dogs may find a change in routine unsettling, so it is important to consider your dog's personality. Changing a puppy's routine can also be problematic as sticking to a feeding and toileting routine is essential.
If you are considering boarding your dog in a kennels, don't be afraid to ask, 'What will my dog do all day?' It is important to find out what your pet will be doing and what interaction they will have with other animals and kennel staff. You should look for a kennels which provides both individual and group activity settings.
Reputable dog sitting service providers place a huge emphasis on maintaining your dog's usual routine. At Barking Mad, as your dog will be receiving one to one care, it really is all about them! This enables their routine to be faithfully replicated and feeding times and exercise patterns adhered to rigidly, so they really do feel at home. We take the time to really get to know your four legged best friend and create a pet schedule, detailing everything about them so that our host families really do understand their daily life.
3. Dog health and well-being
Whether using dog sitters or a kennels, it is important to think about health considerations and ensure that your dog is fully up to date with all their vaccinations. Because dog kennels house numerous animals at the same time, it is easier for viruses and parasites to spread between them, so it is vital to ensure that exemplary hygiene practices are in place. If your dog should become ill whilst in kennels, the business will have their own vet who will attend to your dog.
With one to one dog sitting, your dog shouldn't be exposed to contagious illnesses any more than they are at home. In the event of your dog becoming unwell, Barking Mad endeavour to use your own vet whenever possible and are happy to administer medication and take care of special needs at no extra cost. Individual, personal attention given to a dog should also help to reduce the stress of a new environment and help them to feel comfortable.
4.Cost and convenience
Dog kennels may often appear to be a cheaper option than dog sitting, as when multiple dogs are being cared for together costs are lower. However, whilst kennels will meet your pet's basic needs with regards to food and exercise, any extra attention such as the administration of medicine and additional exercise, is often charged at an extra rate over and above the daily fees.
Dog sitting or dog home boarding may initially appear to be a more expensive option but when you consider that your beloved pet will receive one to one attention and will be living as part of a family, it does offer great value and peace of mind. You should always check what is included in the price but generally dog sitters don't charge extra for providing your dog with the amount of exercise they normally have, or any special attention they require.
If you have a busy travel schedule, you may also find that dog sitting is more convenient as many sitters offer a chauffeured pick up and return service, saving you the time and hassle of driving to a kennels, although there will be an extra charge to cover petrol costs and the dog sitter's time.
5.Meeting your dog's individual needs
When thinking about the options of various forms of dog care, the most important considerations are your dog's individual needs. Are they very young or old, do they have a medical condition? It is vital that you choose a service that really meets your dog's needs and this may mean that they require the individual attentions of a dog sitter.
Equally, if your dog has shown aggressive tendencies or is particularly destructive, a boarding kennels may be more suitable and will prevent worry about their behaviour in a home environment.
What's the right choice for my dog?
Choosing the right care for your dog is dependent on their health, temperament, past experiences and of course your own personal preference. When considering a dog care provider you should always listen to your instincts and do some research. Don't be afraid to ask questions; you can read our article about 9 important questions to ask a potential dog sitter here.
Many dog care providers will have on-line reviews which you can read, from previous customers. A trial stay is also always a good idea, to check that both you and your dog are comfortable and happy with the arrangement. Once you are sure that your dog is in safe hands, you can relax and enjoy your time away, knowing that they are having a great time too. You can find out more about Barking Mad dog sitting and contact your local branch here.
Back To Main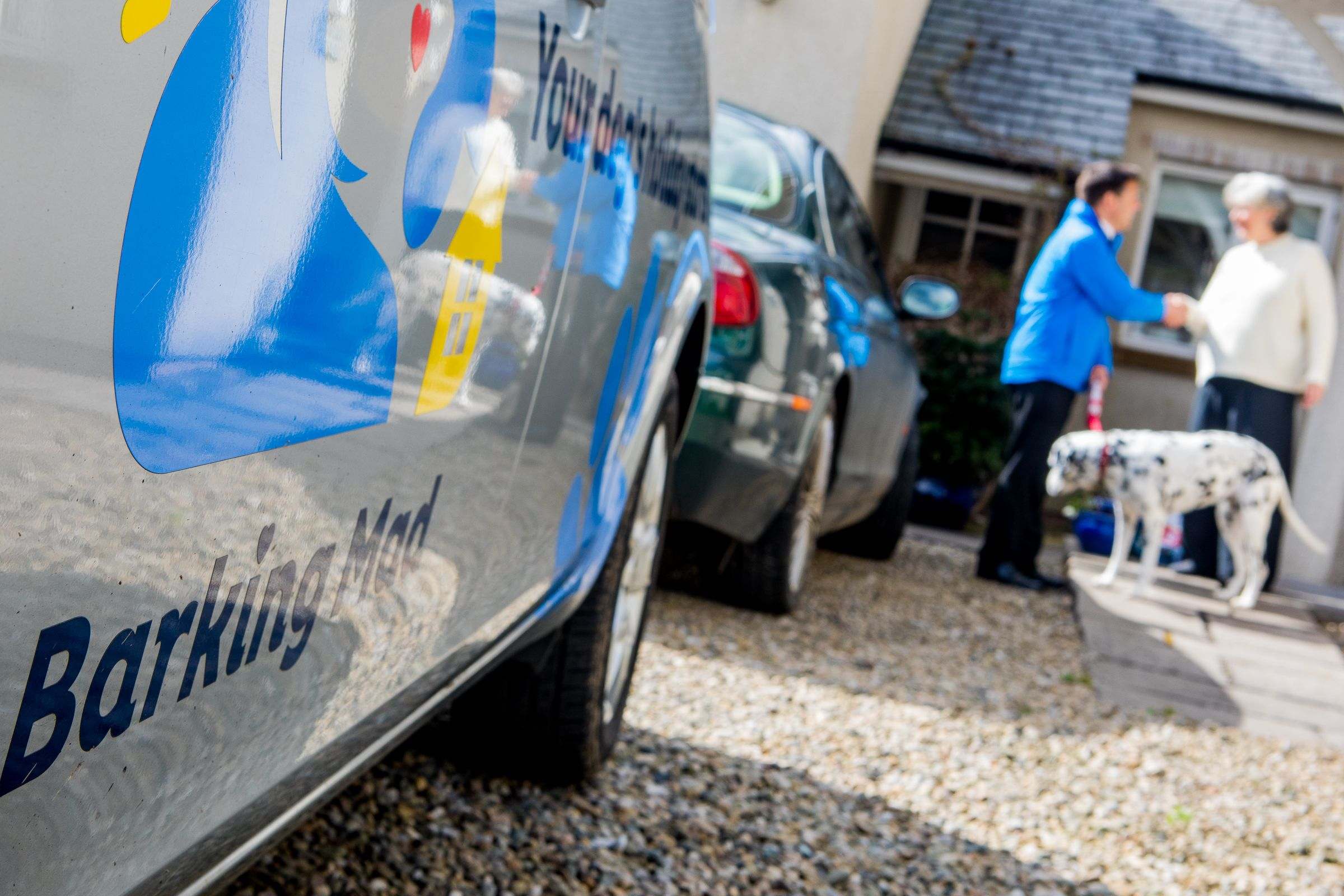 To find your local branch, prices and much, much more: