Barking Mad meet up with the Women's Institute – March 2019
This month local owner, Carrie, gave a talk and slide show to the W.I. in Horsley, Northumberland about our dog sitting service. She explained how Barking Mad Dog Care came into being and the benefits of our bespoke, one-to-one dog boarding service. The local members were interested to hear about our careful two-way matching and high levels of support which makes Barking Mad dog holidays unique and such a success for both our customers and our host families.
The talk was followed by a dog themed quiz and with virtually every member of the WI group either owning a dog, having previously owned a dog and/or helping out friends and family with dog care the scores were high! The winner was Judith Rodgers, pictured here with her Border Collie, Mia and her prize. Judith's sausage dog mug was originally filled with Lindt chocolates but these had somehow disappeared by the time Carrie popped in for the photo! Mia has now found her foreverhome after two previous unsettling experiences and she brought solace to Judith after the premature loss of her previous dog – a lovely story of the special bond between dogs and people.
Carrie will also be talking to the U3A (University of the Third Age) group in Ryton, Tyne and Wear later this month – get in touch if you're looking for a speaker for your own group and would like her to visit.
You can also meet your local Barking Mad team when you are out and about at the local shows and fairs this year. We are already booked for: Corbridge Midsummer Evening, High Spen Community Picnic, Crawcrook Show and Corbridge Festival. Why not pop in and enter our free prize draw for luxury afternoon tea for two at Matfen Hall, Matfen, Northumberland? Above is last year's delighted winner, Helen Milburn! You can also win a free pet photo shoot with our friends, Star Paws Photography
We're in the News!           
Barking Mad Newcastle and Tyne Valley has recently been featured in the local press. Our dog boarding service provides not only great dog holidays but enhanced well-being for many of our hosts, who provide pet sitting for our doggy guests. Both The Journal and the Hexham Courant picked up on our story about how looking after friendly dogs can reduce the social isolation that may be experienced by people based at home such as the retired, remote workers and those with flexi/part-time work commitments. Our Prudhoe-based host, Joyce, spoke to the camera and featured in the both the print and online versions of the Hexham Courant. She very eloquently and succinctly described the benefits to her of providing dog boarding with Barking Mad and you can view her video clip here.
If you are interested in hosting friendly dogs local business owner, Carrie, would love to hear from you. We have opportunities to host for people living in Gosforth, Jesmond, West Newcastle, West Gateshead, all the Tynedale villages and towns and North Durham. Call Carrie on 0191 4147264 or email carrie.jarvis@barkingmad.uk.com
We were delighted to receive a special thank you from our sponsored charity, Dogs for Good, for our fundraising efforts in 2018. Barking Mad Newcastle and Tyne Valley was in the Top 5 across the Barking Mad network and as we have around 80 branches that is an achievement of which our hosts, customers and other supporters can feel very proud!
Barking Mad Newcastle and Tyne Valley- Local News Dec 2018
The winners are announced!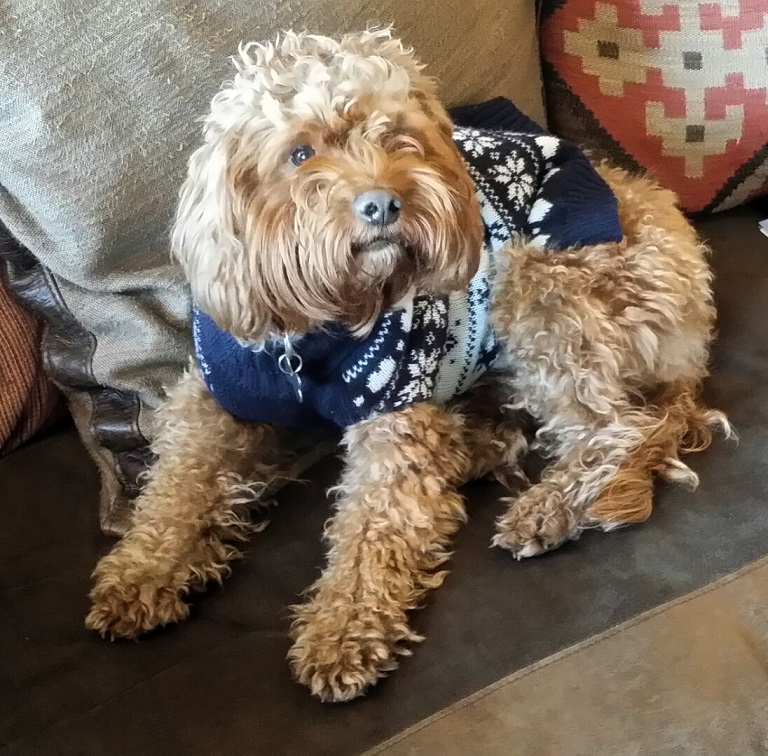 We're delighted to announce the winners of the annual prize draw from Newcastle and Tyne Valley branch of Barking Mad. Visitors to our stand at local events in Northumberland and around the Newcastle and West Gateshead areas entered the draw when enquiring about our dog boarding service or the opportunity to dog sit as oneof our host families. Quite serendipitously, the winner of our pet photo shoot,kindly offered by StarPaws Photography, is current Barking Mad poster boy, Humphrey theCockerpoo who has recently been seen modelling his Christmas jumper all overour webpages and mailings! Humphrey's mum, a current customer, stopped by for achat when we were at the Midsummer shopping evening in Corbridge so Humphreybetter dig out another outfit for his next modelling assignment with Star Pawsphotographer, Sue Lax!
Winner of afternoon tea for two at Matfen Hall is Helen Milburn. Helen, a teacher from Gosforth, Newcastle upon Tyne, came to chat during her half term break in May and has since joined us a one of our school holiday pet-sitters, offering all the comforts of home to our guest pooches. Unable to own a dog whilst working during term time this is a wonderful way for Helen to enjoy canine companionship and she and her husband, Richard, are looking forward to their teatime treat.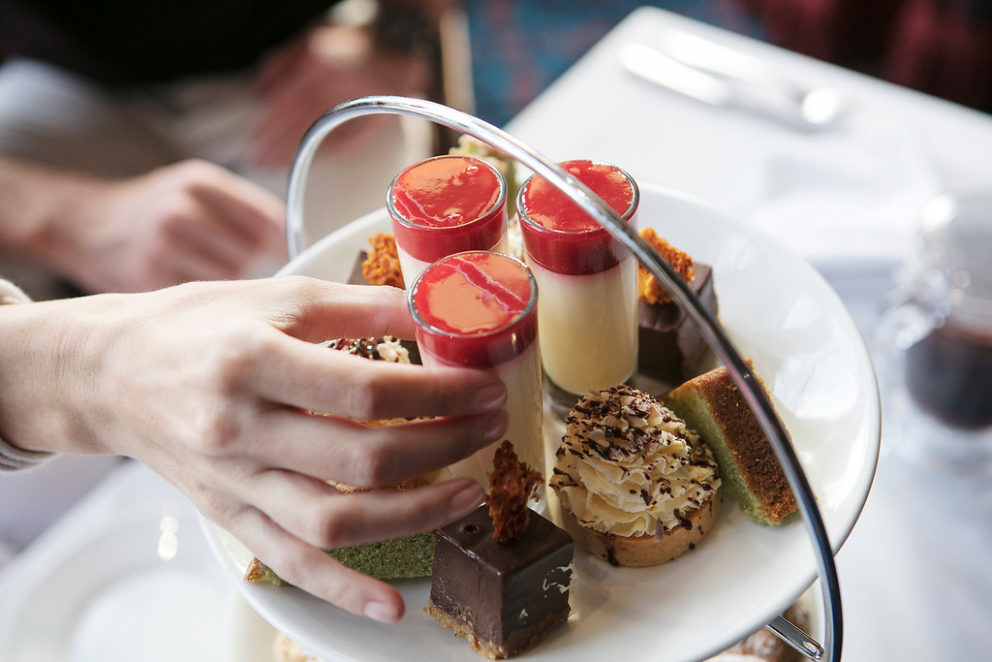 We're in the news…
Take a look at this link to the Hexham Courant online where local Barking Mad owner, Carrie, was recently featured explaining about our fund raising events in aid of our sponsored charity, Dogs for Good.Watch out also for the print article which comes out soon.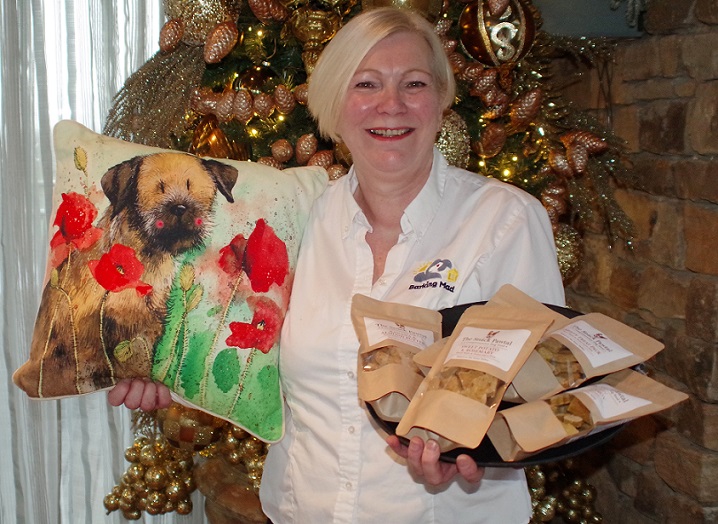 Goodbye to Judith…. and hello again!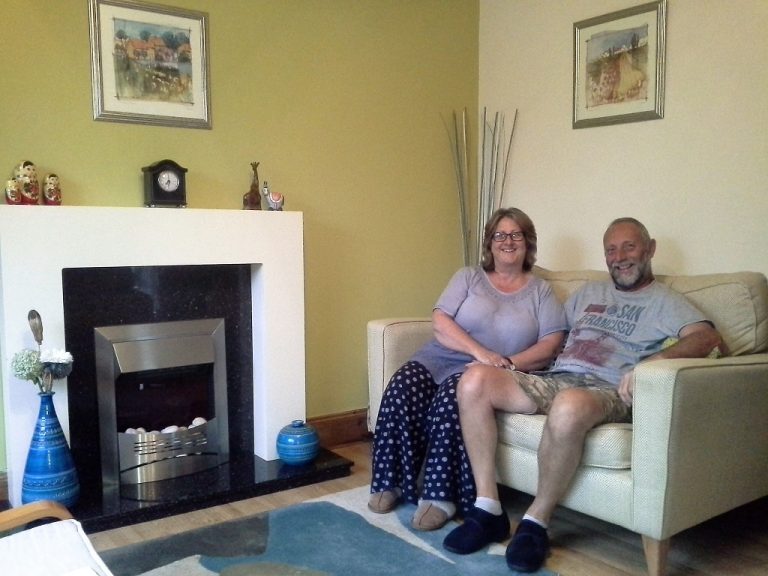 After 3 Summer seasons our driver/dog care assistant, Judith, has retired from our dog boarding team. Always super-organised and unflappable Judith has transported our doggie guests to/from their dog sitters for their dog holidays and we will miss her. She and her husband, Paul, have bought a camper van so she will picking up another set of keys and hitting the road again soon! We are particularly pleased though that we are not saying goodbye for good as she and Paul will still dog sit our guest dogs, as they have done for the last two years. When not travelling they will continue to offer a lovely home boarding experience to dogs who enjoy the company of their Saluki Lurcher, Rosie from their home just outside Ryton, in the lower Tyne Valley. We've just had a lovely review from Labrador, Jasper's owner following his recent stay with Judith and Paul – read it here.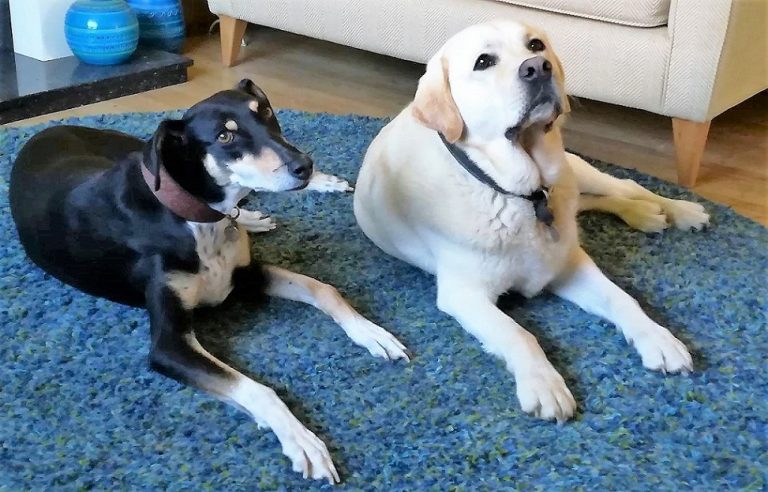 Are you looking for that special gift for a dog lover?
We're pleased to introduce you to Sarah McVeigh of Captured Keepsakes. Sarah has worked from her studio in Prudhoe, Northumberland, since 2009 creating quality lifecastings and keepsake jewellery. She can capture your pooch's paw or nose print and cast it to make a lasting and beautiful item. These can be presented so that they can be framed/displayed in your home or you can keep your cast in your pocket for that touchy-feely experience of your dog. Sarah can be contacted via her Facebook page or phone her on 07920 026661.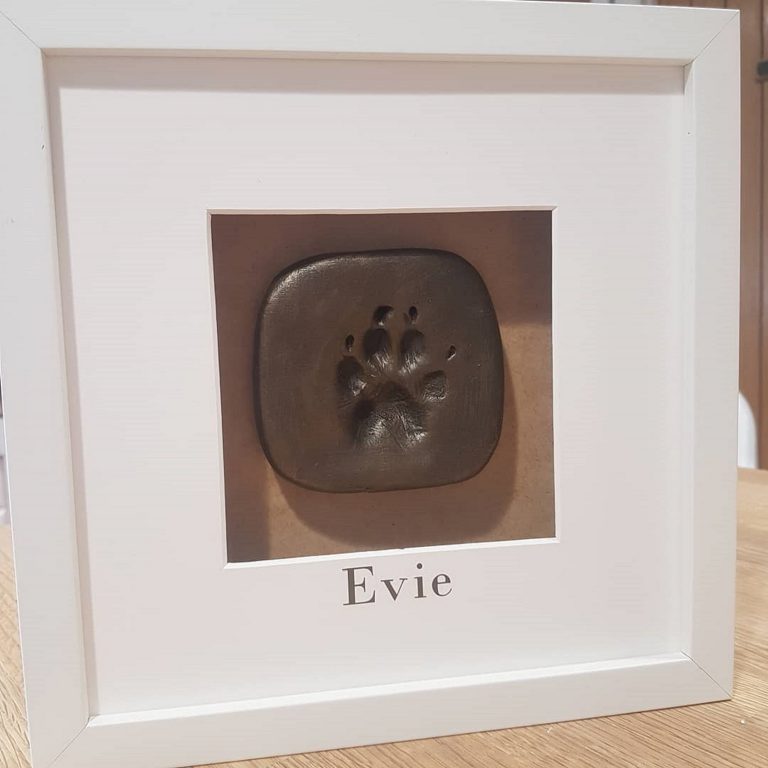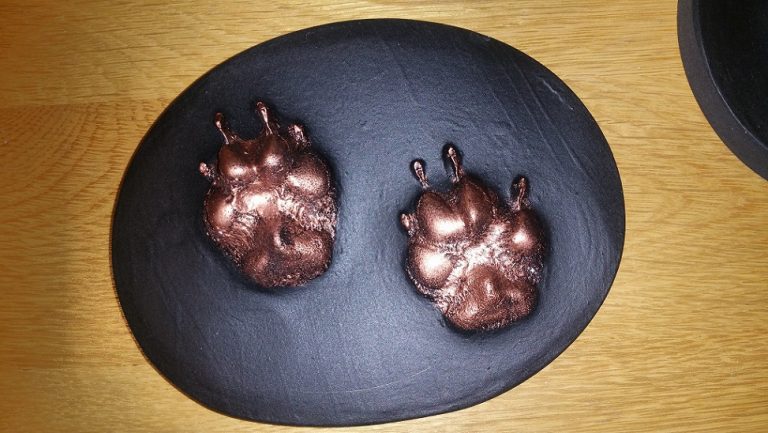 Take a look at the silver nose cast here.
Sarah's website is here, and her facebook page is here.
Barking Mad Newcastle and Tyne Valley – Local News Aug 2018
 Hosting is good for you!
Barking Mad Newcastle and Tyne Valley were at Slaley Show recently letting the world know about our 5 star dog boarding service. We were delighted to catch up with one of our former hosts, Marie with her friend, Flynn, the Labrador. Marie is happy for us to share her hosting story – she joined us after having to leave University when she developed a medical problem with chronic fatigue and joint/muscle problems. Initially too unwell to exercise at all Marie started to recover and realised that she needed a focus to her day and to take more regular exercise.
She joined us as a host and initially provided home boarding for quiet, calm dogs with low exercise needs so that she did not over-do it. Quite quickly her exercise tolerance improved and a year down the line she was pet-sitting much more bouncy dogs who needed long walks! Both Marie and her NHS physiotherapist credit much of her recovery to the flexible opportunities offered by Barking Mad. Not only was the exercise good for Marie but doggy companionship and opportunities to socialise with other dog lovers helped lift her spirits during her long rehabilitation.  Now working at a local vets Marie said, "I'm applying for veterinary medicine courses and looking forward to the future – I definitely would not be where I am today without Barking Mad. The dogs I hosted were perfectly matched for me, I could take breaks between different dogs and knew that I always had support from Carrie if I needed". We're so pleased for Marie; what a wonderful outcome!
Check out some of these links below –
Find out more about Barking Mad Newcastle Tyne Valley dog home boarding HERE
Come to the Fair!
Your local branch of Barking Mad dog sitting service is always particularly busy in the Spring and Summer months. Not only do we have lots of pooches enjoying their dog holidays with our select host families but this is the time of year we get out and about with our information stand.
Carrie and Ian really enjoy meeting people at local shows and fairs and spreading the word about our premium dog boarding service as well as the opportunities for people to have a "part-time dog" by joining us as hosts.
It can be really hard to find tailored, one-to-one home boarding so people are often delighted to discover Barking Mad. Likewise, so many dog lovers who can't commit to full time ownership are thrilled to discover there is a way to enjoy a canine companion on an occasional basis.
This year we have already been to Hexham twice – for the Spring Festival and Armed Forces Day – as well as Corbridge Midsummer Evening, Prudhoe Town Fair and a local fair in Whickham, West Gateshead. Look out for us at Crawcrook Fair, near Ryton in lower Tynedale (4th August) and Slaley Show (11th Aug). Why not come and see us and enter our free prize draws? You could win a luxury afternoon tea for two at Matfen Hall or a pet photo shoot from our friends at Star Paws Photography!
Crawcrook Fair https://www.facebook.com/CrawcrookFair/
Slaley Show https://www.facebook.com/Slaley-Show-324881760905435/
Matfen Hall https://www.matfenhall.com/dine/afternoon-tea/
Star Paws Photography http://www.onlinepictureproof.com/starpaws/gallery/10733/dogs
Find out more about Barking Mad Newcastle Tyne Valley dog home boarding HERE
Calling All Dog Lovers! – June 2018
Barking Mad Dog Care is always keen to meet people who would like to host our super guest dogs. Many people have heard of dog fostering but don't realise that they can join our dog sitting host community and offer short breaks and holidays without the long term commitment of fostering or ownership. We're spreading the word with our local coffee mornings in dog-friendly cafes.
Recently, we were well looked after at Hedleys Riverside Coffee Shop on the banks of the River Tyne at Newburn. On 18th June, 9.30-11.30 am, we'll be sharing the joys of hosting dog holidays at Chai Tea Bar, 4 Hawthorn Road, Gosforth, NE3 4DE. Everyone who comes along has the chance to be entered into our free prize draw for a luxury afternoon tea for two at Matfen Hall Hotel!
Back To Main
To find your local branch, prices and much, much more: