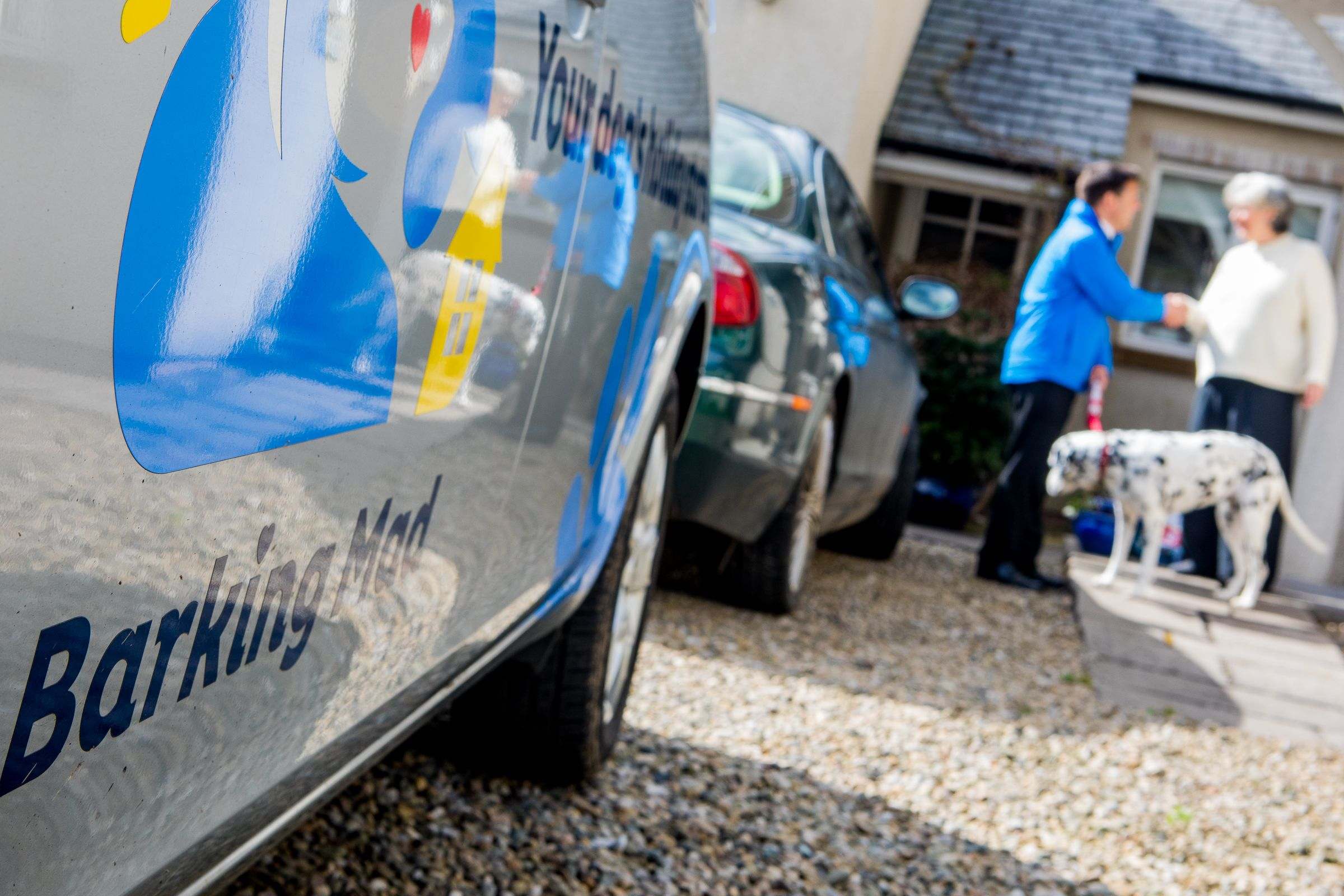 November News!
What a fantastic day we all had.   My hosts are wonderful people who never fail to impress me with their commitment and the way they look after visiting dogs, always going the extra mile when they need to.  My annual party is a great way of saying a big thank you to them all!   My sister Ann and Owain's (my driver)wife Sue helped with the tea making facilities and my lovely friend Tracy from the neighbouring franchise helped make it a special day too.
I was also very proud to win an award at our Northern Sales Meeting for continued growth of the business.
Autumn News – October 2018
What a wonderful start to the Autumn!  Bookings for next summer are considerably higher than last year already!    We are also beginning preparations for our annual host Christmas party to say a big thank you to our amazing hosts for their commitment and hard work throughout the year.   Photos and details will follow in my Winter News!
Here is a lovely photo of Meeka enjoying her Autumn holiday sitting on the windowsill at Aunty Dorothys' watching the world go by.
Summer news! -August 2018
I would like to introduce my lovely new member of staff Linda.  Owain who I introduced to you before the summer began has been a marvellous support to me during my busy summer months.  He is now joined by Linda who used to be a Host with us until she fell in love with one of her visiting dogs who was a Mini Dachshund!
She is now the proud Owner of two of these gorgeous dogs!!  When Linda is not helping me with driving and admim for Barking Mad she is a Cycling Profiiency Officer and works term time which is perfect for me as she is able to help out during our busy school holidays.
The Great North Dog Walk in South Shields! – June 2018
We took part in the worlds biggest charity dog walk on Sunday 3rd June at South Shields.   We were undeterred by the drizzly grey weather and thousands of dogs and their Owners turned out to support this day.  This year there was an estimated 40,000 pooches taking part.  This event joins forces with the Dogs Trust which is the UKs largest rehoming charity for dogs.   A great deal of my lovely customers and hosts turned up to see me from as far away as Tynemouth, North Shields and Dipton.   The photo above of the white Westie is a gorgeous boy called Mac who was on holiday with John my lovely host from the South Shields area, he has provided lots of holiday dog care for the many dogs we have placed with him.  If you are interested in becoming a host please get in touch on 0191 4194242.
Our stand was next to the Dogs for Good stand which is a charity close to our heart, all of us at Barking Mad have been raising funds for this wonderful charity so it was lovely to chat to them and swap stories, including the fact that we have all just raised money to buy a new puppy which we have named Prince!   More information will follow.
For more information on Barking Mad Washington, North & South Tyneside click HERE
Washington News –  May 2018
What a wonderful day we all had.  This is a perfect opportunity for us all to meet and compare notes on how we run our fabulous businesses.   A group of us from the North that are known as the "Northern Lights" all met the day before the conference and completed a fabulous walk to Wansfell Pike.
I am now preparing for the busy summer ahead.   This is my new Driver Owain who has come on board to help me with Collections and Deliveries.  He used to be a Police Officer specialising in Dog Training so he is fully experienced in dealing with our little pooches who go on holiday.  I am sure you will meet him when he collects your gorgeous dog.
Great day out at the Metro raising money for DOGS FOR GOOD!
Welcome to Barking Mad!  The home from home service where your dog has a holiday too!  This is the perfect solution when you are away on holiday and are unable to take your beloved pooch with you.  Your dog will spend its holiday living with a perfectly matched host family.  You dog will get all of the home comforts and company that they usually get at home.  Their routines will be maintained and they will have lots of lovely walks and cuddles with all of their familiar things around them such as toys, beds and food.   It's a fantastic alternative to lonely kennels.
We are all true dog lovers at Barking Mad.  Myself and the four neighbouring franchisees from the North East – Carrie, Tina, Tracy and Joanne had a great day at the Metro Centre in Gateshead fundraising with a tombola stand on Friday 23rd March.   This was to raise money for "Dogs for Good" a charity very close to our hearts.  What a day we had with some lovely people!
We are currently raising money to pay for the training of a puppy as an Assistance dog for the charity "Dogs for Good".  We are all very keen to support this wonderful charity.  Michael Benson came along with his assistance dog Joe to demonstrate how Joe helps him in his day to day life.   Joe has worked with Michael for 8 years now and he loved the attention he received from shoppers and ourselves as he showed off his skills.   We managed to raise £280 for this fantastic charity and we are continuing to raise money throughtout 2018 with similar events so please attend if you can!  If you would like to donate please contact https://www.dogsforgood.org/.
We were even featured in the local press, have a look here to read all about it.
To find out more about Barking Mad Washington, N&S Tyneside take a look here
It's beginning to look a lot like Christmas! – November 2017
Here at Barking Mad dog care Washington and Tyneside we once again had our annual host party to thank our amazing dog loving hosts for their help over the last year!  What a wonderful time we had at the Northumberland Tennis Club.  There was a lovely atmosphere as our hosts relaxed and enjoyed each other's company and the lovely food whilst sharing doggie stories from the last year.
Our doggy holidays which we provide with the help of our fantastic team of hosts, show how we really do have the edge over kennels and multi boarding pet sitters, our hosts are devoted to their doggy guests and provide true home boarding in a lovely family environment where their dog guest has their undivided attention throughout the holiday.
If you would be interested in hosting for us please get in touch or alternatively, if you are looking for tailored exclusive care for your dog we are here to help you.  Just give me a call on 0191 4194242, we would love to hear from you.
Here are some wonderful dogs on holiday this November, whilst their Owners were in the sun they were playing in the snow, at the park and swimming in the sea having a great time on their Barking Mad holiday.
Find out more about Barking Mad Washington, N & S Tynside dog home boarding here 
Back To Main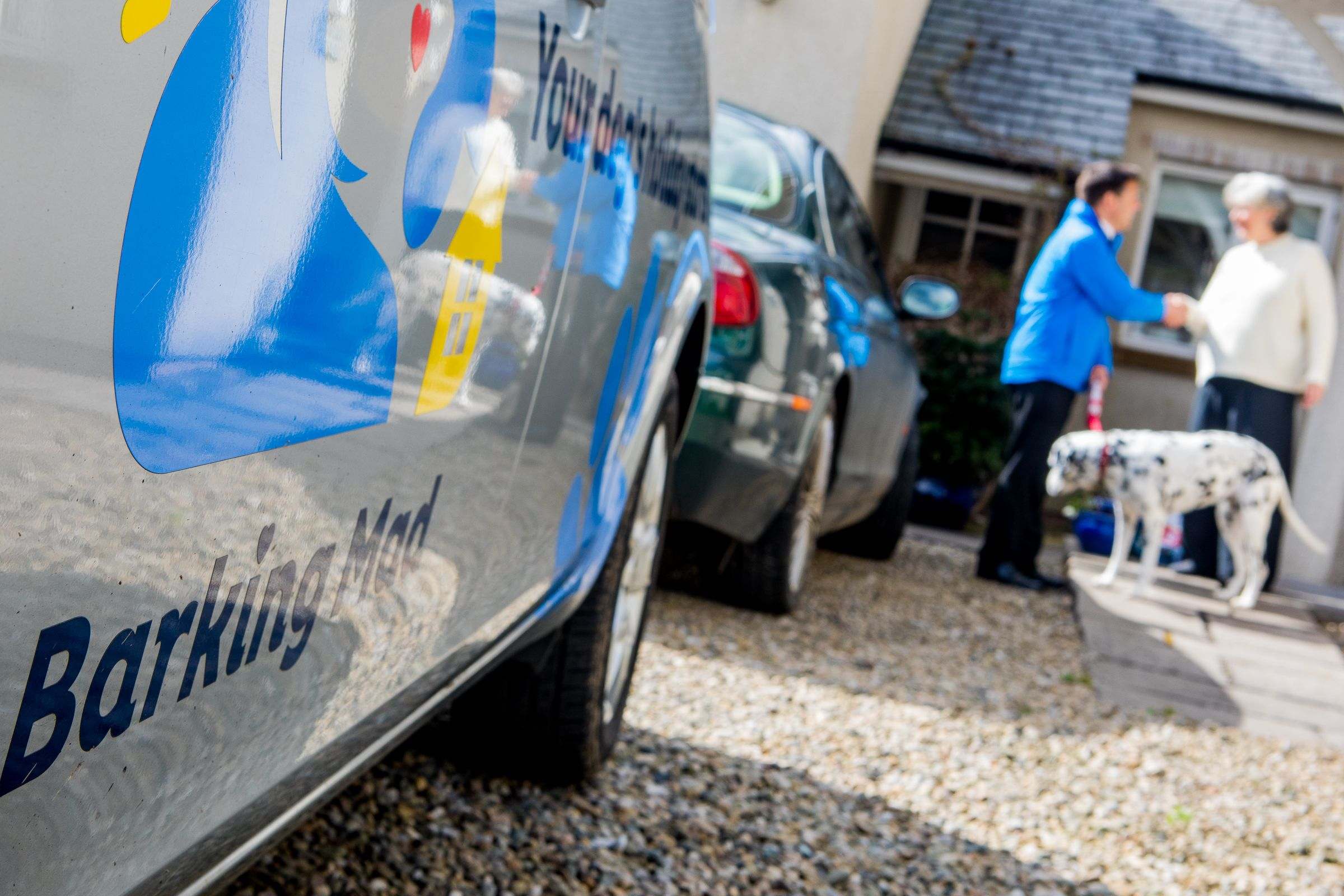 To find your local branch, prices and much, much more: