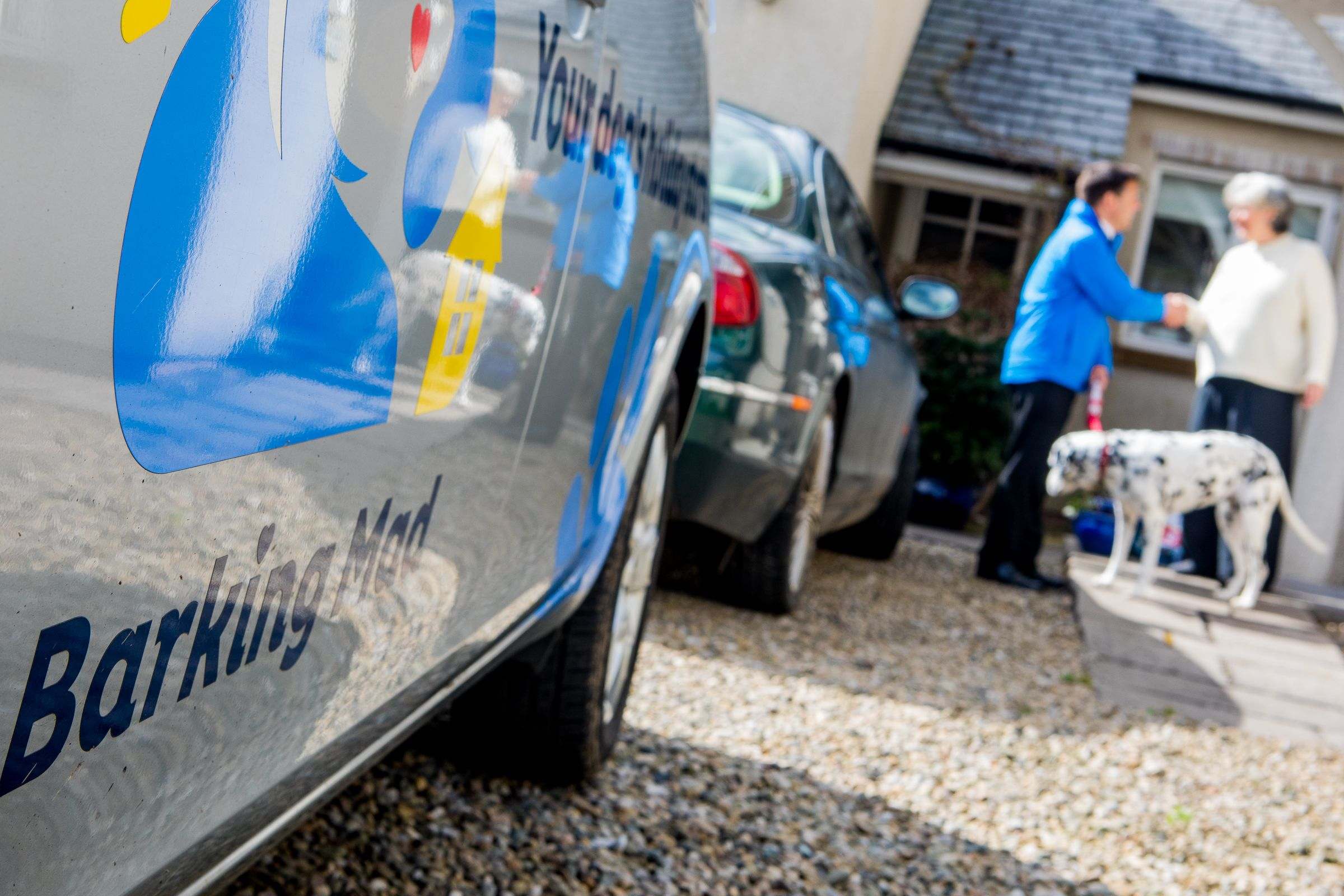 Barking Mad North Glasgow Franchise For Sale!
We have been running our multi award winning Barking Mad dog sitting franchise in North Glasgow, Falkirk & Lanarkshire for 14 years. The popularity of our service has exceeded all our expectations and it has now reached the point where the size of our area has become overwhelming.  We have therefore decided to split our territory to make our own business more manageable and to give someone else the opportunity to build on the thriving, existing business in North Glasgow.
We have reassured all our customers and hosts that there will be no disruption whilst the sale takes place and that the new franchisee will run the business in exactly the same way that we do. Barking Mad holds the ISO9001 quality award and as such, all franchisees adhere to the same rigorous policies and procedures – so the only thing that will be different will be the person arranging the doggy holidays!
Do You Think You Could Be Interested?
If this is something you think you might like to do, why not get in touch for an informal chat?  We could tell you what it's like to be a franchisee and explain how things work on a day-to-day basis.  Running your own business is extremely satisfying and there is nothing better than working for yourself and being your own boss. That said, your customers expect a flexible service and your hosts expect (and absolutely deserve) 24-hour support, so this is not really suited to someone who prefers the predictability of office hours.
How Much Would It Cost and What Would I Be Buying?
The purchase price is £46500. This price has been carefully calculated by considering current turnover and the number of potential new customers available.
You would be buying the credibility of a long established and well-respected brand. The purchase would include all the existing customers, any current bookings and also a network of fantastic hosts.  You would also have the full back up, training and support from the Barking Mad Head Office Team and would be welcomed into the Barking Mad family by all the other franchisees across the UK.
Before trading, there would be a mandatory 5-day training programme at Barking Mad Head Office. The cost of this would be covered by ourselves.
We will look forward to hearing from anyone who might like to become the next Barking Mad franchisee in North Glasgow. If you know anyone else who could be interested, please pass on the details about this fantastic opportunity.
For further information, please call 015242 76476 or e-mail to jakki.gunn@barkingmad.uk.com
We look forward to hearing from you!
Barking Mad Annual Conference 2018
Jakki and I recently had the honour of attending the Barking Mad Annual Conference, our 13th one since our Franchise started operating in 2004. It was a fantastic weekend spent with over 70 other Franchisees from all over the UK celebrating all things Barking Mad. We all looked back at we had achieved over the last year and enjoyed making plans for the year ahead. It was fantastic to spend time with so many like-minded people who are as daft about dogs as we are and who join us in our aim to provide stress free, amazing and truly bespoke holidays for your dogs.
Celebrating Easter 2018
As a thank you for all their support, Jakki and I invited all our lovely Host Families for an Easter Lunch at Craigend Nursery, Condorrat. Although not all our Hosts could make the day we had a lovely turn out and everyone seemed to enjoy themselves swapping stories of their holiday guests! Our Host Families are a massively important part of our dog care business and without them your furry family members would not be able to enjoy a truly special one to one doggie holiday.
Jakki and I put together a Hamper, which we raffled, and all the proceeds went to our chosen charity, Dogs for Good. Catherine, who had travelled from Grangemouth to join us, won the raffle prize and all our Hosts got a little goodie bag which contained, amongst other things, our homemade Seville Marmalade.
If you would like to find out more about Barking Mad North Glasgow, Lanarkshire & Falkirk Click HERE
Snowy Days and Dog Holidays – February 2018
Barking Mad had an extremely busy February with lots of our existing customers booking in their doggie holidays for the year ahead. The snow didn't stop us travelling the length and breadth of our territory from places like Glasgow to Strathaven to meet with new customers and their fantastic dogs to find out exactly what they would like from our truly bespoke dog sitting service.
Those dogs that were lucky enough to go on their holiday during the snowy weather enjoyed lots of fun filled walks followed by some well-earned rest and relaxation cosied up with their host families. Penny, a Dalmatian from Denny, had a fabulous time with Ruth in Motherwell and after their long walks really enjoyed wrapping herself up in her blanket to keep cosy whilst relaxing in front of the fire..
Archie loves his Barking Mad holidays with his host Catherine in Hamilton and wasn't going to let a little bit of snow get in his way. He has stayed with Catherine on many occasions, they have a fantastic bond and really enjoy each other's company. Due to the terrible weather his owners were unable to fly back into Glasgow Airport, so Archie got to stay on Holiday for an extra 2 days…there were no complaints from him or Catherine!!
Dogs for Good Fundraising – January 2018
We are very proud to announce that 'Dogs For Good' is Barking Mad's chosen charity for 2018. This amazing charity trains assistance dogs to support adults and children with a wide range of disabilities. This helps give them back their independence and in turn enriches and improves their lives and the lives of their families too.
If you would like to help us raise money for such a fabulous charity then we will shortly be introducing an initiative to enable customers to make a voluntary donation of a pound, with every booking made with our dog home boarding service.
Barking Mad would love to raise enough money to fund the training of a puppy for Dogs for Good so Jakki and I have decided to start our ball rolling and will be organising a sponsored bike ride from Kilsyth to 'The Kelpies' in Falkirk and back again (30 miles approx).
We would love it if any of our customers and hosts would like to join us on this journey along The Forth and Clyde Canal taking in the stunning scenery and passing 'The Falkirk Wheel' along the way. We have yet to set the date so please keep an eye on future news for further details or please get in touch for more information. To have a look at our 'Just Giving' page click HERE
Back To Main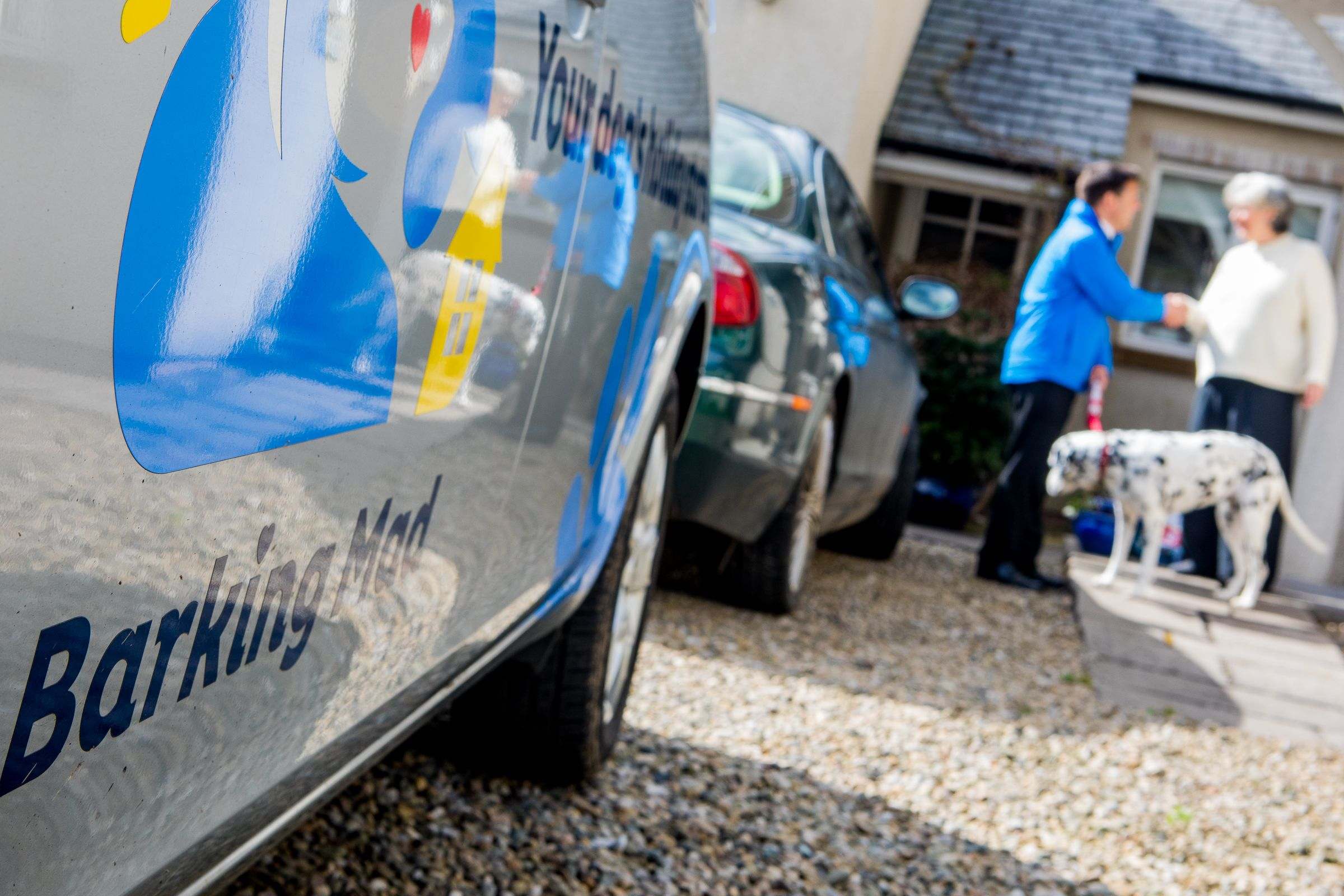 To find your local branch, prices and much, much more: