5 Free Ways to Have Fun with Your Dog in Northumberland – March 2019
Britain is a nation of dog lovers and as such, it is unsurprising that many of us lavish our time, energy and money on our canine best friends. It's important to remember though that you don't have to spend a fortune to have fun with your dog! Below we list 5 ways in which you can spend quality time together, in addition to the usual walks and cuddles, without breaking the bank.
Turn everyday items into dog toys
One man's trash is his dog's treasure! Why not have a sort out and see if you have anything that could be made into a game for you and your dog to play? For example, an old muffin tray can be made into a fun treat finding competition, by placing tennis balls in the cups. Check out this great article from Country Living Magazine which gives instructions on how to make some fantastic DIY dog toys. Always ensure that any materials are safe for your dog and that play is fully supervised. Enjoy – what could be more fun than a free game of Tug-O-War?
Make your pooch Instagram famous
Everybody nowadays seems to be 'chasing the gram', so why not your pooch? Creating your dog's very own Instagram account is a fun way to spend time together. Posting photos is a great way to share what you love about your dog with others. We're sure that your best friend will not protest too much about going on doggy adventures in beautiful locations and being snapped enjoying their favourite tasty treats. Insta-famous dogs such as Crusoe the Celebrity Dachshund even have their own merchandise and some get paid for creating content for brands.
Visit historical sites
Why not learn about the past with your favourite pooch? A search on the English Heritage website reveals 70 free, dog-friendly places to visit. The walk from Craster up to Dunstanburgh Castle is a beautiful walk. And English Heritage, Warkworth Castle is dog friendly too.  The National Trust is also keen to welcome more dog walkers and has fabulous places locally such as Cragside and Wallington on offer which are free to visit, with just a car parking charge.
Spare 2 minutes to help
Why not make a difference with your dog and help rid your favourite beautiful places of litter and plastic pollution? Take your dog on a lovely walk and spare just a few moments of your time to do a #2minutebeachclean or #2minutelitterpick. Small acts such as this make a big difference when everyone gets involved!
Have a four-legged friend to stay
If your dog is sociable and loves to play but you just can't commit to owning a second one, there is a Barking Mad solution! Here at Barking Mad, Northumberland, we are always searching for more dog lovers to join our host community and offer a temporary holiday home for friendly dogs. Our Host families care for dogs in their own homes, at a time to suit them, with 24/7 support and administration and insurance taken care of. Get in touch for a chat.
February 2019
Love is in the air, as we celebrate Valentine's Day this month. But we don't need it to be Feb 14th to tell our loved ones that we love them, do we? It's funny that we don't need reminding to tell our 4-legged furry friends that we love them. And vice versa. #mansbestfriend
We had an article in the local paper, www.northumberlandgazette.co.uk  recently and we talked about the benefits of spending time with a dog. A dog in the house can help people cope with isolation while inspiring them to stay fit and healthy. Our team of host families do a marvellous job of caring for our visiting holiday dogs. It is a two-way deal, as they get lots of benefits too. Caring for a friendly dog not only provides canine cuddles but also the motivation to take daily walks, increasing the likelihood of adhering to New Year fitness resolutions. It can be social too, as you often meet up with other dog owners and chat to people, that you would normally walk straight past. The dog is always a great ice-breaker. Our hosts have a Facebook group so they can chat to each other and share stories and photos of their latest doggy visitor. We also organise walks and coffee mornings too. Several of our hosts are single and retired and enjoy the benefits of short-term dog care. By looking after dogs whilst their owners are on holiday, hosts can experience all the benefits of dog companionship without any of the emotional or financial responsibilities of full-time pet ownership.
Here at Barking Mad, Northumberland we can organise hundreds of dog holidays each year thanks to the forty-plus single householders, couples and families who host on a regular basis. If you would like to be part of our Host community, please get in touch.
We are currently looking for hosts in Alnwick, Morpeth, Cramlington, Seaton Delaval and Monkseaton, and surrounding areas.
January 2019 
Happy New Year from the Northumberland team.
As usual, the year has started off busy with lots of customers from around Northumberland getting in touch to book their dogs in for their holidays. It's always a good idea to get organised and book your dog in for their holiday, when you are arranging yours. We do get booked up, especially at busy times, and we don't want to disappoint your dog. As we always say at Barking Mad….dogs deserve a holiday too.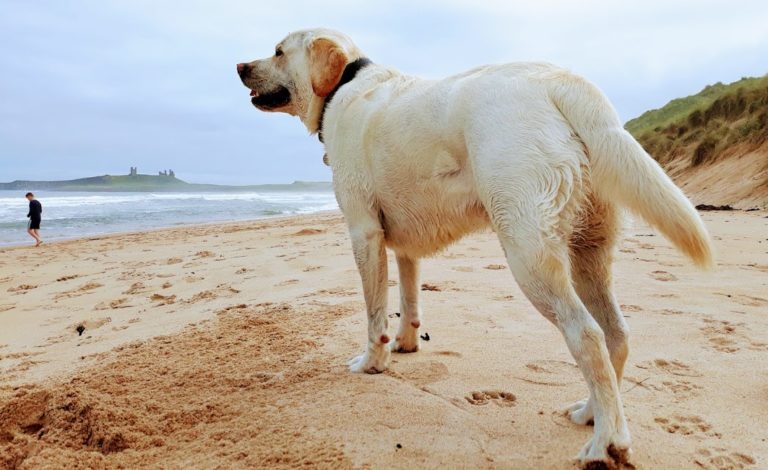 We are also looking to extend our host family community and are looking for host families who can care for dogs whilst owners are on holiday. So if you are retired or a stay at home parent, or perhaps you work from home. The important factor is that you are home to care for your doggy visitor. So whether you live in Alnwick, Rothbury, Morpeth, Cramlington, Monkseaton, Seaton Delaval, or anywhere in between, paws to consider…could you open your heart and your home to a visiting dog. #cuddles #hugs #exercise. It's the perfect time of year to Get Fit with Fido. Dogs are the perfect excuse to get outside for a walk.
November News
Me and the team had our annual Pre-Christmas coffee morning with a fab team of hosts this month. We hired Stannington village hall, as its easy to access and has good parking. We have hosts coming from as far north as Doxford, Alnwick and Warkworth as well as hosts in the south of my patch, who live in Cramlington, Bedlington, Blyth etc. Barking Mad is very much a family business, so I have husband Brian taking the photos and he sorts out the background music. The kids take charge of the Christmas bran tub, and my Mam and Aunties,  do a fab job in the kitchen, making endless pots of tea and coffee. Me and team make lots of tasty treats that put on all the tables, so plenty of choice to have something tasty with your cuppa!. So it's a real team effort.
I do love to organise this event, as it's a chance for us to get together, introduce like-minded folk to each other and it also gives me a chance to say a massive thank you to my amazing hosts, who do such a good job caring for dogs all year round.
We did a Christmas bran tub, where everyone bought a ticket, for a donation to www.dogsforgood.org . Everyone left with a gift and we raised £46 for the charity. I also made up little goody bags for all hosts, which included a BM calendar, which is full of beautiful dogs all enjoying their hols with us.
Sadly, this will be my last Christmas Host coffee morning, as I have decided to put my business up for sale. After nearly 14 years, its time for me to move on. So, this event was especially significant. I've made so many lovely friends whilst running my business. Our hosts and my team mean a lot to me and when the time comes, I'll be very sad to say goodbye.
EXCITING OPPORTUNITY: BUSINESS FOR SALE
My Northumberland business is now up FOR SALE. I have loved being 'Barking Mad', and I do feel massively proud of the business, and how it has grown over the years. I love reading our 5 star reviews after each holiday, so I know how much our loyal customers really love what we all do. It's nice to do a job, where you genuinely feel like you make a difference.
Back in 2016, I had Breast Cancer. After a year of chemo, surgery and radiotherapy, it really did focus my mind on "Oh my goodness, life really is too short". Although I have loved running my BM business, I have decided that I want to try something else before it's too late. So, after nearly 14 years, I'm ready to try another career. I have been volunteering in a school – helping kids with their reading, and have found it so rewarding. My aim is to re-train to work in a school as a coach/mentor. So, no matter how much I have loved being 'Barking Mad', the time is right for me to move on and try something new.
Barking Mad is a National Franchise, and my 'Northumberland' bit, has customers/hosts from Bamburgh in the North down to Alnwick, Morpeth, Cramlington and Monkseaton, and across to Rothbury/Thropton. The new owner will have the benefit of an established business with a proven track record, with a great local reputation, as well as existing customers/hosts and bookings. Barking Mad have a variety of business owners, such as sole traders like myself, and partnerships. Most work from home, (I'm unusual having an office, but I don't have the room at home). Some have a team to help with driving and admin like me, and others run the business themselves, without staff. Many Barking Mad franchisees are married couples, there is a Mother/Daughter and also a sibling partnership. You really can make it your own. The new owner will be up and running immediately – taking on all existing bookings, rather than having to develop a network of customers and hosts from scratch. Barking Mad HQ, based in the Lake District, fully support the new owner by providing a full induction/training programme, and then of course providing ongoing support beyond that.
It's business as usual until I find a buyer. If you or anyone you know is interested, please give me a call, on 01665 575981 OR 07486 393219… Tina
Find out more about Barking Mad Northumberland dog home boarding Here
October News
Me and the team here at Barking Mad Northumberland have worked hard all year to raise money for our chosen charity www.dogsforgood.org . Dogs for good is a life changing charity, creating partnerships between people living with disabilities and amazing assistance dogs who are highly trained to support their humans. Dogs for good have just celebrated their 30 year anniversary and are an amazing charity that Barking Mad is proud to support. Nationally, we have raised nearly £10,000 and have our own sponsor dog (Prince) and hope to have more.
Barking Mad Northumberland were featured in our local newspaper www.northumberlandgazette.co.uk. Read the article here.
Northumberland Summer Shows
We've had a busy summer here at Barking Mad Northumberland. As well, as transporting our 4 legged customers to and from their holiday homes and chatting with our 2 legged human customers about their holidays, we have also been busy at the local summer shows. I always like to support the local shows, and pop up my trade stand. At Barking Mad we don't have anything to sell on the day, unlike other trade stands, but we do have a good chat to anyone and everyone about our service. It's lovely to meet you all and say hello to your dogs too. We attended the very popular Warkworth Show in August and then the Swarland Show in early September. Both events were very busy, helped with fairly pleasant weather.. its always a gamble, who knows that the British weather will throw at us!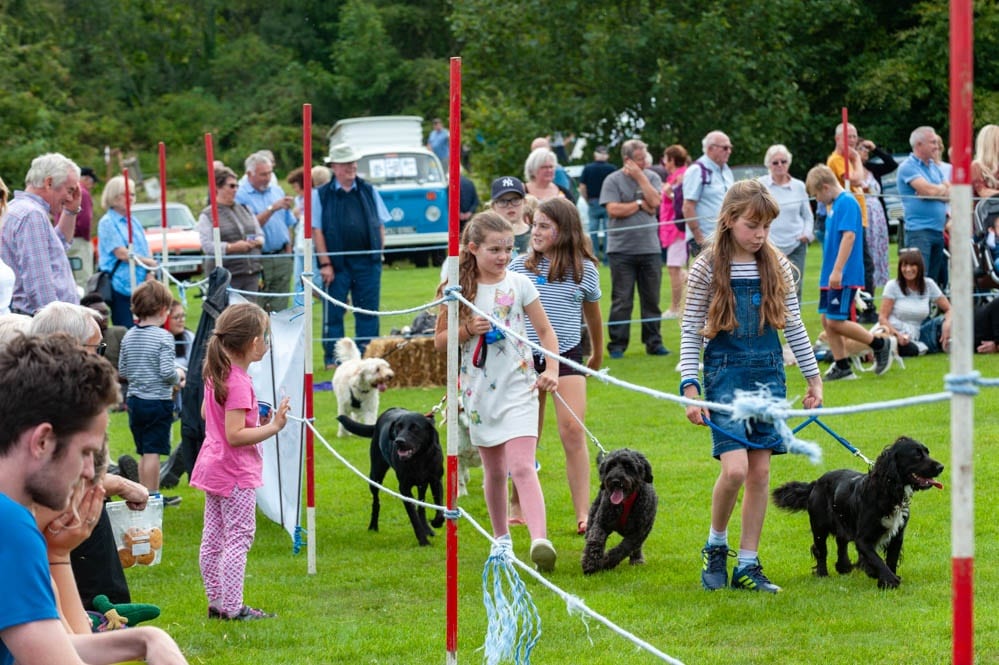 At the Swarland Show, I sponsored the dog show and even got a job as Judge, alongside dog mad Claire, who always organises the Dog bit of the Swarland Show. My daughter Rachel even got herself a job as Judge Number 3. Mind you, I'm not sure I'm cut out for judging.. All the dogs were so lovely and choosing a winner in all 10 categories was practically impossible. We had all the usual categories such as Prettiest Bitch, Most handsome dog, cutest puppy, best oldie etc. I really struggled with the 'Best biscuit catcher' category, as all the dogs were very good and managed to catch their gravy bones every time!! And the final award was 'The dog the judge would like to take home'… Mmmmmm…All of them… Is that allowed??? Ha ha!!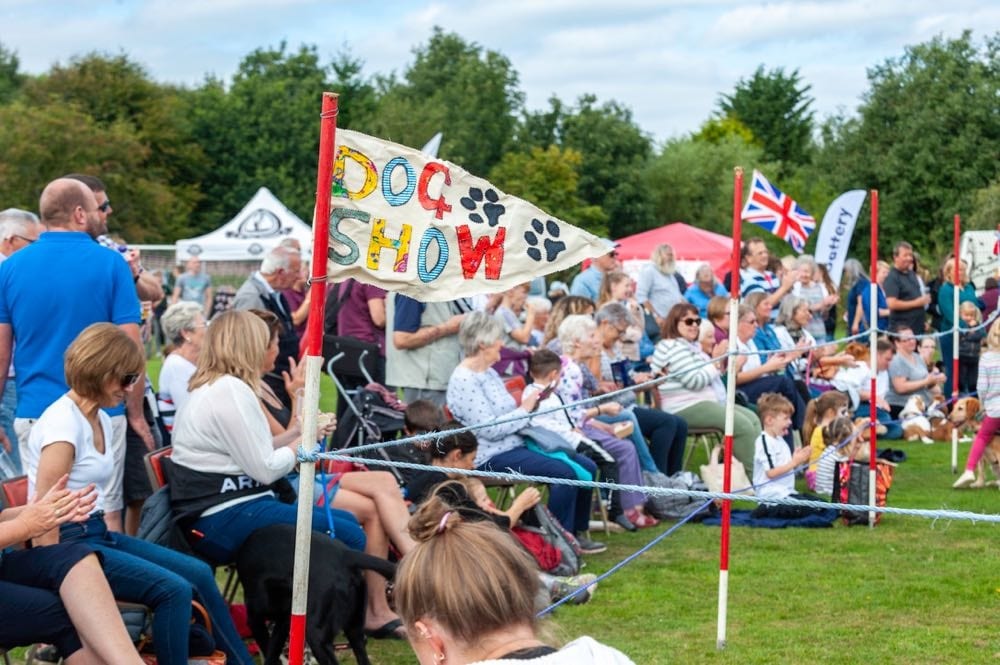 I hope you enjoyed your summer too. Didn't we do well with the weather?
Find out more about Barking Mad Northumberland dog home boarding Here
Fundraising update
The team at Barking Mad2018 has been a good year for fundraising. Barking Mad have chosen the fantastic charity www.dogsforgood.org to support this year and we set ourselves a National target of £5000, which we needed to sponsor One Labrador Pup. Thankfully, we raised that and sponsored our very first pup, the lovely Prince. We are not heading towards £10,000 which means we can sponsor another.
Here is what Barking Mad #Northumberland have done towards that effort…
One Cake sale,
Two Coffee mornings with my Barking Mad hosts,
A Tombola at the Metro Centre with my Barking Mad neighbours
A Raffle at my local drama group, Warkworth, across 3 evening performances
Plus after receiving a donation from a customer, our current total stands at £667.50.
I set myself an annual target of £350.. so we have smashed that target, which I am so pleased about.
Next plans.. I'm running the Great North Run in September, and this time raising money for HospiceCare North Northumberland www.hospicecare-nn.org.uk. They provided me with support when I had cancer in 2016, so this is my way of paying them back. Last year, me and my pals raised over £3000. I'm doing the Great North Run on my own this year, so can't promise to raise that much, but so far the fundraising is going very well. And if I'm not absolutely knackered after the Great North Run, I'm all signed up for the Bamburgh Marathon… I know that you're thinking… I must be Barking Mad!
Find out more about Barking Mad Northumberland dog home boarding Here
Northumberland news July 2018
I am so sad to tell you all that our lovely Susan died on Sat 30th June. Her husband Barry
(pictured here with Susan) gave me the tragic news that Susan had suddenly died, cause
of death was a Brain Aneurysm. Susan was 61 yrs old and has a son Paul and grandson
Marcus. She grew up in Pegswood and most recently lived in Weldon Bridge, with husband Barry.
Susan and Barry have been hosts since 2014 and Susan joined my team as 'Dog
Chauffeur' in 2017. We all absolutely loved working with Susan and we are all in total shock that she is no longer with us.
Her funeral will be held at Longframlington St Mary Church (the one next to David Carr's
shop) at 9.30 on Friday 20th July. Afterwards everyone is welcome at Pegswood Social
Club.
Tina xxxx
Barking Mad for 13 years! – May 2018
In April 2005, I launched Barking Mad in Northumberland, so this month I am celebrating 13 years of organising dog holidays. Wow, where does the time go!! I have organised thousands of holidays for lots of very lucky doggies, and I have become a dog holiday expert. So what have I learned over the years?
* Strong team –  I have surrounded myself with a fantastic, loyal, hard working and flexible team. As a team we work so hard to provide the service that you and your dog deserve. 5 star service every time.
*Excellent Hosts –  I have an amazing community of host families. They volunteer their time, open their hearts and their homes to your lovely dogs. They are warm, friendly, reliable, trustworthy and always go above and beyond what I expect to make sure that your dog has a lovely holiday.
*Friendly dogs – Not all dogs are suited to Barking Mad. If a dog is aggressive, destructive or have severe behaviour problems, then living in another persons home and becoming part of their family for a short while, is probably not the best idea. The dogs that we tend to attract are lovely family dogs, who just want their regular routine maintained, with lots of love, attention and TLC. #happy dogs #happyhosts
*Matchmaking to suit everyone's needs – Matching dogs with the right host is one of the most important parts of my job. A lively dog who needs lots of exercise to maintain it's happy nature, will be matched with an active host. A dog that sleeps in the bedroom, would be matched with a host who would let their 4 legged guest sleep in their bedroom… and so on. My job is to find out what is important to your dog, and then choose a host perfect for their needs.
*Don't be afraid of change – If it's not working, then have the confidence to change it. Over the years,  I have had the ability to change certain things within my business to suit my changing life. So, when my kids came along, I knew that I needed help if I was to maintain customer service standards and operational hours. So plans began to recruit  a part time team. I also knew that I no longer had room to operate the 7 day operation from my own home, so I moved into an office near Alnwick. Great decisions I think! #teamwork
*Barking Mad is a National Franchise, and I have always worked very well with the Franchisor and my neighbouring franchisees. We are a great team and often share ideas and support one another. We are  Locally Owned and Nationally Recognised. #franchising
I am very proud of my business. Over the years, I have met lots of amazing people and lovely dogs. I have made some great friendships and I am proud to say that I have grown my business, as well as my family. #HappyDays #worklifebalance
Here are some photos of me and my team over the years.
#dogholiday #expert #happyholidays
Northern franchisees buddy up for charity event – April 2018
Friday 23rd March was a big charity day for me… supporting 3 charities in one day! I was part of the Barking Mad team raising money for Dogs for Good, then I hot footed it back to my children's school for an Easter Bingo to raise money for the school, then headed to The Duchess High school for their annual Fashion Show raising money for Hospice Care Northumberland… what a day! I was buzzing by the end, and I'm sure I went to sleep that night with a huge grin on my face.
As this is my Barking Mad blog, I'll tell you more about the Barking Mad event that we held that day. Me and my Northern pals got our heads together and decided to ask the Metro Centre for a charity stall. The rules and regs at the Metro Centre are quite strict; we weren't allowed to sell anything, so we couldn't bake 'pupcakes' to sell. We weren't allowed to just rattle our charity tins at people asking for money. So, we decided to hold a Tombola. For weeks running up to the event, we all began to build a stash of lovely tombola gifts that people would be happy to win. On the day, we arranged our stall with over 100 gifts, and we had such a fab variety of prizes to be won. We sold 3 tickets for £1 and the shoppers of the Metro Centre were so generous. It was such a fantastic, feel good day. We all loved every minute and worked so well as a team. We all took our Barking Mad heads off and put 100% of our efforts into Dogs for Good.
We were pleased when Michael and his carer Holly turned up to support us. Michael has an assistance dog through the charity, so it was great for him to be there with us. His assistance dog is a lovely black Labrador called Joe. Aww, he was so good. Michael enjoyed giving us a little demonstration of Joe's talents, such as picking things up off the floor that Michael had dropped. Michael told me "Having Joe is life changing, he makes such a difference to my life".  He also explained that it is important for people to understand that they mustn't pet an assistance dog, as they are focused on helping their human and whilst wearing their jacket, they are working. Today was different though, Joe had come to the fundraising event with Michael to raise awareness of the charity, and therefore Michael was happy for people to stroke and pet Joe. He did always stress that it is important to ask permission first.
We had a fantastic day… and the final count for our fundraising efforts…. A massive £280. Wow, We are so pleased Thanks to the generous shoppers and staff at the Metro Centre.
We were also featured in the local press about this event, if you are interested in reading more about that take a look here.
Find out more about Barking Mad Northumberland dog home boarding Here
We're Barking Mad about puppies! – March 2018
I'm very proud to say that Barking Mad has chosen Dogs for Good as our chosen charity for 2018. Dogs for Good are celebrating it's 30th anniversary this year, and we are so excited to be working closely with them this year.
We have lots of events planned nationally and we would love to raise the £5000 needed to sponsor our very own Pup. We've been waiting excitedly for our pup to be born, and yippee, the pups have arrived. We're now trying to come up with a name… Any Ideas? Dogs for Good have told us that it must start with a P.
Our Barking Mad puppy could become an assistance dog, partnering with an adult or child with disabilities, or they could support a child with autism, or they could be a community dog, visiting schools. Whichever path our pup takes, we will be watching closely as they progress through their training. Their first year will concentrate on socialising, training and teaching them to take on all sorts of obstacles such as noises, traffic etc. I'm sure they'll take this all in their stride and 'graduate' as a fantastic life changing support dog.
On the subject of fundraising, I have done a couple of events such as coffee mornings and cupcake sale, but my main event this year will be taking part in the Great North Run; the famous North East Half Marathon which takes place in September. I hope to raise lots of money, which will add to the National pot. Our target is £5000, which covers the cost of training our pup.. Watch this space for more info on our Puppy P.
#DogsforGoodUK #lifechanging #dogs
Find out more about Barking Mad Northumberland dog home boarding Here
Our Dog Chauffeur Service
Are you wondering, how your dog will cope being transported to their host family? Perhaps you are wondering if it would be better if you took them yourself. Barking Mad are your dog holiday experts and we have this covered, let me explain…
Back in 2005 when my Barking Mad life began, a lovely little poodle called Poppy had her first holiday. Poppy didn't like travelling in the car and I remember worrying that her reluctance to travel in my car meant that she didn't like me and didn't approve of my idea of a holiday. But I was wrong, once she arrived at her hosts' home, she bounced in, made friends with the hosts dogs and jumped straight up on the sofa…she made herself at home and continued to do so for many years. Many of you have dogs that are not keen on car travel. Trust me, once they arrive at the hosts, they forget the journey and settle in to their holiday home. My hosts do a fantastic job of welcoming your dogs into their home.
At Barking Mad, we have our very own dog behaviourist. Lisa's advice and our many years of experience has told us that us transporting your dog works very well for your dog. We have every confidence in your dog settling in to their holiday home and don't have the emotional attachment that you will have. Therefore, we can confidently and calmly introduce your dog to the host and as a result they are very accepting of their new environment. Dogs live in the moment and at that moment in time, these other humans are making them feel safe and secure, and of course they are getting lots of attention. Your dog is the priority, so please don't worry about us transporting your pooch to their holiday home. We will call or text you as soon as we  have settled your dog in with their host and we'll let you know how the introduction went. We will also text you the following day to let you know that they have slept well, eaten well and have settled in. We call this your "rest easy" message, as after you have received that message from us, you can rest easy and enjoy your holiday.
Your dogs' holiday works well because your dog and our host both get a lot of enjoyment from the holiday…cuddles, company, exercise and much much more.
Barking Mad have been organising holidays since 2000. We are proud to be the dog holiday experts. But we are never complacent, we continually assess our service and always want to be the best that we can be.
Happy Dog. Happy Holiday. Happy You.
Find out more about Barking Mad Northumberland dog home boarding Here
Top Tips for a Stress free holiday
When booking your Barking Mad holiday, here are some tips for a stress free holiday –
If you can, try to organise your dogs' holiday as soon as you have arranged yours, rather than leaving it until the last minute.  This will give you peace of mind and ease the worry about who will take care of your precious pet when you go on holiday.
When planning your dogs' holiday, think about what time you will need to leave for the airport/train station etc. If you have an early departure, why not ask us to collect your dog the day before. Dogs often pick up on anxieties and any change in the home. If your home is anything like mine, the day my family goes on holiday the atmosphere is somewhat stressful, washing and ironing, packing and have we remembered to pack all the essential things!!! Our precious pets are amongst this chaos and it might be more helpful to let them start their holiday the day before. We pride ourselves on our punctuality, but if we were caught in traffic or had an unforeseen delay, we would hate to affect your travel plans and cause you undue stress, so collecting your dog long before you leave is a good idea.
When planning your holiday, we will always suggest a "Getting to know you" holiday first. We suggest a 2 night/3 day break so that your dog can stay with their host family, get to know them before they come on a longer holiday. The last thing we want is for you to worry and stress during your own holiday, so organising a short break first gives everyone peace of mind, and is a great introduction to Barking Mad. We want to ensure that we are all happy with how your dog settles away from home, before we arrange a long holiday.
We can collect and return dogs between 9am and 5pm, 7 days a week. A lot of our customers prefer us to bring home their pooch the day after they return from holiday. This can allow for any travel delays and will give you a chance to pop to the supermarket to stock up, and sort the pile of washing out!
When it comes to your dogs' holiday, we will ask you to pack their essentials such as food, bed, bowls, lead etc. But please also pack anything that you feel is important to you and your dog such as a favourite toy. I often tell customers that they don't need to wash the dogs' bed prior to coming on holiday, as it will have your family smell on their bed which will be comforting and familiar to your dog.
Once we have your dog settled in at their host family, we will take a quick photo and text that to you. We'll also send you a message the next day too.  Just a short message about how well your dog has settled in, this will hopefully put your mind at rest and you can enjoy your holiday as much as your dog is enjoying their holiday.
When your dog comes home, you will get a Pet Postcard, which is a holiday postcard written by your host, as well as verbal feedback from us. So you can be rest assured, we will let you know what your dog has been up to during their holiday.
Our aim is for you and your dog to have an enjoyable holiday experience. We want to give you peace of mind, and ease any worries that you may have and give your precious pet a lovely home from home holiday. At Barking Mad, we believe that Dogs deserve a holiday too!
Find out more about Barking Mad Northumberland dog home boarding Here
Northumberland Hosts Enjoy their Annual Pre-Christmas Coffee Morning – November 2017
November 19th was the date that me and my dog holiday organising team at Barking Mad Northumberland, invited our lovely dog care hosts to our annual pre-Christmas coffee morning. It's a great chance for us all dog lovers of the North-East to get together and say a massive thank you for all the hard work this year making sure that dog home boarding service is the very best. Our hosts volunteer their time to open their homes (and their hearts) to our dog visitors and never cease to amaze us how loving and dedicated they are. Our dog loving hosts always go the extra mile and do everything within their power to make their dogs feel settled and 'at home' when they're with us.
The venue was Stannington Village Hall and me and my trusty team arrived early to dress the room. We had around 100 photos on display, showing dogs on holiday with their hosts. The tables had seasonal jars of Holly and Ivy, prepared by Jenny, and husband Brian was in charge of the music. We wanted to create a lovely, welcoming environment for everyone. My Mam and Aunty were enlisted to work in the kitchen preparing drinks. No instant coffee here, just an endless supply of fresh filter coffee and pots of tea! The catering was supplied by me and my team; lots of yummy home baking. There was something to tempt everyone, whether it was a Sweet mince pie (well it is nearly Christmas), Colin's Smoked Salmon canapes or Susan's sausage rolls.  For our hosts with a sweet tooth, then Jenny's brownies or Carol Ann's shortbread were a big hit.
My kids (aged 9 & 7) got involved and manned the raffle table. What a good plan that was.. who could refuse my two cherubs when they asked people to buy a raffle ticket!! We were raising money for our fave charity – Dogs for Good UK and the final total raised was £57.
The hosts were met at the door, and after buying their raffle tickets, they took a seat with their fellow hosts. The place was buzzing with lots of chat and the hosts seem to really enjoy sharing stories and getting to know each other. Me and team mingled and chatted and made sure that everyone had plenty to eat and drink and had someone to chat to.
Half way through the coffee morning, I did a little speech. I talked about all the things that hosts do that really make a difference and I put the spotlight on certain hosts, trying to recognise as many as I could. All of our hosts are special, brilliant people and I wanted everyone to leave with a nice fuzzy feeling. As they left, we handed out their goody bags, filled with treats such as shortbread and chocs.
It was a brilliant success and the feedback that I received afterwards was absolutely lovely. A host event like this takes a lot of planning, but it is always worth it. My hosts are crucial to the success of our dogs holidays. I also asked for their feedback and ideas on future events. I placed questionnaires on their tables. Other options for future events include meeting at our local dog friendly cafes such as the Drift Café in Cresswell or Bertrams in Warkworth. Or meeting at local beaches in Alnmouth, Warkworth or Druridge Bay…I'll work on that and come up with a plan for 2018.
#HappyDogs #HappyHolidays #HappyHosts
Find out more about Barking Mad Northumberland dog home boarding Here
Back To Main
To find your local branch, prices and much, much more: