Barking Mad South Lakes held their annual festive event in Windermere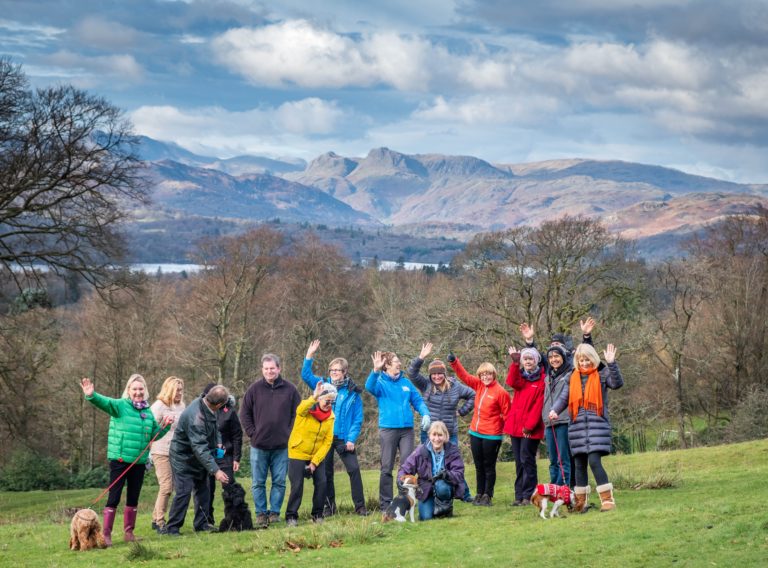 On Sunday November 25, our team of hosts who provide one to one home boarding for all our dogs on holiday, got together for a pre-Christmas host community event at the National Trust's Footprint Building in Windermere, near Troutbeck. A fantastic morning was had by all (including our four legged visitors!) with homemade Christmas cake, mince pies and a successful raffle too. We managed to raise £70.00 for Dogs for Good, a life-transforming charity, creating partnerships between people living with disability and specially trained assistance dogs. We followed this with a wonderful walk and were rewarded with this wonderful view overlooking the Langdale fells.
We were featured in The Westmorland Gazette too: here 
#Sundaywalksnwags launches in South Lakes!
It was a successful first outing of the Walking for Health group #Sundaywalksnwags. Barking Mad South Lakes are working with Active Cumbria, part of Cumbria County Councils Public Health Team to plan easy walks to support people to become more physically active within the community.
On the first Sunday of the month, a group of walkers set off around Kendal with their dogs. The first walk took us along the river Kent, around to Kendal Castle and returning via Gooseholme finishing at a dog friendly café – The Bristly Hog, where our four legged friends were treated with a bone!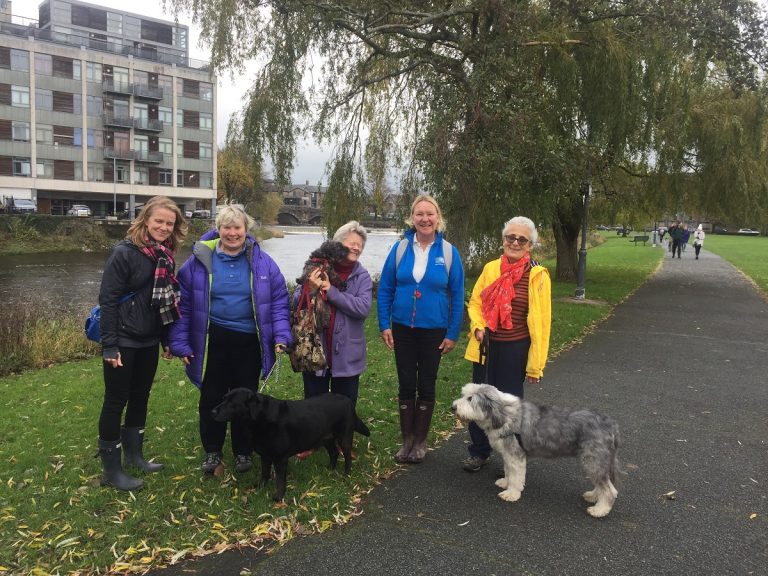 Being active, especially outdoors has many physical, mental and social benefits, while not only walking the dog, it helps with being active with others and it helps beat loneliness. Nationally, we know that walking is the most popular activity and a near perfect thing to do for those looking to become more active. We would love to see as many people as possible joining our easy health walks and discovering some fantastic places on our doorstep here in Kendal.
Have a look here at our press covering with the local paper.
The free Walking for Health group meets on the first Sunday of every month for 60-90 minutes. Walk dates are: December 2nd, January 6th, February 3rd, March 3rd, April 7th and May 5th at Kendal Library at 10am.
We do hope you can join us – friendly dogs welcome on lead!
Travel safe with Barking Mad in the Lake District – February 2018
We often get asked about why we offer a collection and return service at Barking Mad South Lakes. We believe, it takes the emotional part of having your dog leave their home and turns it into a positive introduction to or reuniting of their loving host family. Our customers tell us they like the convenience of this part of the service as they know what time their dog/s are being picked up. They also tell us it's great as they don't need to rush and drop the dog off in the run up to all that is involved with going away. Additionally, they tell us it works well for them as their dog gets stressed when they see the suitcases coming out for packing so they wait for their dog to leave first. Reassuringly, they also tell us how excited their dogs get whenever they see the Barking Mad bag as their dog obviously associates this with a good time in fact a better time that they have on holiday! We firmly believe that transporting your dog should be reassuring, calm and as safe as the rest of their time away.
When I began my Barking Mad journey in 2015, my very first customer was the adorable Labrador, Cassie. Being a loyal regular, she knew the routine better than me at that point and leapt into my newly Signs Express liveried, Barjo and Hatch Bag equipped vehicle with gusto! Her lovely owner smiled knowing her dog was relaxed and happy to go on her dog holiday. Cassie then proceeded to enthusiastically meet her hosts like long lost friends and I thought, wow this is amazing and so right!
At Barking Mad here in Cumbria, we always aim to make the dogs who travel with us feel just like Cassie – relaxed, happy and they even get a choice of local radio or radio 4 in the hope they like the Archers!
Our 5* dog sitting service consciously chauffeur dogs using a car – just like at home. We do not use a van with compartments or lots of crates for multiple dogs. Our bespoke 1:1 home boarding service will only transport your dog (or your dogs) in the car. Barking Mad are experts in dog travel and are covered by specialist dogs in transit insurance with the experienced pet care insurers Cliverton.
At Barking Mad, our local APDT trained dog trainer and behaviourist, Lisa, advises the way we transport your dog and advocates one of the main reasons for our collection and return service is that is allows your dog to associate a calm and confident transition between home and holiday home. We always aim to ensure your dog feels safe, happy and secure in this important part of their holiday.
Not all dogs are as confident travellers as Cassie, however we have got that covered too. Your dog can travel comfortably in their usual and preferred position (boot, back seat, front seat or foot well) as long as it's legally in line with The Highway Code – Rule 57 which clearly states: 'When in a vehicle make sure dogs or other animals as suitable restrained so they cannot distract you while you are driving or injure you or themselves, if you stop quickly. A seat belt harness, pet carrier, dog cage or dog guard are ways of restraining animals in cars.'
As you can see, safety and welfare are our No.1 priority. In between each dog being transported, you can ensure cleanliness is a priority as the car is cleaned. Our car carries a ramp for the golden oldies, a pet first aid kit and we are covered with AA emergency recovery just in case. So you can rest assured your pet is being transported considerately and safely. Like a bar of rock, we ensure our hosts follow this through whilst your dog enjoys their time with them. We are continually assessing our service and aim to make your dogs holiday here in the South Lakes what I call the 'Cassie experience' a relaxed and happy dog journey and holiday.
Hope to see you and your dog soon Alison & Jean
You can find out more about Alison at Barking Mad South Lakes – CLICK HERE
December – Host Christmas get together in Windermere
2017 has flown by and we celebrated a year of fantastic dog home boarding at the National Trust Footprint Building. It's my opportunity to get hosts together and say a huge 'Thank You' as they are wonderful caring dog lovers. Mince pies, reindeer buns, Christmas cake, fresh coffee and homemade apple juice was enjoyed by all. Our popular raffle raised £69.00 for our local charity, Animal Rescue Cumbria and we enjoyed a walk in the winter sunshine where we were rewarded fabulous views of the Lake District Fells!
I would like to say a big thank you to all our loyal customers who continue to put their faith in us and let us give their doggies 5 Star dog holidays.
MERRY CHRISTMAS AND ALL BEST WISHES FOR A HAPPY AND HEALTHY 2018!
You can find out more about Alison at Barking Mad South Lakes – CLICK HERE
October News
Happy dog – Happy holiday – Happy you!
We have had lots of Autumnal fun with dogs on their holidays along with some lovely 5* Trustpilot reviews. I even managed a mini break with Yeshe to the beach!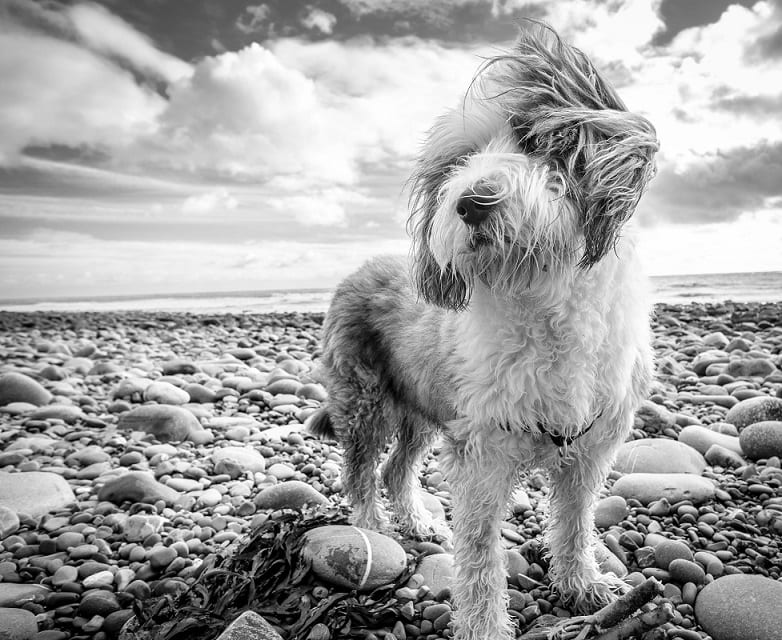 It's all about dogs!
At Barking Mad you all know that happy dog holidays are what we do and we all love your dogs as we do our own. In order to care for your dog, we need occasional host families. I would be grateful if you could put the word out, and if you know anyone who has lost a dog of their own and misses that 4-legged companion, perhaps a reason to go out walking, then please ask them to get in touch, call Alison 01539 234044. We have our annual Christmas host get together approaching so if know someone who may like to join us, they are welcome to join in the event email alison.quigley@barkingmad.uk.com
A Barking Mad Legend
Host – Jet the Black Lab crossed the rainbow bridge this month. She was 13 yrs old and an absolute darling – we loved her happy and gentle nature, always so welcoming when hosting visiting dogs came to stay with her and her family. We will miss you Jet, RIP xXx Love to her family from us all Barking Mad Dog Care xXx
You can find out more about Alison at Barking Mad South Lakes – CLICK HERE
Back To Main
To find your local branch, prices and much, much more: