The Ultimate Guide to Finding a Hamster Sitter
When you're in need of a reliable hamster sitter, there's no shortage of adverts online. And while there is plenty of choice on the market, finding a pet sitter who you like and trust can be tricky. After all, your pet hamster is one of the family, and you only want it to be safe and happy while you're away.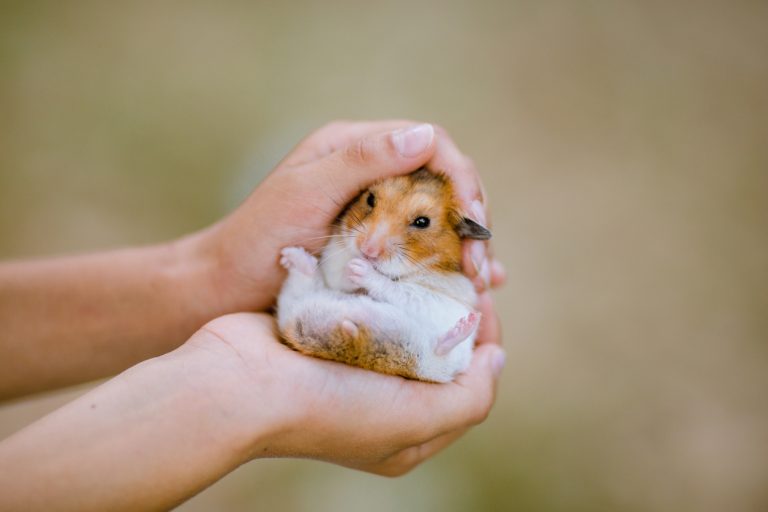 When it comes to hamster sitting, there's a lot to think about. Where will it stay? And who with? How will it keep clean, happy and healthy? And what's the best way to find a trustworthy hamster sitter that will leave you feeling confident?
The team here at Barking Mad is here to calm your hamster sitting fears, and has put together a helpful Q&A on all things hamster sitting.
How long can I leave a hamster alone?
Hamsters are fairly self-reliant, but many of them are sociable creatures who like time out of their cage. While most hamsters will go between 12 and 24 hours on their own, it's not generally recommended to leave them on their own for longer periods.
If you do plan on leaving your hamster on its own for a short period, make sure you:
Have cleaned out its cage and provided fresh food and water.
Put down an extra bottle of water just in case one breaks.
Pop some toys and treats into the cage to keep it busy
Have some background noise, such as a TV or radio if you think your hamster would feel more reassured.
Ensure your hamster's cage door is down securely and that it cannot escape.
What is hamster sitting?
Hamster sitting, also known as hamster minding, is a temporary arrangement whereby a pet sitting provider will take care of your pet over a period of time. People often use a hamster sitter when they're going away or on holiday, or when they're unable to look after their furry friend themselves.
There are various different types of small pet boarding on offer, from your hamster staying in its own cage at home, to going to stay at a sitter's house. When enquiring about pet sitting services, we always recommend confirming exactly how the process will work – from start to finish. Here at Barking Mad we like to get to know everything about your small pet before we work together, so we can provide a five star pet sitting service that gives you complete peace of mind.
How do I find a good hamster sitter?
Leaving your pet while you go away can be a stressful time. Worrying about whether they'll be well looked after, or whether they'll be distressed, can feel too much to bear. When you find a reputable, local hamster sitter, you'll feel reassured that your pet will be happy and safe while you're away.
Choosing an established pet care provider who has all the appropriate insurance, qualifications and testimonials, and talking to them in detail first, can help you choose the hamster sitter that's right for you and your pet.
How do I know that my hamster will be ok while I'm away?
Although life is unpredictable, by making an informed decision about who will look after your hamster, you can feel more reassured. You can help create a seamless hamster sitting experience for all by taking a few simple measures.
Make sure your hamster has all the supplies it will need while you're away, including food, water, bedding, toys and any exercise equipment such as hamster balls.
Give the hamster sitter some chewing equipment to help your hamster keep its teeth short.
Tell your pet sitter about any medical conditions your hamster has, and whether it takes any medication.
Let your sitter know about your hamster's personality, and whether it likes to be handled or left mostly on its own.

What else will my hamster sitter need to know?
It is likely that a reputable hamster minder will know the ins and outs of keeping hamsters, but it's always better to give them too much information than not enough. Some other things to tell them include:
Details of your hamster's routine
Does your hamster like to stay on its own most of the time, tucked up in bed? Or do you get your hamster out for an afternoon stroll in its ball?
Feeding instructions
If your hamster has a favourite food or any specific dislikes, be sure to tell the sitter. It's also worth reminding them of poisonous things it should not eat, including chocolate, some fruits and potatoes.
An emergency contact
Although the hamster sitter might have your phone number, if they can't get hold of you in an emergency they might need to speak to someone else. Give them a backup emergency contact in the unlikely event they need it.
How much does hamster sitting cost?
As with all types of animal sitting, there is a huge variety on the type of service on offer and what's included. Hamster sitting is not normally expensive, but we recommend choosing your hamster sitting service based on more than just price.
Most of all, you want to know that your gorgeous pet is safe, happy and looked after by people who know what they are doing. Here at Barking Mad, we've been trusted to look after animals for over 20 years. You can find your local Barking Mad franchise here.