Update to Barking Mad Cotswolds Services
In response to customer feedback , Barking Mad Cotswolds are excited to announce that we will be introducing two new services in January 2020 that will compliment, and sit alongside our well-established 5* home boarding service – Barking Mad Training and Behaviour Improvement and Barking Mad Home Pet Sitting.
Barking Mad Dog Training and Behaviour Improvement 
With over 30 years of dog training experience we are often asked for advice about dog training so it seems a natural progression to offer this service to new and existing customers. This service will be customer driven, in that areas for improvement will be identified at an initial assessment, a training programme agreed and delivered to address these areas, and then a future action plan produced for the training to continue in the owner's home.  This training would be delivered by me or supervised by me through one of our experienced hosts. Your dog could be on holiday with Barking Mad or, it could be entirely training focussed when the customer is not necessarily on holiday.    Areas that can be addressed could be those identified below, or other areas that may be causing concern:
Socialisation/good manners improvement
Lead training
Sit/stay and recall
Working dog simulation exercises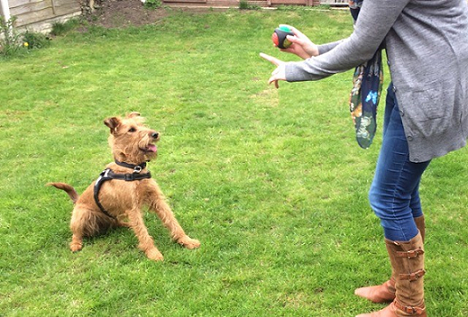 Barking Mad Home Pet Sitting Service   
There are occasions when customers may prefer to have an experienced and trusted Barking Mad host to pet/ house-sit at a customer's house in preference to the dog being hosted away from the family home. This service also has the added benefit of providing house security when the family are away on holiday.   This service can be tailored to meet individual needs, although in principle an experienced host would care for pets within the family home. The host would stay in the house for the duration of the holiday – only leaving the pets for up to 4 hours each day.  The new services would follow the successful Barking Mad model in that all dogs would need to be registered, and an initial trial arranged if considered appropriate, as well as a home care pack being developed for the hosts use.  If you would like to discuss these two new developments further then do give us a call on 01285 711650.   The charges for these new services are detailed under 'our prices' on the Barking Mad Cotswolds Website.
Busy, Busy, Busy…………..
 Phew what a busy month – half term always keeps us on our toes!  We were pleased to find some dog holiday homes for some customers who booked a little later than normal but it was touch and go for a while – if you are thinking of booking a holiday for you and your family please do give us a call to discuss your dog's needs – even if it is not totally firmed up its good for us to get hosts in place asap.
Gilbert came out on his half-term holiday – he is such a special dog to us.  Originally adopted from the Dogs Trust he found a loving home with a family who adored him, they then sadly had to move abroad but he was lucky enough to find a new forever home with a local family.  He has been spoilt rotten by his host family – he fitted right in and enjoyed lots of walks, cuddles and treats – only the best dog care for gorgeous Gilbert.
We are almost fully booked over the Christmas holidays – it would seem lots of customers want our 5* dog sitting service over the festive period – call us on 01285 711650 if you would like to book one of our hosts to pamper your pooch.  We will have dogs holidaying all over the Cotswolds over Christmas – from Stroud to Cirencester, South Cerney to Tetbury and Minchinhampton to Fairford – lots of Christmas miles to be travelled!
We recently had the rather handsome Eric out on his dog holiday – isn't he a gorgeous boy.  We do love a schnauzer here at Barking Mad Cotswolds – such lovely kind dogs with real character.  Eric certainly made an impression on his host – she is really hoping to see him again.
We are constantly amazed at how quickly dogs settle into our hosts homes.  We spend a great deal of time matching the right dog with the right host and this ensures that everyone has a lovely time and certainly puts our human customers minds at rest knowing their dog is going to have a great holiday.  As you can tell here Roxy has certainly got her paws up and is super chilled.
Are the nights drawing in…
Is it just us or is anyone else noticing that the nights are already drawing in – there is a definite chill in the air first thing and we are afraid to say it but it feels that Autumn has arrived.  Time to start planning a winter or Christmas holiday we suggest – don't forget if that is on your mind to call us on 01285 711650 to organise your dogs holiday too.
Not all bad news of course as there is nothing nicer than the heating going on and a snuggle on the sofa with one of our lovely dogs while they are on holiday!
One such dog that has recently passed his trial is Bodie – what a handsome fella – can you believe he is a dog that has been rescued by one of our lovely customers?  Who on earth would not want to own and love him forever!  We can't wait to see him again when he comes on his first home from home longer dog holiday later in the year – a gorgeous boy.
Bodie is one of several new dogs we have recently registered – the business is going from strength to strength with lots of new customers and hosts joining the Barking Mad Cotswold family.  New customers and hosts from as far apart as Ashton Keynes, Dursley and Siddington to Uley.
Meet Jilly, Honey and Bailey – lovely, kind, gentle dogs that our hosts can't wait to provide our unique home from home dog sitting service too.
Now the children have all returned to school we are about to spend some time out and about in some of the pretty Cotswolds villages so if you see us dropping off leaflets and marketing in Quenington, Southrop, Hatherley or Eastleach do stop and say hello – we would love to meet you – especially if you have a furry best friend!
Jolly July!
WOW – just WOW!  What a busy month July has been.
As well as seeing the hottest temperature ever recorded we saw one of our busiest days ever with over a dozen dogs being delivered and collected for their 5* Barking Mad Cotswold holiday.  I can tell you we all enjoyed a glass of something bubbly at the end of that day!
As well as signing up a few new hosts from Cirencester, Swindon and Cricklade we also attracted some new doggy customers from Minchinhampton, Nailsworth and Sapperton.
We have to say Serge is a handsome boy too – he was a firm favourite with his host, the family can't wait to see him again.
In early July we attended The Cotswold Show in beautiful Cirencester and met so many lovely people enjoying the show – we met dogs from far afield and closer to home from Stroud, Stratton, Faringdon, Tetbury, Coates and Kemble.  A great day out.
August and September are getting very busy and believe it or not Christmas bookings are coming in (some people are so organised) – if you would like your favourite host please give us a call on 01285 711650 to discuss your holiday plans.
So Many New Doggy Customers
The last week of June was our busiest yet with regard to new doggy customers.  We welcome Teddy, Cassie, Hilda, Lola, Basil and Rockie.
The 5* service we supply here at Barking Mad Cotswold is on a roll, bookings are up for the summer holidays and we are also busy signing up new hosts to provide the loving care our customers deserve.
With dogs being signed up from Faringdon, Tetbury, Stroud, Nailsworth, Cirencester, South Cerney and Malmesbury word is obviously spreading that if you want your precious pooch to have a home from home doggy holiday we are the company to choose.  Over 6000 5* Trustpilot reviews can't be wrong.
We attended the Charfield Community Village Fete on the hottest day of the year and to be honest we are pleased to say we saw very few dogs out that day  until it got much cooler late afternoon.  We went well prepared though with our very own doggy paddling pool – check out this cheeky chappy taking a dip!
As we enter July remember if you are planning a last minute holiday (and who can blame you with the rain we have had) do get in touch asap to secure your favourite host – call us on 01285 711650.
May Madness into Joyous June
We always find May a very busy month – with people taking a late Easter break and the two Bank Holidays our 5* Dog Sitting Service is in high demand.
As June gets underway so does our Fete attendance.  Our first of the year was at Southrop – a beautiful village not to far from Lechlade and Fairford.  We were very happy to organise and judge the dog show there – and despite it being a bit of a damp day we were pleased to crown Willow the dog we would most like to take home – isn't she a stunner!
We also loved Bobby – he won best child handler – what a gorgeous boy!
We were out and about a lot last month – we registered lots of new dogs including a spaniel, labradoodle and a beautiful lab.  One of the best things about this job is driving around the beautiful Cotswolds and meeting new doggy and human customers  – our travels took us to Minchinampton, Stroud, Frampton Mansell, Uley, Nympsfield and Malmesbury – a busy but satisfying month.
We have recently relocated to Quenington from Whelford so look out for our advertisement in CHEQS the parish magazine that covers the villages of Southrop, Hatherop, Coln St Aldwyns and Eastleach.
Booking for July are up year on year and many of our hosts are super busy with dogs back to back which is how they like it.  Providing one on one home dog boarding for their favourite dogs makes them very happy.
We look forward to seeing you at the Charfield Community Fete on June 29th – do pop by and say hello.
Drip Drip Drop – Little April Showers
What a busy and changeable month April has been – we have had a mini heat wave, storm Hannah and even some early morning frost! And to top all of that we had Easter as well.
All the pooches that came on their Barking Mad Cotswold holiday over Easter got to have their very own Easter Egg to open up and enjoy along with their lovely hosts.  We like to provide these special treats to always ensure we provide 5* holiday dog care all over the Cotswolds.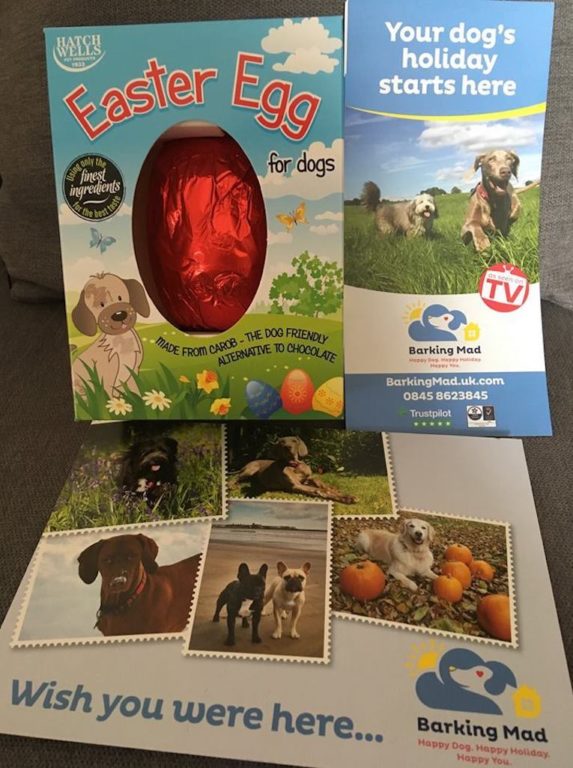 We were out and about all over the Cotswolds this month signing up some beautiful new customers and new hosts –  we visited Minchinhampton, Dursely, Nympsfield and Uley to name just a few.  Check out these two beauties – Madonna and Rocco – they are the latest new dogs to join the Barking Mad family. As you can imagine we have had no trouble finding hosts to take care of these two gorgeous dogs.
If you know anyone who would like to host for us do let us know – we have a referral prize of £50 to anyone that recommends a new host (given as soon as the new host has had a dog to stay). https://www.barkingmad.uk.com/become-a-dog-sitter/
We have mentioned in the past that we are looking forward to the summer and the opportunity to attend some village fetes so we are very excited to say we will be running the dog show for the Southrop Fete on June 8th – it really is a class above the normal village fete and as you can see this year the star turn is the RAF Falcons doing a parachute display.
We will also be attending the Charfield Commuity Fete on Saturday 29th June – really looking forward to the BBQ and inflatables – but maybe do the inflatables first J
Hope to see you there…
Busy, busy, busy…
As February draws to a close, we are happy to take a breather after a hugely busy half term break.  We had lots of dogs out on holiday all enjoying our lovely hosts homes in Cirencester, Faringdon, Cricklade and Stroud.
The weather here in the Cotswolds has been so mixed with everything from snowy days to bright sunshine with record breaking temperatures – how lucky we have been to be out and about, collecting and delivering dogs back home driving all over the stunning Cotswolds.
The recent snow made it a bit tricky to deliver some dogs back home on time – we would like to thank our hosts in Siddington, Stratton, Lechlade, Sapperton and Coates for caring for their doggy guests till the weather got a little better.
The collection and delivery service we offer our doggy customers is vital to ensure they have a stress-free home from home holiday – having owners saying goodbye in our hosts homes may unsettle the dog and that is the last thing we want.  Part of our 5* service is a fully chauffeured home to host service J
We saw one of our favourite rescue dogs over half-term – Millie – she had a lovely time on her dog holiday – very different from her previous life in Bosnia where she had to fend for herself – she is a bit of an escape artist given half a chance so her host has to take special care to make sure she is secure in the garden at all times and walked in areas where she does not get distracted by other dogs and small wildlife.  She looks pretty relaxed here doesn't she.  We take care to match dogs to hosts – it's so important the dog and host have a good dog holiday experience.
If you would like or know anyone that would like the company of a part-time dog like Millie or more of a lapdog like Bessie do get in touch via the link below.
https://www.barkingmad.uk.com/become-a-dog-sitter/
Spring is coming … honest!
As I am writing this the forecast contains nothing but minus temperatures and snow – so not ideal doggy walking weather.  But it has to be said the days are drawing out and once this snap of cold weather is out of the way and we enter February there should be the feel of spring in the air!
We are taking lots of bookings for February half term and it seems many of our customers are taking the school holidays as an opportunity to get away and seek some sun or some skiing!  We have a few hosts still available so if you see a last minute holiday bargain please remember to talk to us about your dogs holiday needs on 01285 711650.  We are happy to provide a 5* bespoke dog sitting service to your furry friend.  Check out all our wonderful reviews on Trustpilot – we are so proud to be the Number 1 dog home boarding service in the Cotswolds.
https://www.trustpilot.com/review/www.barkingmad.uk.com
We launched a very successful lucky draw in January for our doggy customers (their owners had to book a holiday before the end of January) and we are pleased to say Molly won 4 free days holiday – we can't wait to see her and spoil her rotten – we also gave away some fantastic new product that has just hit the market – ilapet product has been specifically designed to help your dog cope with anxious or stressful moments – ila is a fantatic spa brand that has decided to expand its product range to include pet shampoo, stress mist and rescue remedy – all products have been tested on the owners own dog Tashi – who is one of our very own special customers.  Well done to Toffee and Jip who won a set.  If you are interested in finding out some more check out their website.
https://www.ila-spa.com/products/collection/pet-collection
We saw recently this lovely news article about a dog walk in Cirencester Park and very much hope to be involved in the next one – we can't imagine anything nicer than lots of dogs out and about enjoying a good walk and meeting new friends.  We will keep you posted.
https://www.wiltsglosstandard.co.uk/news/17388513.over-60-sausage-dogs-descend-on-town/
We have met several new hosts and customers this month from all over our Cotswold area – places such as Coates, Sapperton, Stratton near Cirencester and North Cerney are areas where people have seen our business advertised and have got in touch – welcome to the Barking Mad Cotswold family one and all. We just know one of our new doggy customers – Molly –  will be a huge hit with all of our hosts!
We are always keen to speak to new potential hosts but right now we would really appreciate hearing from people in Malmesbury, Tetbury and Stroud – if you or a friend woud be interested in having a friendly dog come to stay then do check out our website for more information or just give us a call on 01285 711650.
https://www.barkingmad.uk.com/become-a-dog-sitter/
We are still looking to book our summer shows shortly – we attended fetes in Lechalde, Chedworth and Southrop last year and would be keen to expand that in 2019 – anyone know of any fetes in Siddington, Ampney Crusis or Poulton – if so please do let us know.
Happy new year from Barking Mad Cotswolds
Happy New Year everyone – we do hope everyone in the Cotswolds had a great Christmas break and are looking forward to a prosperous 2019.
We had our busiest Christmas and New Year ever with lots of dogs out on holiday over the festive break.  We are happy to report we were able to ensure every single doggy on holiday had a little something to open up the Christmas tree even though they were not in their family home – Santa covered off places as far apart as Tetbury and Cricklade, Wooton Under Edge and Fairford and Malmesbury!
We even had a customer come all the way from London to enjoy a Barking Mad Cotswold dog holiday  Say hello to the very handsome Mr Lam.
As we enter a new year I expect like us you are planning on getting fitter – if this is rings true and you don't currently have a dog how about joining our growing host community and taking care of a dog in your own home.  Getting out and about with a dog is a great way to boost your fitness both physically and mentally.  All the details you need are HERE and we would be delighted to talk to you about it further – call us Barking Mad Cotswolds on 01285 711650.
First team meeting of the year next week which we are going to have at The Angel in Sherston – yummy coffee and great cake awaits!
Sherston is a unique location for us as we have two customers in that village – both of which have two dogs so its always double the fun out there!
We will start looking to book our summer shows shortly – we attended fetes in Lechalde, Cheworth and Southrop last year and would be keen to expand that in 2019 – anyone know of any fetes in South Cerney, Ashton Keynes or Sommerford Keynes – if so please do let us know.
Christmas preparations going well here in the Cotswolds!
Well the end of November means it's time to dig out the Christmas decorations and decide if it's worth getting a nice tree this year or will the dog knock it over!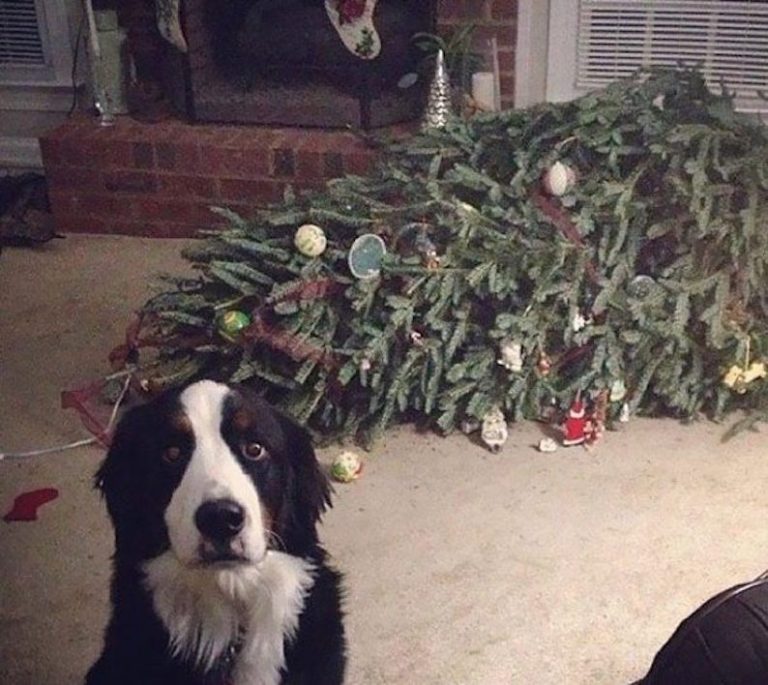 November is traditionally a quiet month here at Barking Mad Cotswold so we took the opportunity to catch up on paperwork and start planning how we can improve our unique dog sitting service for 2019.  We had a team meeting to discuss opportunities at the Jolly Nice Café and farm shop out towards Stroud on the Cirencester road – and they have very jolly nice mince pies we can tell you.  Such a convenient place for the team to meet up as its equal distance for us all.  The range of organic and local produce is outstanding – its always nice to stock up on good quality food and it makes a change to shop there rather than the supermarket.  Managed to sneak in a little Christmas shopping as well as they have their Christmas gifts in now so the business meeting turned into a valuable shopping opportunity!
The meeting also gave us the chance to do some marketing in some villages close by – Kemble, Coates and Sapperton – beautiful places full of beautiful doggy customers.
We have lots of Christmas bookings with many of our customers going away over the festive period.  We will be telling Santa where all our dogs are home boarding so they won't miss out on their Christmas presents and doggy treats!
In the run up to Christmas we will be out and about actively looking for new hosts to help us care for dogs as 2019 starts – if you, or someone you know, would like some friendly dog company then do give us a call on 01285 711650.  We carefully match our loving dogs to each individual host to make sure everyone's holidays are worry free!
If you fancy a double dose of doggy fun, how about caring for handsome boys Boone and Leo – they love their Barking Mad Cotswold holidays!
Spooky goings on in the Cotswolds!
As October comes to a close and the clocks have gone back we are about to enter one of our quieter times in terms of dog holidays booked here at Barking Mad Cotswolds – we always find the couple of weeks following October half term a little less frantic and it gives us the opportunity to get out and about in the Cotswolds spreading the word about our unique dog sitting service.
We plan on visiting Malmsbury, Tetbury, Cirencester and Stroud in the next week or so – if you see us do pop over and say hello.
Half Term fornight was certainly very busy for us and we had dogs coming on holiday from Dursley, Wooton-Under-Edge, Fairford, Lechlade and Siddington just to name a few locations.
We were lucky enough to trial a beautiful little sprocker called Lulu – honestly have you ever seen a cuter little girl – we are a little in love!  She passed her trial with flying colours and we can't wait to see her again.
The trialing process is so important for our customers – it really does give peace of mind to know that before your big holiday your dog has gone out and stayed with a host and everything has gone to plan.  We have a wide range of experienced hosts who know how to give the very best of care for your dog while you relax and enjoy your holiday.  We believe we are the only dog sitting company around that insist on this trialing process – we know it contributes to the wellbeing of your dog while you are away.
Someone who passed their trial a while ago is little Thombie – he loved his recent dog holiday – here he is keeping a careful eye on things from his basket!
We had a record month for receiving 5* reviews on Trustpilot – nothing makes us happier than knowing customers both dog and human rate our dog boarding service so highly.  We always post our reviews on our FaceBook page so please do check them out.
Summer coming to an end – September 2018
Well what a summer – not only was the weather exceptional we are also proud to say it was one of our busiest summer dog sitting times.  Business was up over 20% on last summer and we had many new dog customers!  We are pleased to say all the holidays went off without a hitch so we had very satisfied customers all round.  We are delighted to proudly say we are the Number 1 dog care company in the Cotswolds.
As you know we provide dog sitting all over the Cotswolds region – a huge area covering everywhere from Stroud to Faringdon and Tewkesbury to Swindon so if you have a dog that you want to see receive 5* dog care while you are away just give us a call on 01285 711650.
As the nights start to draw in we are amused to see Bonnie Boo in Cirencester watching her mum watching the start of Strictly Come Dancing  – dog holiday bookings tend to drop off a little in September as people get back from their summer holidays and the kids return to school – but don't forget half term is only a short time away and we are already getting booked up!
We don't like to mention the C word too early – but with bookings up on last year  for Christmas holidays its worth reminding everyone that we have limited host availability over the festive period so we suggest you have a look to see if you need our home boarding service over Christmas and New Year!
Talking of hosts – we are on a recruitment drive – so if you know anyone that you think would like to provide one on one loving dog care while their owners are on holiday or away then ask them to get in touch with us.  A secure garden and lots of love to give are the main requirements for the job J  Our hosts really are the backbone of our business and they all love the many varied dogs that they care for – everything from springer spaniels to labradours and cockapoos to jack russels – look at the joy on Judys face as she holds pretty little Ellie, and Pat loved having a very smiley Marli to stay.
Have a dog to stay is a real tonic for people and its scientifically proven that dogs help people combat depression and keep them healthy.  If you would like to host or know anyone that might, please get in touch at – alun.davies@barkingmad.uk.com or call 01285711650
A seriously busy month! – August 2018
August is always a busy month with the kids off school and lots of doggy holidays being taken.  We are delighted to say that this August was one of our busiest here in the Cotswolds.  Lots of dog home from home holidays organised and we are pleased to say lots of satisfied customers – both dog and human!
One such dog going on her first dog holiday was Bonnie Boo – she is also one of our youngest customers – at only 5 1/2months she passed her trial with flying colours – she is not only well behaved but absolutely gorgeous we are sure you would agree.
Here at Barking Mad Cotswolds we have a large area to cover with customers spread out as far as Cirencester to Dursley and Fairford to Malmesbury.  We always make sure our dogs travel first class and are safely strapped into our cars to make sure they arrive at their loving hosts for their dog holidays.  Look at Ollie and Bessie in their harnesses – safety first at Barking Mad Cotswolds!
We were delighted at the end of the month to attend The Chedworth Show – we helped run the dog show there and it was such fun.  We ran four classes and then had a best in show final.  Pip the Vizsla was the best in show-a gorgeous pretty dog who was so well behaved.
We are always keen to recruit new hosts and this month saw us find new hosts in Melksham, Wooton Under Edge and Chesterton in Cirencester – we welcome them to our host community and know they are excited to meet some dog customers soon!
Talking of new dog customers, we have seen an increase in enquires over August and just two of our new customers are Ellie and Alfie – totally adorable!  We are very excited to say they will be out on trial and having their first dog holidays soon.
Phew what a scorcher…
Gosh its been so hot hasn't it!!!!   We have been super busy trying to keep our doggy guests as cool as possible here in the Cotswolds while they have been on their dog holidays!
We have also been enjoying the football – we have to say Roxy didn't enjoy it all while she was on her dog holiday in Faringdon!  She is usually the centre of attention on her Barking Mad Cotswold holiday – normal service soon resumed as soon as the match was over!
June and July have seen us organise organise a record number of dog holidays and as always our hosts have provided an excellent home from home dog sitting experience for our many furry friends.  We saw many regular dogs but also a few new additions to the Barking Mad Cotswold family.
One such dog was Grace – a beautiful Vizsla from Highworth who had her first long weekend break with us – she stayed with a host in Stroud and as well as lots of dog walks she also had lots of cuddles on the sofa and the odd treat – what a stunning girl she is – we can't wait to provide her with another dog holiday soon!  We are covering the Swindon area at the moment so that includes Stratton St Margaret, Haydon Wick, Cricklade, Abbey Meads, Blunsdon as well as Minety.
We also had one of our more travelled customers – Enzo lives in London and comes to stay in the Cotswolds when his mum and dad go away on holiday.  He loves the long country walks he can have in Cirencester and around South Cerney lakes.  He is always such a pleasure to have come out on holiday and we make a special effort to ensure he enjoys his Barking Mad Cotswold holidays as he is such a long way from home!
We were very excited to give a talk on dog psychology and evolution to the U3A organisation in Fairford earlier in the month – they were such a nice bunch of people who asked lots of questions and expressed great interest in our chosen charity this year Dogs for Good – we would like to thank them for their generous donation towards Dogs for Good – very kind of them.
Come along and say hello at The Chedworth Show on August 25th.
We are gearing up and looking forward to the Dog Show we are organising for The Chedworth Show on August 25th 2018 – do come along and say hello we would love to meet you and your dog!
Summer has finally arrived…
With two bank holidays in May and the wedding season kicking off it has been so busy we forgot to post our May blog – so we do hope you don't mind it's a few days late!
We have had a fair few weekend doggy guests this month as their mums and dads attend weddings across the country or indeed are getting married themselves.  One such guest was Penny – a beautiful rescue dog that settled in quickly with one of our loving hosts – its always so wonderful that rescue dogs seem to love the Barking Mad Cotswold service – they often have complex needs or quirks that would get ignored in kennels so we know their owners really value our unique dog sitting service.  Pennys dad could totally relax and enjoy his wedding knowing Penny was safe and happy with one of our great host families.
One of the great joys our hosts talk about is the health benefits their doggy guests bring with them – you have no excuse to laze on the sofa with a Barking Mad Cotswold guest – here is Maggie on her holiday – she normally lives just outside Fairford but here she is on holiday just outside Wooton Under Edge – a change of scenery is good for everyone!
As shown above Roxy does love to sunbath when she is on her Barking Mad Cotswold holiday – but she does also love to run – so here she is enjoying a good time on her dog holiday with her host out towards Cirencester – she runs like the wind and as you can tell she loves it!
We attened the Lechlade Extravaganza over the bank holiday and it was great to meet so many existing as well as potentially new customers from Cricklade, Swindon, South Cerney and Aston Keynes.  Boy it was hot though – that was the only excuse we needed to have a few ice-creams!
We are looking forward to the Southrop Fete this weekend – 9th June – maybe see you there?

If you would like to find out more about Barking Mad Cotswolds take a look HERE
A Busy Easter – April 2018
April has been a crazy busy month here at Barking Mad Cotswolds.  With the Easter holidays at the start of the month we were delighted to be providing so many dog holidays for both existing and new customers.  Our unique home boarding service really does go from strength to strength.
One of our new doggy customers was Millie – a seven-year-old rescue dog all the way from Bosnia – she has been living with her new mum and dad just outside Stroud for over a year and after a successful trial had her first dog holiday over Easter.
We are sure you will agree she is a real beauty and her host fell completely in love with her.  Millie seemed to have great fun in her new home from home and her host was very sad to see her go back home – Barking Mad Cotswold received another wonderful 5* review for the dog care they provided for Millie which really made their day.  We can't wait for her to take another dog holiday soon.
Some of our dogs whilst on their dog holiday love to relax – others like Molly here love to have a good work out – this is Sharon taking Molly on an agility course – Molly loved it so much.  Dog sitting in the Cotswolds is much more than just cuddles on the sofa.
If you would like to find out more about hosting and getting to care for one of our beautiful Barking Mad Cotswold dogs, then do please give us a call – you could have your arms full of gorgeous fluff just like Judy here holding Bertie.
We look after dogs of all ages – our youngest dog customer is around 6 months old – our oldest is Annie here – enjoying her dog holiday in the garden – Annie is 17 years young and recently had to have all her teeth out – that has not stopped her jumping up into the Barking Mad Cotswold car and loving her home from home dog sitting holiday.
Finally, this month we just want to let you know we will be attending the Lechlade Extravaganza on May 20th – this is a great event where we met lots of new hosts and customers last year – do pop along and say hello.  We will also be attending fetes in Southrop and Chedworth later in the year.
Spring is in the Air – March 2018
We have spent most of March wondering if the weather is going to get any warmer (along with the rest of the UK) – here in the Cotswolds we have had lots of snow, heavy rain, -8 day time temperatures and gale force winds – honestly no wonder Wooster decided to stay wrapped up warm in his bed/tent while on his Barking Mad Cotswold holidays!  Dog sitting in the snow is a challenge we can tell you!
Despite the crazy weather we can tell that finally spring is on its way and we have had a very successful month with a record number of hosts recruited for Barking Mad Cotswolds.  We can't wait for all of them to experience the joy of having one of our doggy customers come and stay.  As a host they will provide a home from home dog sitting service which all our doggy customers enjoy.  We just know these new hosts will be providing 5* dog care which will only add to our Trustpilot 5* review rating.  Barking Mad have over 3000 5* reviews for its dog home boarding service.
One such doggy is Ollie – he and his friend Bessie are regular Barking Mad Cotswold holiday customers – Ollie likes nothing more than enjoying the rare spring sunshine in his hosts garden – don't forget the factor 50 Ollie?!?!?
Of course, Easter falls in March this year and we have been busy organising many dog holidays over the Easter holidays.  With customers covering a wide range of areas from Dursely to Cirencester and hosts placed anywhere from Tetbury to South Cerney we have certainly been clocking up some miles making sure our doggy customers get the best dog home boarding service possible!
We are also busy starting to book up some summer fetes and are very pleased to confirm we will be attending the Chedworth Show in August and the Lechlade Extravaganza Show in May – we are also looking at fairs in other areas such as South Cerney, Tetbury, Yate and Fairford.  Look back here or on our Facebook page for further details.
A First for Barking Mad Cotswolds – February 2018
We have had a hugely busy start to February with a record number of dog holiday bookings as well as our best ever number of new dog registrations.  We can tell already this is going to be a bumper year. We love going out to meet new customers to explain how we are an alternative to kennels and how we provide dog holiday care in a home from home environment while they are away.
One of our new doggy customers is Alfie – he is totally blind but this does not stop him from enjoying life to the full and we can't wait to provide him with a dog holiday he won't forget!  We have not had to care for a blind dog before but we are sure Alfie will fit in well with the Barking Mad Cotswold family and we have several hosts who are experienced in caring for dogs with disabilities.
We have also recruited several new hosts this month which is great as the business can only grow as long as we have a wide range of hosts to provide the home boarding we need for all our doggy customers.
As the weather is beginning to get a little better our minds are already turning to the summer and the possible summer fetes we can attend – last summer we attended summer fetes in Dursley, Badminton, the air base close to South Cerney and Sapperton.
We are keen to attend as many as possible during 2018 to spread the Barking Mad Cotswold word – we are talking to people in Lechlade and Chedworth about attending their fetes and are looking to secure a stall in Fairford, Cirencester, Tetbury and Malmsbury – so if you know of any suitable fetes do let us know.  We love getting out there and meeting people who need our unique pet sitting service.
If you would like to find out more about Barking Mad Cotswolds take a look HERE
Cotswolds local news – What a busy dog filled Christmas
We have had  hugely busy December – not helped by the dreadful snowy weather.  We had several dogs out on holiday when all the snow fell – some owners were unable to fly back on time and indeed we had trouble getting to some of our hosts for doggy pick ups – it all worked out in the end though thanks to our understanding and caring hosts who had their furry friend for longer than they first thought!
We provided a record number of dog holidays over Christmas and each and everyone of them had a lovely festive time with their hosts.
Do come and join us and our hosts for a cup of coffee and a slice of cake – the venue is Jolly Nice on the Stroud Road out of Cirencester – we would love to talk to you about maybe becoming a Barking Mad Cotswold Host.
2nd February 2018 – 10.30am to 12.30am
If you would like to find out more about Barking Mad Cotswolds take a look HERE
Back To Main
To find your local branch, prices and much, much more: