Host Dog Sitters Celebrate 10 Years of Caring for Local Dogs
Carole and Fred Nicholson have been 'host' dog sitters for Barking Mad Newcastle for over 10 years and believe that this hobby has changed their lives.
Barking Mad Host, Carole is an active member in the WI and Fred has been an avid rose grower for years. After years of having their own German Shepherds and Red Setters, Carole and Fred began hosting for Barking Mad in 2011. Since then, they have found they love the smaller breeds as much as bigger breeds and really enjoy the companionship and exercise their doggy guests provide.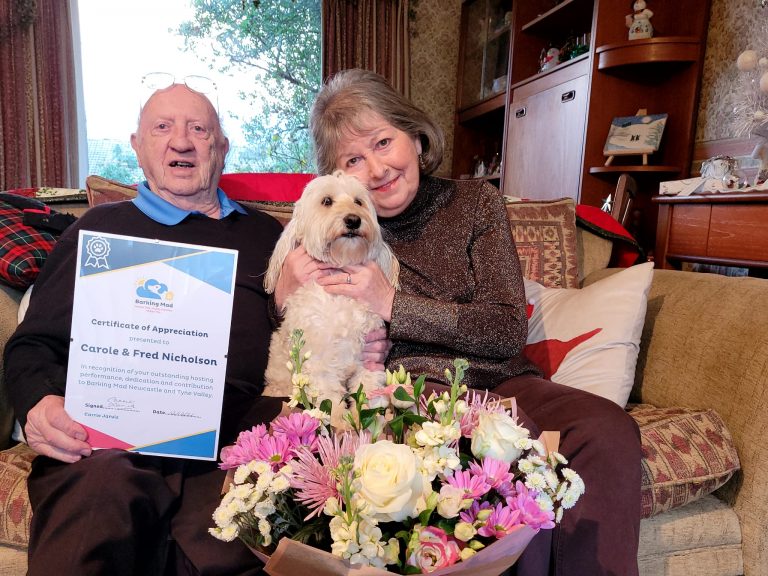 In the 10 years the couple have been Barking Mad Hosts, they have hosted a staggering 227 times. Carole and Fred are true dog lovers and they enjoy the companionship of every breed from Chihuahuas and Dachshunds to Spaniels, Labradors and even Great Danes.
Dog Sitting Host, Carole said "The best thing about caring for dogs is the unconditional love. We always get a lovely good morning greeting with lots of waggy tails. Plus, it's great to have a reason to get outside for fresh air and to stay active. In 2013, we became grandparents for the first time and hosting for Barking Mad is very similar to this. We get to enjoy all the benefits of being a dog owner without the emotional and financial commitment. It's a win, win situation."
It has been scientifically proven that caring for and walking dogs can help people to feel more relaxed and less anxious. This makes a huge difference to emotional and physical well-being. Those caring for a dog are also less likely to be socially isolated, research suggests.
Owner of Barking Mad Newcastle and Tyne Valley, Carrie Jarvis said: "Our proudest achievement is the happiness which holidaying dogs have brought to the lives of our host families like Carole and Fred. We match friendly dogs to hosts' preferences and lifestyles, for their holidays and short breaks. It's ideal for those who are retired, are looking for companionship or work from home."
"We take care of everything, including chauffeuring dogs to our hosts' homes with all their essentials and providing 24/7 support. Hosts experience all the benefits of dog companionship without any of the emotional or financial responsibilities of full-time pet ownership."
If you love dogs, you might consider becoming a dog sitter, caring for dogs while their owners are away. And we don't blame you – there's nothing more rewarding than spending time with a furry friend. If you would like more information on becoming a Barking Mad Host dog sitter, please click here.