Wondering how much dog sitting actually costs?
If you are going on holiday or away for work, there are many different dog care options for your pooch while you are away from home. You may be wondering how much you should pay for a dog sitting service? Which is the best option for my dog? Below we detail the different dog boarding options.
| Service | Price |
| --- | --- |
| Dog Home Boarding (per day) | On average £26 - £32.50 |
| Dog Sitting (per day) | On average £26 - £32.50 |
| Doggy Day Care | From £20 |
| Wedding Dog Care Bespoke Package | From £289 |
| Dog Walking (per hour) | From £15 |
| Pet Taxi | POA |
*Prices vary for each Barking Mad branch are dependent on several factors including age and location. Find your local dog sitting branch and their prices here.
Friends and family – Small fee or free
When looking for a place for your dog to stay while you are on holiday, the first option to consider is friends and family. Your dog will be comfortable with them, making the transition much easier. Plus you know they will be in safe hands so you can enjoy your holidays.
Key factors to consider when asking a friend to dog sit:
Do they have any other pets?
Are there children in the house and will your dog be happy?
Are they prepared to take your dog on regular walks?
Dog Sitting (paying someone to stay at your house) – dependant on individual
Most dogs feel comfortable in their own home, so having an experienced dog sitter come by to feed the dog, take them on walks and play can be a good option. Decide whether you want a sitter to visit your home on a daily basis to spend some quality time with your dog, or have them stay in your home for the length of your trip. There are plenty of organisations that are trustworthy but there is a lot to cover regarding keys, alarm codes and general rules of the house.
How to find the right dog sitter:
Ask for recommendations from friends and the local dog-walking community.
Check their online reviews, website and business social channels.
Meet with potential dog sitters to see how your dog reacts to them.
Dog Kennels – average of £15 – £20 per dog, per day
Dog kennels are an option for your dog when you are away on holiday. However, it is important to make sure your dog would be comfortable in a kennel. Dog kennels can be isolating and lonely so if your dog suffers with separation anxiety, a dog kennel may not be the right service for them.
How to find a good dog boarding kennel:
Do you research, ask friends for recommendations and read online reviews.
Visit a couple of kennels, to check there is somewhere warm and dry for your dog to sleep.
Check the kennel is licensed by the local authority.
Find out how many staff there are per animal.
Ask about insurance cover and what the procedure is for contacting a vet and you, in case of a veterinary emergency.
Home boarding – average of £26 – £32 per dog, per day
An alternative to kennels where your dog stays with a loving host family in the family's home. It is an alternative to pet sitting as your dog has companionship all of the time on a one on one basis with no need for anyone to have access to your home.
In-home boarding gives dogs the opportunity to socialise with other dogs under the supervision of a responsible pet lover, as well as individualised attention and more daily interaction. In-home boarding can be more affordable than pet sitters that come to the home too, and there is the added security of not giving up your house keys.
Key factors to consider with dog home boarding service:
How many dogs will be in their care?
What experience do they have?
Are they licensed by the local authorities?
Are they fully insured?
What are their back-up procedures?
The cost of a dog sitting service can depend on a number of factors:
How many dogs you have?
If you have more than one dog, you may benefit from a reduced rate if they are boarded in the same space in a dog kennel. However, if you are using a dog sitter, they may charge more to care for more than one dog during the time you are away.
The length of the booking
Dog sitting services are normally calculated on the length of stay, so the longer the holiday, the higher the cost of dog sitting. However, if you are booking for a couple of weeks or even a month, some dog boarding services may offer a discount.
Whether the dog sitting is needed in peak or off-peak
Dog sitting and boarding services can get very busy in Summer between May – September and over the Christmas period. Dog boarding costs in peak times may be higher, so it's important to book early and look out for potential early discounts.
Do you need any optional extras?
Some dog sitting and boarding services offer additional extras to ensure your dog has a pawfect day.
Food: the dog sitter provides all the food during the dog's holiday.
Grooming: some dog kennels offer an optional grooming service.
Collection: the dog boarder will collect and return your dog to your home.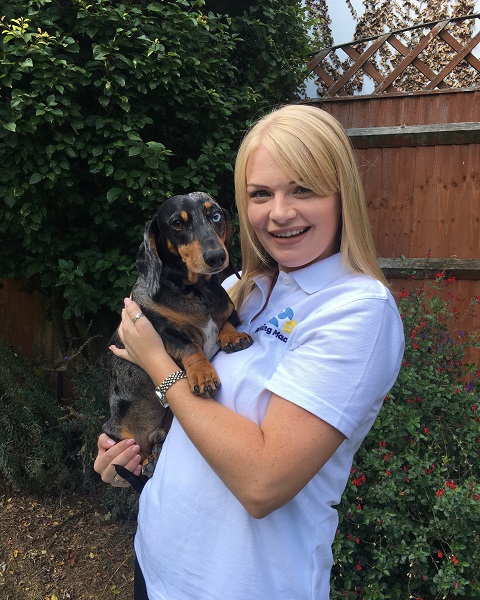 At Barking Mad, we believe in providing individual care so that dogs have the very best experience possible.
For more information on the Barking Mad dog sitting service, visit our How It Works page.