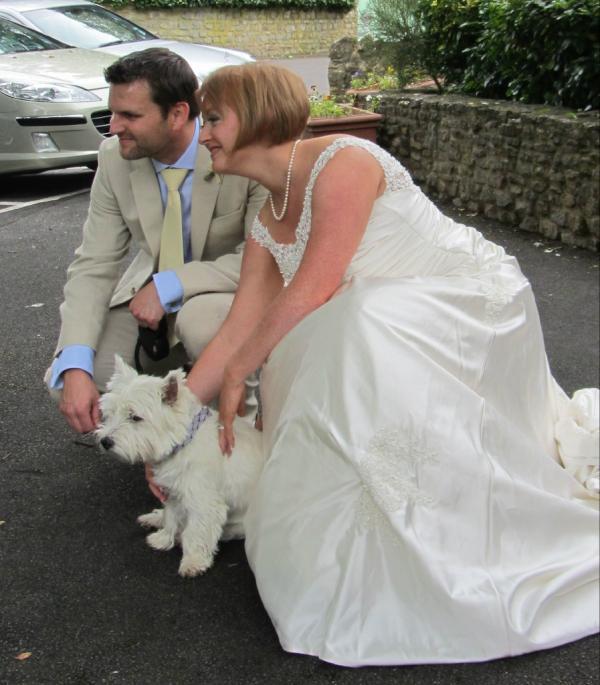 At Barking Mad Dog Care, the five star service provider of 'home from home' dog boarding, we understand that as a dog lover, your pet can be the most desirable V.I.P on your wedding guest list. The practicalities of this however, are likely to present even the most experienced of wedding planners with a major headache. Who will look after your dog whilst everyone is getting ready? Are dogs allowed in bridal cars? What will happen at the reception? The problems are just too numerous to list!
Barking Mad can take all of the stress out of this canine conundrum by providing the perfect wedding dog care package. One of our local representatives will pick up your dog a few days before the big day itself, to allow you time to take care of all those crucial last minute details. Your dog will then stay with one of our loving, experienced hosts, in their own home, just like one of the family. On your actual wedding day you can specify if you would like your dog to attend the venue, reception or just for the photographs, under the professional care of our representative. Then if you'd like your dog to stay on with us whilst you enjoy your honeymoon, we can arrange that too. Our aim is to tailor our service to your personal requirements.
Founder of Barking Mad, Lee Dancy says, "We identified the need for a service such as this, five or six years ago. We were getting so many phone calls from people asking if we could look after their dog on their wedding day, as all their friends and family would also be attending the ceremony. Arranging a wedding visit from a customer's beloved pet, is all part of the service when they book dog care for their wedding and honeymoon with us."
We know that even though your wedding day is possibly the most exciting day of your life, your canine best friend still won't be too far from your thoughts. We will send you a special wedding message and photograph of your dog, so that you can arrive in style at the ceremony with complete peace of mind, knowing that they are being lovingly cared for.
If you are in the midst of planning your wedding and thinking, 'What about the dog?' please visit www.barkingmad.uk.com  for details of your local branch. We would advise early booking to avoid disappointment, as we are very much in demand during 'wedding season'!