Do you walk your dog in the dark?
As autumn moves into winter, for some dog owners walking their dog in the dark is the only option. As the days get shorter, walking your dog in the morning or evening darkness is more common, but walking a dog in the dark can bring risks.
So how can you avoid these potential risks? Follow our top tips for walking your dog in the dark, to keep you both safe during the winter months.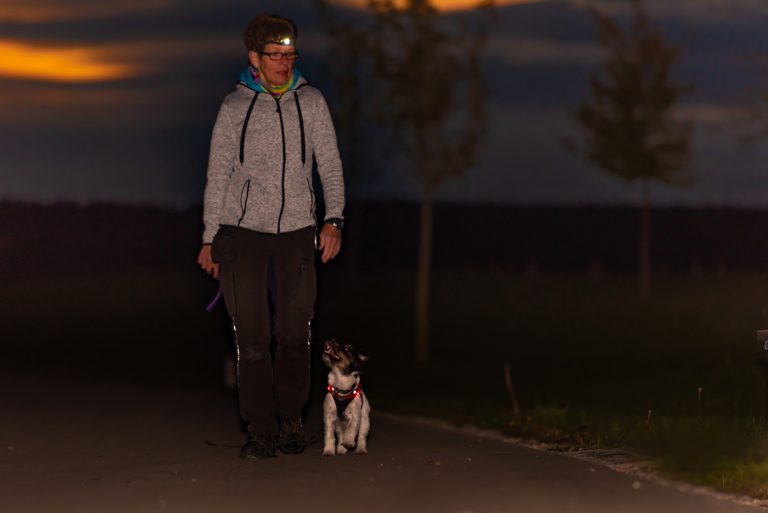 Dog Safety in the Dark
Dogs can see better in the dark than humans, but the dark could change your dog's behaviour. Objects dogs see as normal in the daylight, may look scary in the dark. For example, someone wearing all black clothing may frighten your dog in the dark, so, it's important to keep your dog on a lead. This means you will have more control if your dog becomes scared and reacts to another dog or human in the darkness.
Keeping your dog on a lead also ensures you know where they are at all times. If your dog is familiar with the area and well trained, you may decide to let them off the lead.
Consider getting a reflective harness or coat for your dog and a reflective vest for yourself. Reflective harnesses increase your dog's visibility for cars, bikes and other dogs when walking in the dark.
LED Lights and Dog Collars
Sometimes reflective clothing alone is not enough to increase the visibility of your dog. LED dog leads and dog collars will ensure your dog can be seen by you and others in the dark.
Darkness usually brings a drop-in temperature, so wrap your dog up for the colder weather. Smaller breeds and senior dogs are more likely need a little extra warmth when walking early in the morning or late at night.
Read our Top Tips for Caring for your Dog During Winter here.
If you walk against the traffic, you can be more aware of any danger coming towards you. This means the drivers of passing cars can also see you and prepare to drive slower when passing.
Glow in the dark fetch toys
Playing fetch in the dark could cost you a lot of lost toys and leaving you with a very sad puppy. If you still want to play fetch when walking your dog in the dark, then consider buying balls and toys that glow in the dark or light up.
Dog Owner Safety in the Dark
When walking your dog in the dark, avoid distractions such as wearing headphones or using your phone. Being aware of your surroundings is really important when walking in the dark, so you can be alert to any potential danger.
Reflective clothing is essential for dog walkers, as well as the dogs themselves. Wearing a hi-vis jacket or vest will make you more visible to vehicles, cyclists and other dog walkers.
Remember to take your phone
Although it's not recommended to be distracted by your phone, it's a good idea to have your phone with you. Should you be in an emergency situation when walking in the dark, you can call for help.
Wearing a headtorch while walking your dog in the dark, will allow you to see what is ahead and keep you safe when walking on uneven ground. A headtorch also has the benefit of being handsfree, so you still have free hands to carry leads and poo bags!
Walk with other dog owners
Where possible walk your dog with a neighbour or friend so you aren't alone. If this is not possible, ensure you have a mobile phone with you.
Stick to a route you know
The darkness can throw both humans and dogs off balance, so walk a route you know well.
Dog Walks on the Weekend
If you have to reduce your dog walks in the week, then you can make up it up to your precious pup on the weekend. Take advantage of the weekend daylight hours by going for a longer walk. Taking your dog out to the park, woods or beach is a great idea for daylight walks. If weekend walks are not possible, why not consider other ways to exercise your dog.
Get in touch with your local dog walker.
Ask a neighbour or friend to walk your dog in the daylight.
Utilise the garden. Try throwing a ball or toy for your dog in the safety of a well-lit garden.
Safety First
Remember your safety is more important than exercise during the darker months, so don't feel guilty. If you have to reduce the duration or amount of dog walks in the week, your pup will still love you!