Top Dog Alun Scoops Industry Award
A man who went walkies from local government to give dogs holidays worth writing home about, has won a major industry award. Alun Davies, owner of Barking Mad Cotswolds, is the winner of a Great British Franchisee Award, one of the highest honours in the franchising world. Dogs in the Cotswolds would almost certainly have nominated Alun for the award themselves if they could have done, according to a widely-held belief among his customers.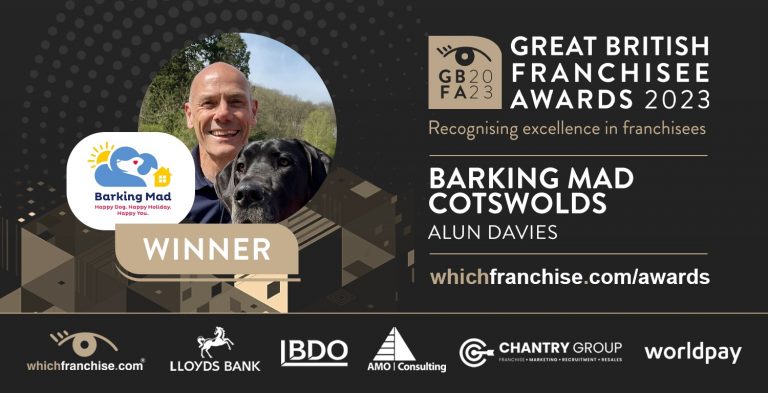 His two-legged fans include Rachel Stewart, Managing Director of the Barking Mad network, who says Alun has gone beyond the normal expectations of a franchisee, using his 30+ years in dog behaviour training to provide an extra level of service to owners whose dogs perhaps wouldn't have been able to enjoy doggy holidays otherwise.
"His customers are so appreciative of this extra support as it makes a massive difference to their lives – enabling them to feel certain that their pet will be completely safe and happy while they're on holiday," she says.
Ten years after taking voluntary redundancy to embark on his Barking Mad venture, Alun has just signed up for his third five-year term. He not only offers the core business of home boarding with host families, but he's expanded to offer pet sitting in customers' own homes as well.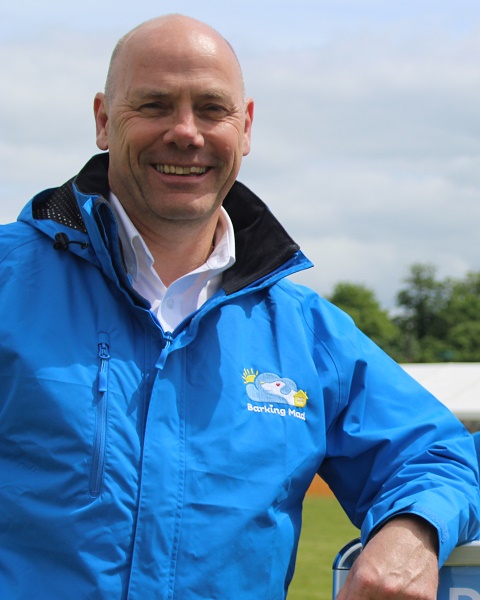 "What sets us apart from traditional providers is that our customers' dogs are given a bespoke service and cared for in a home environment by loving host families," says Alun. "Only dogs from a single family are cared for by the host family, whereas most of our local competitors provide a multiple-dog boarding service with up to six dogs from different families in one house."
Alun says the network owner's willingness to embrace his diversification into own-home dog care and dog behaviour training helped during the pandemic. "It enabled us to keep ahead of the competition," he says. "New customers had not been able to socialise their new dogs during the pandemic, which in some cases led to quite serious anxiety and separation issues."
With a five-star service rating from local Councils, and the majority of his host families having been with him since the outset, Alun is confident his decision to take on the franchise was a sound one.
"When I was searching for self-employment business opportunities, I was attracted to Barking Mad as it offered something very different to other holiday dog care providers. It's a bespoke one-to-one dog-care experience with dog-loving people who are not financially motivated. All of our hosts are passionate about dogs, but find themselves without one for various reasons such as heartbreak from losing a beloved dog, or simply not having the time or resources to enjoy full-time dog ownership. They give dogs a home-from-home holiday experience after which the dogs return home with a Barking Mad postcard from their host family and a sheaf of holiday snaps."