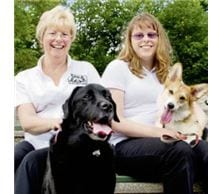 For entrepreneurial pet lovers, there's almost no question as to what type of business they would want to start. Becoming a dog trainer, dog groomer or dog sitter is likely a dream job for those who want to spend their days working with and caring for pets. But, as any pet care professional can attest, being a part of this industry is no easy task.
"Pets are often regarded as family members, and the responsibility of caring for those pets is not one that should be taken lightly," said Richard Dancy of Barking Mad Professional Pet Care. "Pet care professionals don't just chat to dog owners. We work hard to set procedures and care guidelines to make sure the animals are never at risk."
Working with Pets
Were you one of those kids who always dreamed of being a vet when you grew up because you loved animals? If you never made it to vet school, you can still make a living working with your favourite four-legged friends. Starting a pet care business is certainly an achievable goal, but you won't succeed without a strong knowledge of both animal behavior and business basics. Here are some of the areas you might want to look at:
Pet and dog home boarding / Dog Sitting
Dog owners often feel more comfortable leaving their pets in the care of an individual rather than placing pets in a boarding kennel facility, so getting referrals as a result of good dog care service isn't difficult. Working with a recognised brand with experienced procedures and safety checks for the dog, dog owner and dog carers allows you to turn pet sitting into a successful career in the pet care industry.
Dog trainer
Anyone with a love of dogs and a lot of patience can work toward becoming a dog trainer. Find out more at http://www.apdt.co.uk
Association of Pet Dog Trainers (UK)
The APDT (Association of Pet Dog Trainers), UK is a voluntary organisation established to improve the welfare of dogs and the competence of dog owners through the promotion of training skills and techniques based on up to date, researched, methods that apply the principles of kindness fairness and effectiveness and are in keeping with modern learning theory.
Dog-walking
In larger cities with a lot of pet owners in apartment buildings, dog-walking is a great part-time business opportunity. Busy commuters working long and/or irregular hours, may not always have time to take Fido for his daily walk. It's important to educate yourself on not only the local dog walking market but also proper animal care and handling.
Association of Professional Dog Walkers (APDW) offers advice for professional dog walkers. APDW is a non-profit making Association whose mission is to support and represent its members, help maintain a standard of professionalism, and bridge the gap between dog walkers, dog owners, the public and the authorities.
Grooming
This business idea requires a working knowledge of animal health and anatomy as well as training (a good place to start is experience with bathing and grooming your own pet). With a good brand local pet owners will be lining up to let you groom their furry friends. Grooming services can be mobile working with a branded franchise offering added convenience for dog customers. For more information on becoming a professional pet groomer, visit http://www.petcare.org.uk
The Pet Industry Federation and the British Dog Groomers' Association have developed a variety of dog grooming courses, for groomers at every level. 
The Pet Industry Federation runs three qualifications in conjunction with City & Guilds, each of them aimed at groomers at various stages in their career:

Dog treats
Recipes for homemade dog biscuits are fairly abundant on the internet. They don't require a lot of time or effort to make, and the ingredients for many of them are probably already in your kitchen. More information available at the PFMA (Pet Food Manufacturers Association) http://www.pfma.org.uk
The PFMA focus on providing pet owners and professionals with good nutrition and feeding information. Whether you are a pet owner or work with pets, we
have toolkits to make it easy to implement healthy feeding regimes. Most of our articles are split by pet type but we also have a section dedicated to more technical subjects so click on the relevant box below. See more at: http://www.pfma.org.uk/#sthash.LTsfRegL.dpuf
Handmade pet accessories
Pets often become like children to their owners, and many individuals are perfectly willing to invest in custom-made collars, food bowls, clothing and other accessories. Etsy and other e-commerce platforms are a perfect avenue to sell handmade items like these.
Whatever area of the pet industry you decide to look at running a dog business you are advised by banks and business professionals to look at the option of franchising. The UK trade association is the BFA:
The British Franchise Association (bfa) is the only voluntary self-regulatory body for the UK franchise industry, with a standards based approach to membership. Its aim is to promote ethical franchising practice in the UK and help the industry develop credibility, influence and favourable circumstance for growth. As a result one of the bfa's main jobs is to help potential franchisees recognise the good, the bad, and the ugly franchise opportunities for what they are. Another is to help businesses involved in franchising to secure their own position amongst the "good" franchises.