Dog Sitting and Dog Boarding in Cotswolds


About Us
Hello, we're the Barking Mad Cotswolds team and are delighted to be able to provide the unique Barking Mad home dog boarding service in the Cotswolds. We are proud to say that we are rated Number 1 in pet care by the online review company Trustpilot which is a real testament to the service we provide. Barking Mad was established in 2000 and Barking Mad Cotswolds formed in 2013.
We provide a unique dog sitting service, to ensure that your dog has a stress free holiday while you are away. We carefully match your dog to one of our hosts, many of which have been working with us for up to 6 years. Even though you don't meet the host we can guarantee they adhere to our strict set of guidelines set down by the business and the Local Authority, to ensure your pet has the best holiday stay possible. You will get to see pictures of the host, their garden, and you will know exactly where they are going to stay before the holiday. Because pet care is not of financial importance to our hosts, we are able to assure you that there will be no other dogs being cared for that might deflect attention away from your best friend. We even provide a chauffeur service that collects your dog and returns them after you return home.
All of our hosts are passionate about dogs and have owned dogs of their own throughout their lives. Our typical host family may have had to say goodbye to their best friend, but miss not having a furry friend around the place. Hosting for Barking Mad is the ideal therapy and gives them the opportunity to meet some really lovely dogs. They are retired or work from home, have access to safe, dog friendly local walks and have secure gardens.
Once approved by us to host they are required to adhere to the pet schedules that we draw up with you the owner, so you know your dog is having a real home from home experience.
We provide a clear line of communication directly with the host, answering any questions or anxieties you may have while you are away, as well as sending you photos and texts to update you on what your dog is getting up to on holiday.
We always trial your dog before their actual holiday for a night or two to establish your dogs  routine and introduce them to their new best friend, their holiday host. This ensures you can go away on your longer holiday with complete confidence and peace of mind.
We don't think that you can truly enjoy your holiday unless you are confident that your best friend is having a better time than you – no airport delays or lost luggage nightmares on a Barking Mad holiday!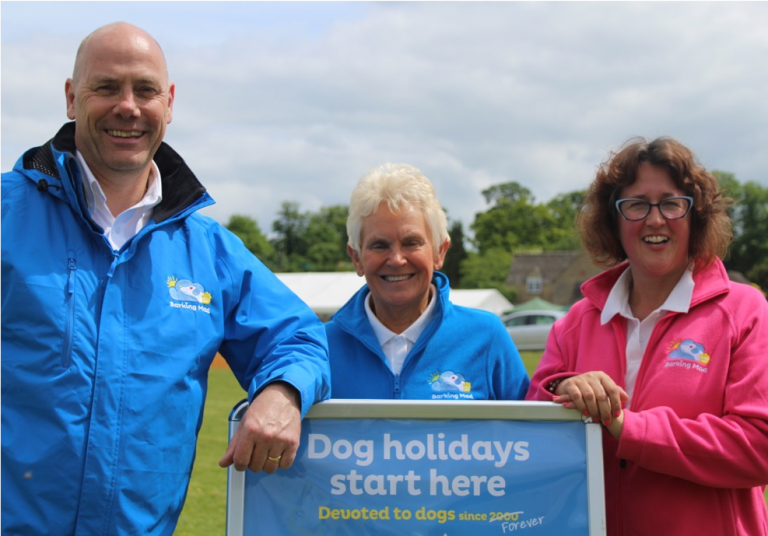 Alison Parker joined the team in May 2015 (in pink in photo) and lives on the edge of the eastern side of the Cotswolds. She manages social media, show/fete attendance and online marketing. Alison has also been a host for us for the past two years and loves all the dogs that come to her for a holiday and it's safe to say they love her too!
Rosie Murton joined in March 2017 and she lives out by the Severn Estuary, so right out at the western edge of the Cotswolds. Rosie looks after face to face marketing and brand awareness. Rosie is the proud owner of Inca who is an adorable Retriever/Labrador Cross.
Now with hundreds of doggy customers, the business is going from strength to strength and you can now see us on TV! The whole team is working closely together to ensure we provide the best possible service for both human and dog customers.
Alun
Read More
Areas Covered
We're delighted to provide our service in the following towns and surrounding areas:
View All Areas
Ampney St Peter
Badminton
Bisley
Broughton Poggs
Castle Combe
Chalford
Chipping Sodbury
Cirencester
Colerne
Cromhall
Crudwell
Daglingworth
Dursley
Easton
Ebley
Eastington
Engine Common & Rangeworthy
Fairford
Ham
Hullavington
Kemble
Latteridge & Iron Acton
Lechlade
Luckington
Malmesbury
Marshfield
Minchinhampton
Minety
Nailsworth
Nibley
Oaksey
Pitchcombe
Rodborough
Sherston
Stonehouse
Stratton
Stinchcombe
Stroud
Tetbury
Thrupp
Uley
Wotton-Under-Edge
Woodchester
Westerleigh & Wapley
Yate
Yatton Keynell
Our Prices
One off initial registration meeting £40

*

Collection and delivery £40*
Daily boarding rate (1 dog) £25*
Daily boarding rate for two dogs £45*
Daily boarding rate for three dogs £70*
*The above boarding charges are doubled over all Bank Holidays
Sign Up To our Newsletter
and get fresh news