August Holiday Fun for Barking Mad Lydney
On Wednesday 7th August we attended our very first business networking event in The Forest of Dean. It was held at The Lyon Inn in Westbury-on-Severn and is hosted by Ladies Who Latte. It was a great opportunity to meet local business owners and chat about our home dog boarding service in The Forest of Dean and Wye Valley. It is a very supportive and friendly group with lots of good advice shared from all the attendees. This is a regular meet up which takes place on the first Wednesday of every month. You can find all the details on their Facebook group here. If you are a local business why not come along to the next one and join in. The Lyon Inn is a great venue, the family run pub pride themselves on fresh, home cooked food. Please visit their website for more information: http://thelyoninn.com/
Pedro and Gabby had a great day out and walk at Lydney Harbour in the Forest of Dean. We were very lucky to have a clear day and were met with fantastic views across the River Severn. It was great to see lots of other dog owners out walking there too. I highly recommend visiting with your dog if you haven't been to Lydney Harbour before. We even had time to pop to Lydney Brew after for a bite to eat and a coffee. Lydney brew is one of our favourite cafes as it is dog friendly place and serves great coffee and food. You can find them here: https://lydneybrew.co.uk/
We attended the Social Media Strategy Essentials workshop in Gloucester which was hosted by Fastershire and Core Tree SMS. We are always looking for ways to improve our dog sitting services in the local area, this was a fantastic opportunity to learn new skills and streamline our social media platforms. It was held in the historic docks in Gloucester at North Warehouse. Lots of people attended from all different business backgrounds.
In support of the Forest of Dean Dog Rescue we went along to their coffee morning and Dog Fun Day on 17th August at The Fountain Inn in Parkend. There was a great turn out with so many different breeds of dog to make a fuss of. As well as lots of yummy cakes, a dog related quiz and a raffle they had also organised a fun dog show. We decided to enter for a bit of fun and were delighted when Pedro came home with a lovely rosette for third most handsome dog! We got to chat to lots of dog lovers while we were there about our professional holiday dog care services. It was a brilliant dog friendly day out.  If you would like to support or find out more about The Forest of Dean Dog Rescue charity here is a link to their website: https://foddogrescue.org.uk/.
We had another fun filled day out fund raising for the Blue Cross Newport. It started off with a dog walk around farmland and on the Wales Coastal Path overlooking the River Severn. We then headed back to The Rose Inn in Redwick for tea and cake. The lovely staff and volunteers had even made pupcakes for the dogs to enjoy – they went down a treat with all the dogs. Each dog left with a goody bag and certificate for attending the walk. This was their first event and Blue Cross Newport are hoping to do more next year. Keep an eye on their facebook page for future events.
Our lovely dog sitting host families have been very busy this August looking after all our doggy guests. The dogs all had a fantastic time on their one to one home boarding stays with our fabulous hosts. We can provide your dog with their very own holiday when you go away. The dogs that come to stay have enjoyed visits to the beach, long forest walks and unlimited cuddles. You can see all our fantastic reviews on TrustPilot and our Facebook Page. We do have some limited last minute availability for dog boarding bookings in September through to October Half Term. Please get in touch with Lucy on 01594 372 194 if you are looking for dog care over this period.
Coming up in September, Barking Mad Lydney will be at the following events:
Table Sale and Bric-a-Brac Fair at Tintern Village Hall Sunday 15th September 11am
Doggy Open Afternoon at Dean Farm Trust, Chepstow 22nd September at 12.30pm
Give a Dog A Bone. An informative Nutrition Talk at Bilbo's Hydrotherapy and Pet Spa, Lydney 27th September at 7pm
Do come and say hello if you are there. We would be happy to talk to you about our bespoke dog boarding services in the Forest of Dean, Monmouth and surrounding areas. Keep an eye on our Facebook Page for all our future events.
Schools out in July for Barking Mad Lydney
Barking Mad Lydney and Barking Mad Pontypool have been working together to bring the very best professional dog sitting service to Gloucestershire, Herefordshire, Monmouthshire and South East Wales. Every few weeks we meet up at The Fourteen Locks Canal Centre in Rogerstone and have a working lunch. It's a great opportunity to support each other and look at ways to develop our local dog home boarding businesses. It is a great place to meet and there are lots of dog walks nearby. The café is also dog friendly and we are never short of dogs to say hello to. Here is a link to their page for more information: http://fourteenlocks.mbact.org.uk/.
Pedro and Gabby joined me on a day out to Ross-On-Wye, Herefordshire. We had a lovely walk along the river just outside the town by the bandstand. We did some marketing in the town whilst we were there to let people know about our dog holiday care services in the area. We also fitted in a Homecheck for Birmingham Greyhound Protection which is a charity that rescue and rehome sighthounds. I have volunteered with them for a few years helping to find homes for sighthounds in need by doing homechecks for potential adopters in the Forest of Dean, Chepstow, Monmouth and Gloucestershire. You can read all about the great work they do here: https://www.birminghamgreyhoundprotection.org/
Tewkesbury Medieval Festival took place on 13th – 14th July and is one of the biggest Medieval festivals in Europe. It is a dog friendly event and free to attend. There is shopping, food and drink, battle re-enactment, traditional camps and lots of participants dressed in traditional clothing. We met lots of lovely dogs and their owners whilst we were there. It is a fantastic day out for all the family. It can be quite busy and some of the battle re-enactments do have canons in which could be unsettling for some dogs. We took a picnic along and enjoyed wandering round the countless stalls as well as chatting to lots of people in the re-enactment.
We had a great day out at the Brockweir and Hewelsfield Summer Fete on the 20th July. Pedro and Gabby stole the show and were met with lots of cuddles from the many dog lovers that were there. It was held at the Brockweir and Hewelsfield Village Shop which is run by local volunteers. There is a lovely café and the shop is full of local produce. You can find out more information here and it is worth a visit if you are in the area: http://www.bandhvillageshop.co.uk/. Our local dog home boarding service also covers this area for dog holidays.
Welcome to all our lovely new customers who have become part of the Barking Mad family in July. We look forward to seeing lots of you for home from home boarding stays in August and later in the year. All our dogs will stay with one of our fabulous dog loving host families based in the Forest of Dean and Wye Valley. Thank you to all our wonderful dog sitting hosts who take such good care of our visiting dogs. If you would like a friendly dog to stay with you for short periods you can get in touch with Lucy on 01594 372 194.
Barking Mad Lydney will be organising a social dog walk and coffee morning in September so keep an eye out on our Facebook Page for all the details. We would love for you to join us, even if you don't have a dog please come along.
Summer fun in June for Barking Mad Lydney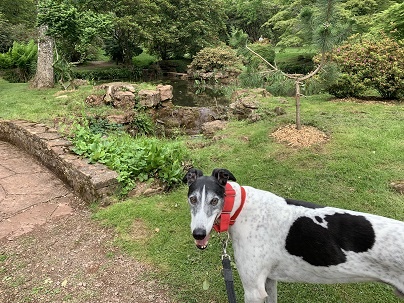 Pedro and Gabby joined me for a day out at Lydney Park Estate in the Forest of Dean in early June. We explored the roman ruins, deer park and walled garden, where we were lucky enough to catch the end of the flowering Rhododendrons. It is a great local dog friendly day out for all the family. As long as dogs are kept on the lead they can go anywhere. Keep an eye on the Lydney Park Estate Website for next years opening times.
On 9th June 2019 it was the 10th anniversary for the Great Global Greyhound Walk. Pedro and Gabby joined around 70 other sighthounds at Blaise Castle in Bristol which was organised by Bristol DAWG Greyhound and Lurcher Rescue. It was great to be part of this event raising lots of money for sighthound charities across the world. Pedro and Gabby loved meeting lots of other greyhounds and sighthounds. If you would like to join a greyhound walk next year you can find your local one here: https://www.greatglobalgreyhoundwalk.co.uk/
We had our very first professional photoshoot for our dog sitting service done in June. With special thanks to Andrew Miller Photography for the fantastic photos.
Barking Mad Lydney along with many other business owners joined 78 dogs on the Barking Mad Woofing Webinar Record Attempt on 21st June for Bring Your Dog to Work Day. We were joined by HOWND who are the founders of Bring Your Dog to Work Day. It was great to be part of the record attempt and join lots of dogs and their human assistants on the live video call. Barking Mad Dog Care are official sponsors of the event. You can watch the Woofing Webinar on our Barking Mad Dog Care YouTube channel here: https://www.youtube.com/watch?v=LUvQ3LQaLSU&t=470s
The South West Barking Mad Business Owners all joined together to attend Dog Fest West at Ashton Court Estate in Bristol on 22nd and 23rd June. It was a great success and we met so many lovely dogs and their owners. We all enjoyed chatting to dog lovers about our local dog sitting service and how we can provide bespoke holiday care for your dog. People had come from all over and I met families from Chepstow, Monmouth, the Forest of Dean and Wye Valley. A few of us also got the opportunity to take part in judging the Fun Dog Shows happening across both days. It was so hard to choose from as all the doggy entrants were wonderful. The four legged visitors who came to the Barking Mad stand enjoyed making use of our paddling pool to cool off and a dog treat or two. Lots of visitors made use of our bags for life as there were lots of goodies to be picked up at all the stands.
Barking Mad Lydney and Barking Mad Cotswolds attended Charfield Community Fete at the end of June. It was the hottest day of the year so far with a peak temperature of 31 degrees. We didn't meet many local doggies as it was just too warm for them but we did speak to lots of lovely dog owners about our 5* home from home dog boarding service. We had a lovely doggy hamper to give away on the day and ran a competition of guess the number of dog biscuits in the jar. Congratulations to Ken and Puc who won and were only 13 biscuits off the answer.
Barking Mad Lydney launched in the Forest of Dean and Wye Valley May 2019
May has been a busy month for Barking Mad Lydney as the Dog Home Boarding Service launched in Monmouth, Chepstow, Lydney, Cinderford and Ross-on-Wye. We provide the alternative to Dog Kennels in the local area for your dog when you are away. We started off at our very first Annual Conference on the beautiful Lake Windermere where we met many of the other Barking Mad business owners. It was great to hear their experiences running a home from home pet care service and how much they love organising holiday care for dogs.
We attended our first local event in Monmouthshire at the Tintern Car Boot Sale. It was a great setting with Tintern Abbey as a backdrop and the River Wye running nearby to the village hall field. We met lots of lovely dogs and their families from the Forest of Dean, Wye Valley, Monmouthshire and surrounding areas. It was great to talk to so many people about our dog sitting service and how we can provide home from home pet care for your dog.
Alongside Barking Mad North Bristol we attended the Vets4Pets Pet First Aid Workshop. The First Aid Course was ran by one of Vets4Pets Veterinary surgeons and their Head Vet Nurse. It was very informative and we were given lots of practical advice for different situations when caring for dogs. We even had some very willing doggy volunteers who let us practice applying bandages in return for lots of tasty dog treats. We all came home with a Pet First Aid Certificate and a travel first aid kit.
Barking Mad attended Dog Fest South which was a great success. There were so many dog lovers and gorgeous dogs that came to see us at the stand. It was great fun chatting to so many people about our bespoke dog sitting service. This summer Barking Mad Lydney along with North Bristol, Pontypool, Exeter, East Worcester, South and West Oxfordshire, Hereford and Ludlow and Reading will be attending DogFest West on 22nd and 23rd June 2019. Taking place at Ashton Court Estate in Bristol, we will be there to tell you all about our professional dog home boarding service and our fantastic holiday care for dogs we provide in the local area. We hope to see you there, please come and say hello to us if you are!
Back To Main
To find your local branch, prices and much, much more: