Podcast – Click play below to listen (or read transcript)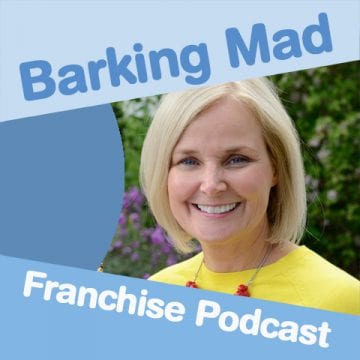 Q: I've planned my holiday and need someone to look after my dog. So how does Barking Mad work?
Tina: So first of all please pick up the phone give me a call or send me an email so that we can have a little chat about how the service works. We run through the costs and if it's something that you are interested in, we make an appointment for me to come out and visit you and your dog. So let's talk about that first visit:
The purpose of the first visit is for me to meet you and your dog and for you to meet me and so we can have a real good chat about how your dog lives with you at home. So that we can replicate that when it comes on holiday so that I can choose the right host who is goinq be able to look after your dog just the way that you do.
Q: What kind of things would we discuss in our first meeting?
A: First of all we gonna talk about your dog's temperament. We talk about it's personality, what it likes, what it doesn't like, any funny little quirks that they may have.
Then we gonna talk about food. We discuss what you feed, about what time, what portion size or whether they are allowed any leftovers or are they on a special diet.
We really wanna feed your dog the same food that it gets fed at home. We don't want to lose weight. We just want them to have the same food. We don't want them to have an upset tummy. So you provide the food that you want your dog to eat when they're on holiday.
Then we'll talk about exercise. We discuss how often you walk your dog, how long you walk your dog or are they allowed off the lead or would you prefer to keep your dog on the lead. You set the rules here. So if your dog is not maybe not very good at recalling and you want them to be kept on the lead, that is exactly what we'll do or if your dog is happiest with lots of exercise running off the lead freely but has great recall and again let us know and that's what we'll do. I'll make sure that I'll place your dog with the best possible host that their exercise needs.
Then we'll talk about other dogs and children and so what is your dog like with other animals? Some of my host has dogs of their own and so perhaps your dog would like to stay with a host and make a new doggy friend. However if your dog or if you are nervous about this then of course we'll choose a host who doesn't have dog of their own. All my host families are really experienced and although they had dogs their whole life when their own dogs had passed away they became host. So we could choose a host that does not have a dog of their own. It's really all about your dog and what's best for your dog.

Then we talk about house rules. This is really important because I wanna see how your dog lives with you at home so that we can match up correctly. So does your dog love to get up on a sofa for a cuddle or it is strictly off limits? Where do your dog sleep? Known this really helps me choose the right host. So for instance if your dog sleeps in the bedroom then I'm gonna choose a host who would be happy for your dog to sleep in their bedroom. We want the host and your dog to have a peaceful night's sleep.
Then we'll talk about your dog's health. So are they onany medication that I need to know about or any health issues or any recurrent medical problems that we need to know about. I'll also ask which is your vet because if your dog poorly down during the holiday I'll take your dog to their own vets.
I'll spend about one hour and a half or two hours with you and your dog and by the end I'll have a really good idea on what the priorities are to be for placing your dog on holiday. I'll show you my host portfolio which is photographs of the host that really helps bring them to life. Now this is the most important part of my job. So please leave this bit to me. I'll do everything possible to find the best host for your dog's needs and do everything I can to put your mind at rest.
We book your dog in for the holiday and we'll fill in the holiday contract and permanent date and also take a deposit at this stage which is 50% of the total price. Most customers arrange a little trial run short break before the main holiday. This is a great chance to put your mind at rest and ensure you that your dog can have a stress free holiday and step away from home. You can pay the deposit online or you can give me your credit or debit card. I leave you with the holiday contract and your welcome letter and all my contact details. And I also in this meeting will show you my team and show you the photograph of the Northumberland team because besides myself there is also Colin and Carol-Anne.
I'm the one that meets all new customers and I'm the one that arranges where your dog will stay and Colin and Carol Ann will be in charge to get your dog safely on holiday and get them settled in. I also to give you a ring to let you know your dog arrives safely. They will also return your dog after the holiday and give you a lot of lovely feedback.
Barking Mad Northumberland.
-ends-
Would you like to be Barking Mad?
Paws to consider your future with the UK's No.1 pet sitting franchise… http://www.barkingmad.uk.com/franchising/become-franchisee/
– See more at: www.BarkingMad.uk.com