Dog care at Christmas with Barking Mad Enfield and Harlow
Here at Barking Mad Enfield and Harlow we have had a busy December welcoming back some of our beloved seasoned Barking Mad vacationers and thrilled to welcome new gorgeous doggies to our Barking Mad family.  Christmas break was a very busy time for us as our customers took the opportunity to get away on holiday to ski or avail of the winter sun in warmer climates.  They enjoyed themselves so much they have already booked their beloved pooches in for their Easter and Summer holidays.  If you are planning a much-needed holiday this year, you can contact us to discuss your beloved pooches holiday requirements.  We are happy to provide 5* rated, individual and bespoke doggy home-boarding with our amazing host families for your furry friend.
The unfortunate weather over Christmas did not stop our holiday doggies and wonderful hosts having lots and lots of time outdoors exploring canal walks, woodland paths and countryside exploring.
Denny and Leah had amazing fun on their 7 day stay with their host family over the Christmas break.  They enjoyed lots of fun and ball games and walks in the beautiful local countryside.
We were lucky enough to have the beautiful, adorable Poochon, Cookie, return for his second Barking Mad Holiday.  Cookie loved his holiday with host family and their resident cocker spaniel, Brady.  In fact, Cookie and Brady got on so well they often slept on one another's beds and they had loads of fun filled walks together.  Cookie spent Christmas day with the family and got his own Christmas present. Cookie had so much fun, his mum and dad have also booked him another Barking Mad Holiday this month.
Barking Mad Enfield and Harlow thoroughly enjoyed meeting people in the areas of Cheshunt, Goffs Oak and Hilly Fields in December.  We met lots of dog owners on our visits and will soon be visiting Murphy the Cockapoo and Memphis and Nashville two Border Terriers.
We will be visiting all Community Halls and Church Halls in Enfield during January and February looking for Volunteer Dog Cuddlers to join our Barking Mad Family.  Keep your eye out for our posters.
Finally, we'd like to thank our customer for this great review for our favourite duo, Kappu and Tippu.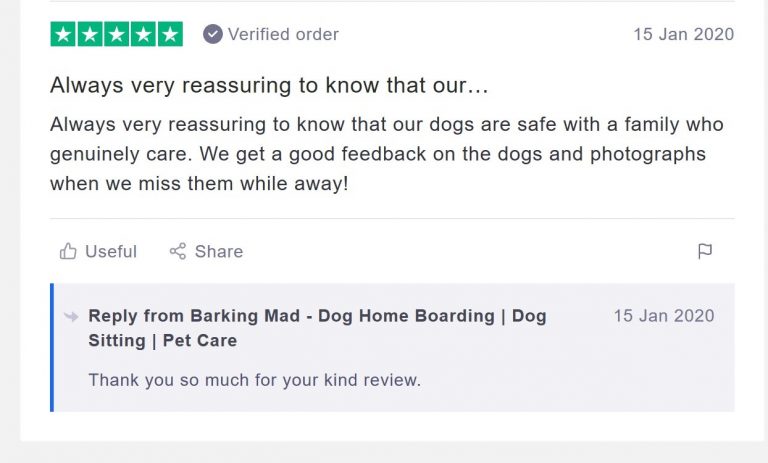 Back To Main
To find your local branch, prices and much, much more: